"That's kind of the joy of kombucha. Every batch is going to be slightly different."--Anthony Gossett
"The fact that every kombucha is going to be different–I think that's just something that's incredible. It's like the 'bouch has a mind of its own and every brand and every way that a company brews is gonna be a little bit different."--Megan Gossett
This week on the show we visit with kombucha brewers at Ferm Fresh in Terre Haute about their shop in the Twelve Points district–featuring their fizzy, fermented teas on tap. 
And, we talk with a Terre Haute grower and bread baker Candace Minster about flours for baking and flowers for bouquets.
Ferm Fresh
Megan and Anthony Gossett opened their lushly decorated fermentation bar in the old Swander Savings and Loan building in the midst of a pandemic. They had been selling their bottled kombucha wholesale, but they wanted to connect more directly with their customers. In renovating the corner storefront in the historic building, Megan says she wanted Ferm Fresh to feel like someplace other than Terre Haute. She describes the decor as "maximalist," heavy on house plants and vintage pieces, they hoped it would seem like it has been there forever. 
Listen to the episode to hear more about their unique space, including the intimate vault room. We talk about how kombucha is made, and learn about the other fermented products on offer at Ferm Fresh. 
[Special thanks to Toby Foster for editing assistance on this story]
Terre Fleur
I first learned about Ferm Fresh from Candace Minster at the White Violet Center. Candace recently started baking sourdough bread to sell, in part to fulfill a request from Anthony and Megan Gosset, who wanted to include her breads on their charcuterie boards.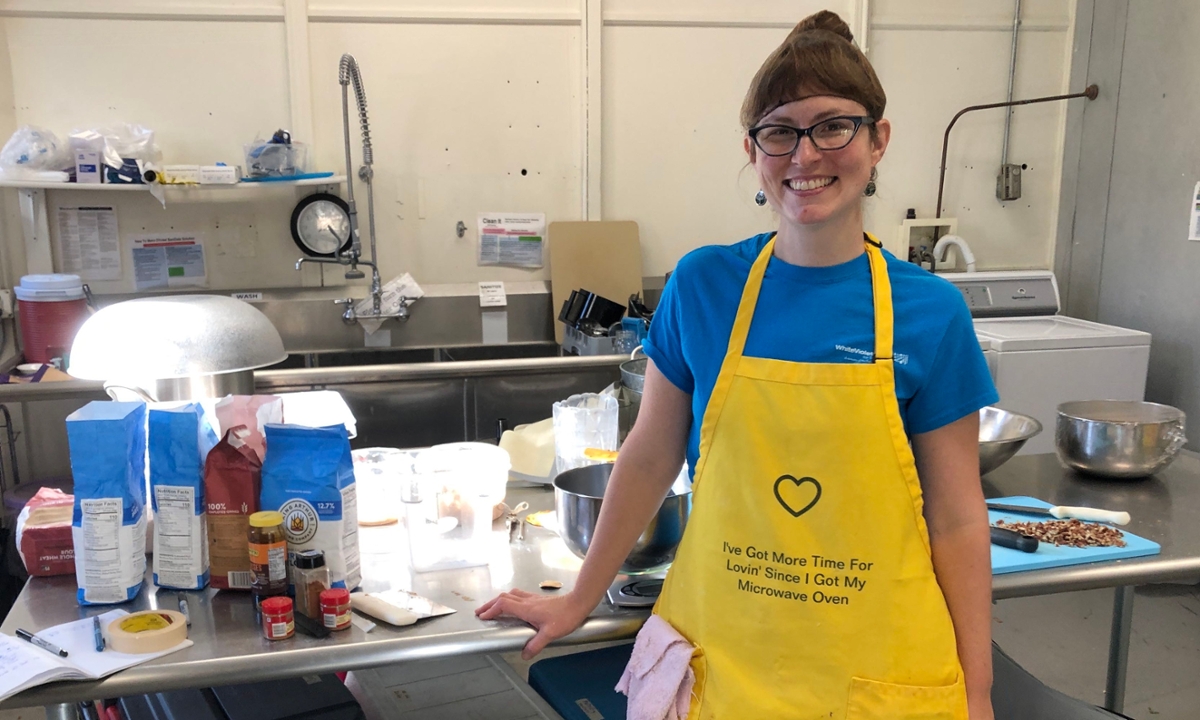 Candace Minster has been a regular guest on Earth Eats, since back when Annie Corrigan was the host. She has served as the Garden Manager at the White Violet Center for Eco-Justice at the Sisters of Providence of Saint Mary-of-the-Woods College in Terre Haute. She's been growing food there and coordinating their fiber arts program for many years. She introduced Annie to their alpacas, talked about marketing ginger to chefs, shared the details of a cucumber grafting experiment with me a couple of years ago, and gave me pointers on successfully growing eggplant. After 17 years of growing food, she recently switched to cut flowers when she discovered a demand for their vibrant bouquets at the Terre Haute farmers market. When she moved out of her role as garden manager, she cut back her hours at the center. 
But, as someone who loves to make things, and who is used to going ALL THE TIME, it wasn't long before Candace Minster found herself launching a new project. This time, on her own terms. Hear the story on this week's episode.