"There is an alarming amount of people that will say 'I don't care if you're white, black, brown or purple, you can start a farm--it just means growing seeds.' and that is not true."
This week on our show, we talk with local young growers, Nic Garza and Marie O'Neill at Outlier Farmstead who insist that farming is political. 
And we meet Dani Debuto, of the Latin punk band, Zeta. He's got a passion for vegan food--he feeds the audience at shows, his band on the road, and during the pandemic he taught online cooking classes. Read more. 
Farming Is Political
Over the past two years our community has faced a great deal of controversy surrounding our local farmers' markets. A member of Identity Evropa, a white nationalist group (rebranded as the American Identity Movement) was vending at The Bloomington Community Farmers' Market. This revelation led to protests, boycotts, community conversations and trainings on racism and white supremacy, a temporary market shut down, increased security and a splintering in our local food-producers' community.
As a result, new markets have formed in town, including the People's Cooperative Market, with racial justice at the core of its mission, and other markets--some attempting to avoid the controversy, altogether.
In July of 2020 a social media post caught my attention. It was from Nic Garza of Outlier Farmstead, who described himself as one of the only Hispanic/Latino farm owners in Bloomington. 
He wrote: 
Farming is political. 
Nic went on to say:
Farming, as we know it, is a product of Black and Indigenous knowledge and practice, from ancient techniques to modern models from George Washington Carver and Booker T. Whatley. Throughout this country's history, land has been stolen from these people or outright burned and destroyed. 
BIPOC are most likely not born with generational wealth or land. This is absolutely necessary to address especially as a farmer and as a human being.
There is so much work to be done in acknowledging this history and righting these wrongs.
Seeing these words, I knew I wanted to talk to Nic Garza. So I made a plan to visit Outlier Farmstead, out on Leonard Springs Road in Southwest Bloomington. I met with Nic Garza and Marie O'Neill. They gave me a tour of their farm and we talked about their farming practices, dreams for the future, and why they see an inextricable link between farming and racial politics. 
Read More:
Americans of color are largely excluded from producing and eating fresh food: A conversation with Leah Penniman, author of the new book Farming While Black- The Counter
Bloomington 2019: 'The Year of the Farmers' Market Controversy'-Limestone Post
The untold history of CSA (on Booker T. Whatley)-Glynwood Center for Regional Food and Farming 
George Washington Carver cared about sustainable farming before it was cool-Vox
USDA's Covid Relief Will Leave Out Farmers Most Impacted by Crisis-National Sustainable Agriculture Coalition
[These stories originally aired February 6, 2021. Outlier Farm now sells at Goldleaf Farmers Market and Farm Stop You can keep up with the latest from Outlier Farmstead on their Facebook and Instagram pages]
Stories On This Episode
When the band tours, Dani Debuto cooks vegan food for fans and the band. The pandemic pushed him to find new ways to spread the love.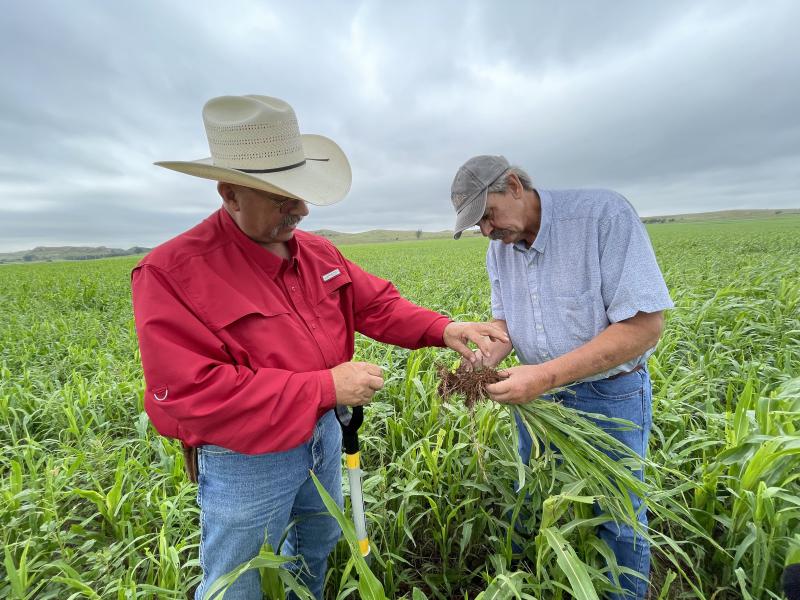 Jimmy Emmons grows peas, beans, millets and varieties of grain sorghum, but none of it is for harvest.