I often hear people say, 'well it's just food, it's not politics.' And I don't approach food that way.
On today's show, we head back to the farmers market.
Earlier this summer, we had a show about farmers markets and whiteness, where we explored the culture of farmers markets--who sells and shops there, and who doesn't--and what these spaces mean to different members of our community. We're following up and continuing that conversation this week.
First a brief and incomplete summary of what's been happening at the Bloomington Community Farmers' Market:
Our local farmers market has been dealing with a controversy over the presence of vendors (Doug Macky and Sarah Dye of Schooner Creek Farm) with reported ties to the American Identity Movement previously known as Identity Evropa. *
Identity Evropa was involved in organizing the Unite the Right March in Charlottesville in 2017. One of the owners of the farm, Sarah Dye has named herself an Identitarian.
A group called No Space for Hate formed locally in response to these vendors and has maintained a constant presence at the market, handing out flyers and buttons alerting customers and raising awareness.
Other groups have also shown up at the market, including 3 percenters, and a black bloc formation.
In July a lone, peaceful protester was arrested for holding a protest sign next to Schooner Creek Farm's stand--outside the bounds of the designated demonstration area.
All of this has changed the character and the feel of the farmers market, which is a central event in Bloomington, featuring over 100 vendors and attracting thousands of customers each week.
After receiving threats from known violent white nationalists, the Mayor suspended the market for two weeks. An alternative market sprang up at the Eastside Bloomingfoods, and groups raised funds to purchase produce from market farmers and donate it to local charities. Still, many vendors took a financial hit.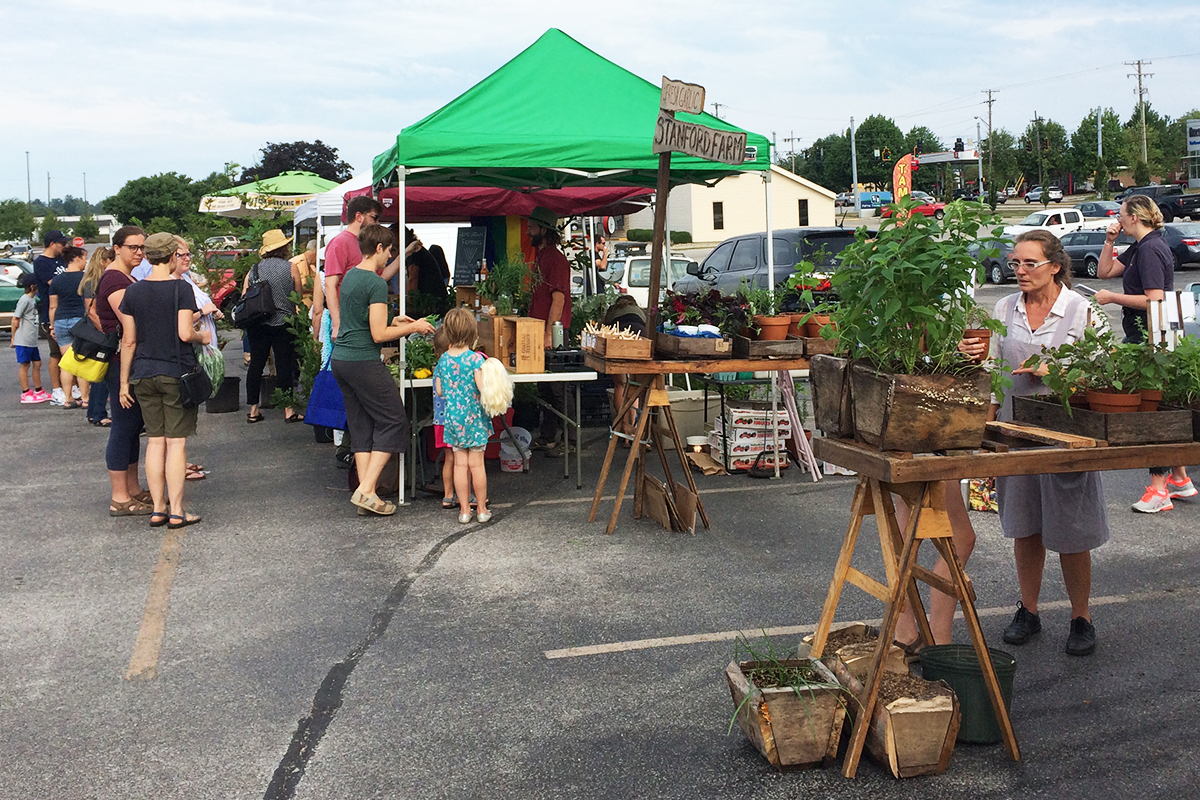 The market re-opened August 17th, with increased surveillance, police presence, and new Market Ambassadors to help keep the peace. Most vendors returned to the market, though a few set up an alternative market, again at the Eastside Bloomingfoods.
At the main market, activists continued to hand out flyers, along with some yellow balloons with slogans such as "love everyone" and "market love." before the market opened, vendor Monica Billman of Goldleaf Hydroponics invited the vendors to form a circle and to affirm a commitment to inclusivity. The Schooner Creek Vendors were invited but declined to join.
Since this is a food show, our interest is in the space of the farmers market, a place where people celebrate local food, and a place where consumers have the chance to 'Know their Farmer.'
For this episode, I interviewed farmers, activists, prepared food vendors and customers and I asked them to start by talking about their relationship with the farmers market. **
Included are the voices of:
Susan Welsand (AKA The Chile Woman), a farmer and market vendor for over 25 years.
Abby Ang, a lead organizer and founder of the group No Space for Hate, Bloomington and a Ph.D candidate in English Literature at Indiana University.
Lauren McAllister, a farmers market customer, an Indiana University Employee and a beginning farmer at Three Flock Farm.
Eric Schedler, co-owner and lead baker of Muddy Fork Bakery.
Michelle Moyd, a history professor and Associate Director of the Center for Research on Race and Ethnicity at Indiana University.
Marcia Veldman, Coordinator for the Bloomington Community Farmers' Market
Jesus Barajas, co-owner of Sazon Mexican Cuisine.
Jada B, Member of No Space for Hate, and Core Council Member of Black Lives Matter, Bloomington.
---
The music on this episode was composed and performed by Eric Schedler. Eric composed this piece while reflecting on all that has been happening at the market this summer.
The Earth Eats' theme music is composed by Erin Tobey and performed by Erin and Matt Tobey.
---
* Corrections (August 25, 2019):
The headline was rephrased as a question.
"the presence of vendors with ties to Identity Evropa" was changed to "the presence of vendors with reported ties to Identity Evropa"
The author has not confirmed that Antifa was present at the market, but did witness a black bloc formation at the market on July 20, 2019.
The author removed her summarized characterizations of 3 percenters, Antifa and Identitarians.
Note: this episode and web post were produced by the staff of Earth Eats, and are not connected to the WFIU News Room or its coverage of this issue.
**Note (October 10, 2019): The original version of this episode included incorrect information about Market policies. This revised episode does not include that section, and some new voices have been added. The correct vendor policies for the Bloomington Community Farmers' Market can be found here.