This week on the show we talk with Chef Adrian Lipscombe, founder of Forty Acres & a Mule Project, with a goal of purchasing land for Black farming and foodways.
And we revisit a conversation with  Farm Loan Officer Kathleen Walters, part two in our series Have Sheep, Will Farm--about two young farmers searching for their farm home. We talk about FSA loans, the USDA's history with racially discriminatory loan practices and about the importance of building a solid business plan for farming success. You can listen to Part I and Part III of the series about Lauren and Brett's journey.
---
Forty Acres & a Mule Project
I've been hearing about creative projects from individuals and businesses raising awareness about structural racism and raising cash for Black led organizations and initiatives such as Black Lives Matter, and National Bailout Fund.
One such fundraising project is Bakers Against Racism. I heard about it through local bakeries, Muddy Fork, Rainbow and Piccoli Dolci. 
The idea came from three chefs in Washington DC, who spread the word initially through instagram. 
The process is simple: bakers of all levels, home bakers and professionals, would sell 150 baked goods during the week of Juneteenth (June 15-20, 2020) and donate the proceeds to the organization of their choice supporting Black lives. 
Muddy Fork chose to donate the funds from the sale of 150 croissants to a project called Forty Acres and a Mule. 
This initiative is the brain child of Chef Adrian Lipscombe of the Uptowne Cafe and Bakery in LaCross, Wisconsin. Her goal is to raise $100,000 dollars to purchase land for Black farming. 
The first phase was to raise $50,000 by Juneteenth, a goal she surpassed thanks to supporters like Muddy Fork bakery and other organizations and individuals around the country. 
I spoke with Adrian Lipscombe about her vision for the project, and the origins of the name. 
The details of the project are still taking shape, but these are her stated goals: 
to purchase at least 40 acres of land for black farming,

to guarantee farm to table resources for the food industry;

to provide an outlet for Black foodways; and,

to establish a safe haven to secure the legacy of Black foodways. 
Her project aims to not only purchase land and to support Black farming and foodways, but to also raise awareness about the history of black land ownership and the systems in place that have denied land to black farmers, and prevented black families and black communities from building wealth.
She is using the project's instagram platform and this fundraising effort to educate followers on the history of black farming. In her daily posts she offers information and historical context on black farming traditions, important figures like Fannie Lou Hamer, and George Washington Carver, black origins of sustainable farming practices and the story behind the name of her project. 
Forty acres and a mule was what the federal government promised freed slaves in January of 1865, as a form of reparations. Land in South Carolina, Georgia and Florida was confiscated from Confederate land owners to be distributed among former slaves. By Fall of that same year, the order was overturned and the land was returned to its previous owners
Many Black farmers ended up sharecropping, some owned land but struggled to hang onto it or to pass in onto their heirs. In the 1960s some black farmers formed cooperatives --I'm thinking of Fannie Lou Hamer's Freedom Farm in Mississippi and The New Communities Collective in Georgia. 
The USDA and lending institutions have a checkered history of unfair lending practices, and  that is, in part, how we end up where we are today. Black farmers make up just 1.4 percent of farmers in the US.
However, there does seem to be a growing movement of black farmers and a surging interest in regaining farmland for people of color (you might recall our interview with Leah Penniman of Soulfire Farm).
Adrian Lipscombe plans to be a part of that movement. She describes her vision as, "a sanctuary to hold the history, food, and stories of Black culture in food and farming." 
---
The Earth Eats theme music is composed by Erin Tobey and performed by Erin and Matt Tobey.
Additional music on this episode from Universal Production Music.
Stories On This Episode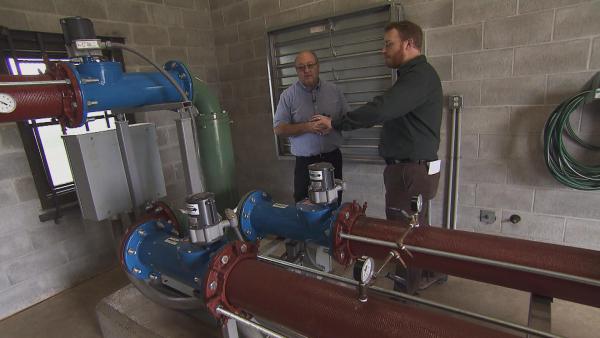 Runoff from agricultural lands contributes to nitrates in drinking water supplies.
You've heard about flash floods, but what about flash droughts?