Members of the public are rallying against Bloomington Mayor John Hamilton's plan to restrict driver access to a section of Old State Road 37 in Lower Cascades Park, as the city council prepares to hear the administration's case for partially converting the road to a biker-pedestrian trail.
People showed up in the dozens Saturday at the north side park, mostly to voice opposition to Hamilton's plan.
Hamilton wants to convert a 0.6-mile stretch of the road between Clubhouse Drive and North College Avenue at Miller-Showers Park to a trail. It's part of his administration's plan to establish a path connecting the city's major parks, including Miller-Showers.
Read more: Lawsuit accuses Indiana sheriff of silencing online critics
On Wednesday, city council is slated to hear a report from city staff outlining the details of Hamilton's plan, as well as alternatives.
Currently, drivers can take Old State Road 37 all the way through the park in both directions. Many say the road is their primary means of accessing the park and navigating through the city during major sporting events.
David Bowden, who attended the rally, said Hamilton's plan would impede many peoples' access to the park — especially elderly and mobility-restricted visitors.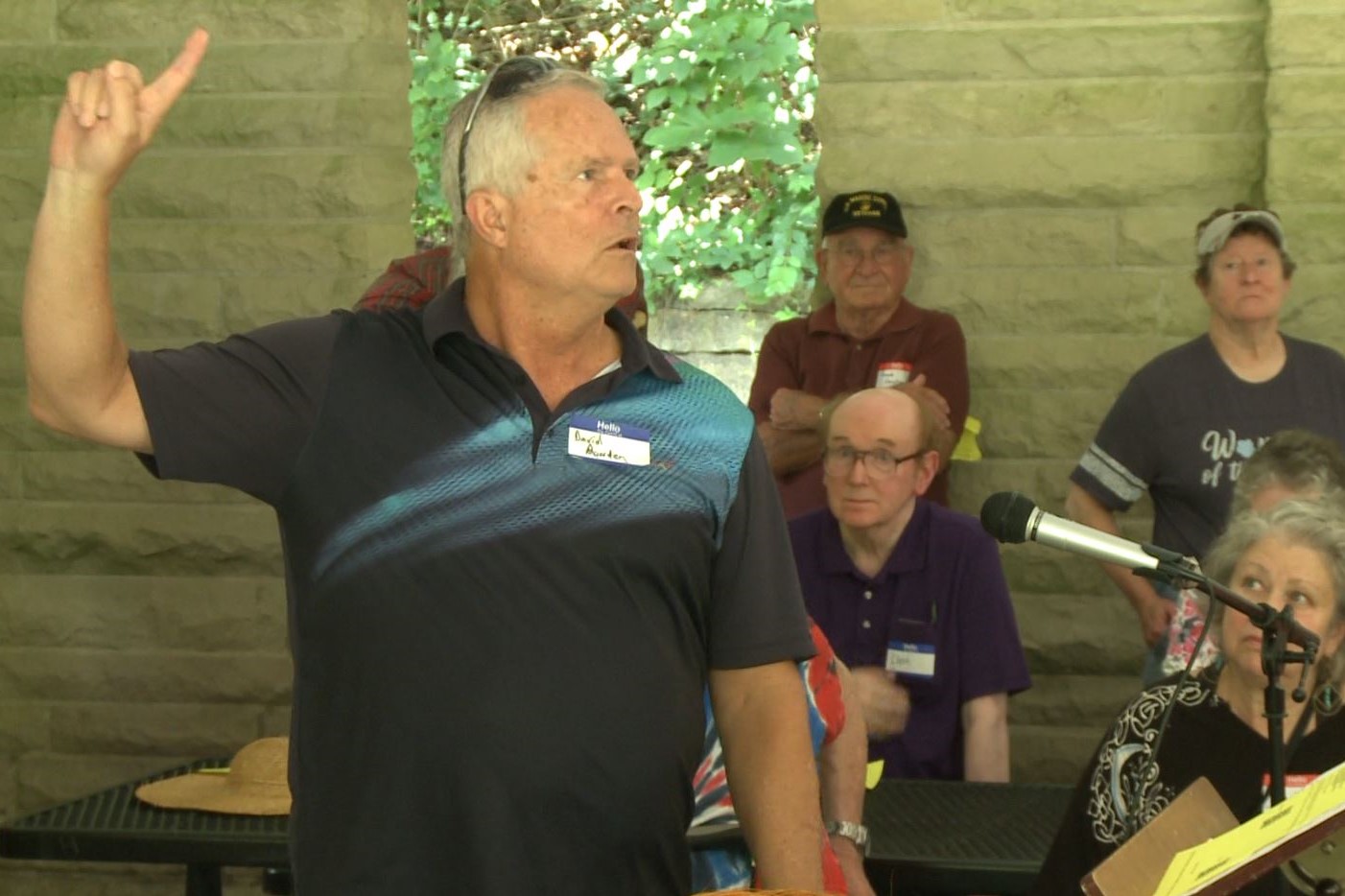 "If we close it, it keeps people like myself — because I have bad knees; lots of us are in that age — it makes it more difficult for us," Bowden said. "We plead with Mayor Hamilton to consider the fact that it's not going to benefit a lot of people to close it, and it's going to hurt a lot of us."
Attendees often said that Hamilton's plan favors non-drivers. Resident Jami Scholl said the mayor's office is not listening to those who've said they want the road untouched.
"The nearest residents do not want the park to change, and they have very good reasons for that," Scholl said. "The townies — those who grew up here, like myself — often feel they're ignored, and those I've talked to do not want the road closed."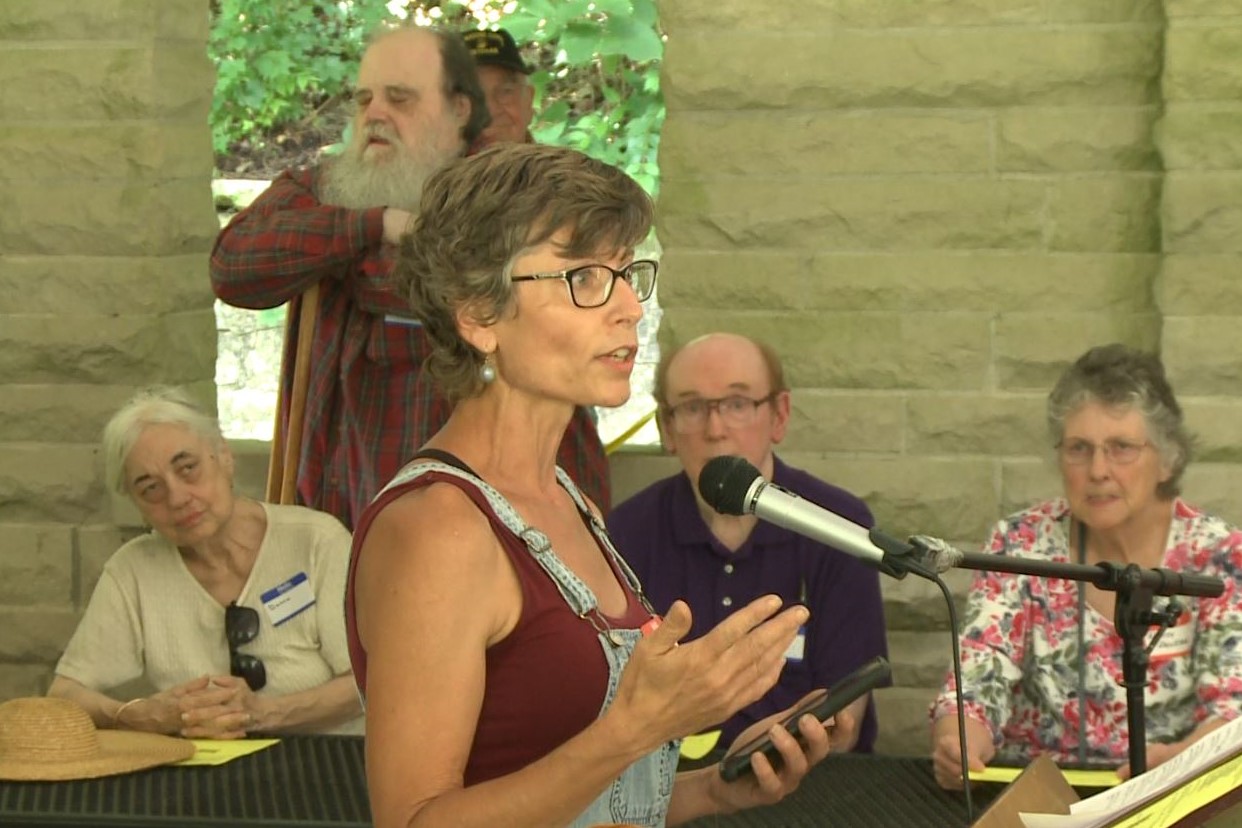 Scholl also said a road conversion would make it difficult for her mother, who has difficulty walking, to access and enjoy the park.
Some fear a partial closure would impede first responders' ability to get to emergencies on time.
Hamilton's plan goes against a recommendation of the city's Board of Park Commissioners to keep the road fully open to drivers. That recommendation followed a 15-month pilot study to examine the effects of restricting driver access to the same stretch of road Hamilton wants to convert.
Critics of Hamilton's plan also say it ignores the results of a survey during the pilot project. The survey showed most respondents preferred keeping all lanes of Old State Road 37 open to drivers as opposed to closing one or both lanes.
What other options are on the table?
Included in the city council's legislative packet Wednesday is a memo from Scott Robinson, director of the city's planning and transportation department. It lays out four options :
Road conversion to multi-use path/trail: Convert the road into a pedestrian and bike trail facility. Hamilton wants this option.
One-way road with multi-use path: Convert the road to a one-way for drivers and make the other half a multi-use path.
New multi-use path/trail: Build a new, separated path that crosses over the creek at some point (or points) to join with the existing trail project.
No build: Bicyclists and pedestrians would share the road with drivers.
The crowd overwhelmingly expressed support for the "no build option". According to the memo, that option will require construction of a complete sidewalk network to access the park, as well as amendments to the city's transportation plan and comprehensive plan.
Former city council representative Chris Sturbaum at one point led the crowd in a chant: "No build! Amend the plan! No build! Amend the plan!"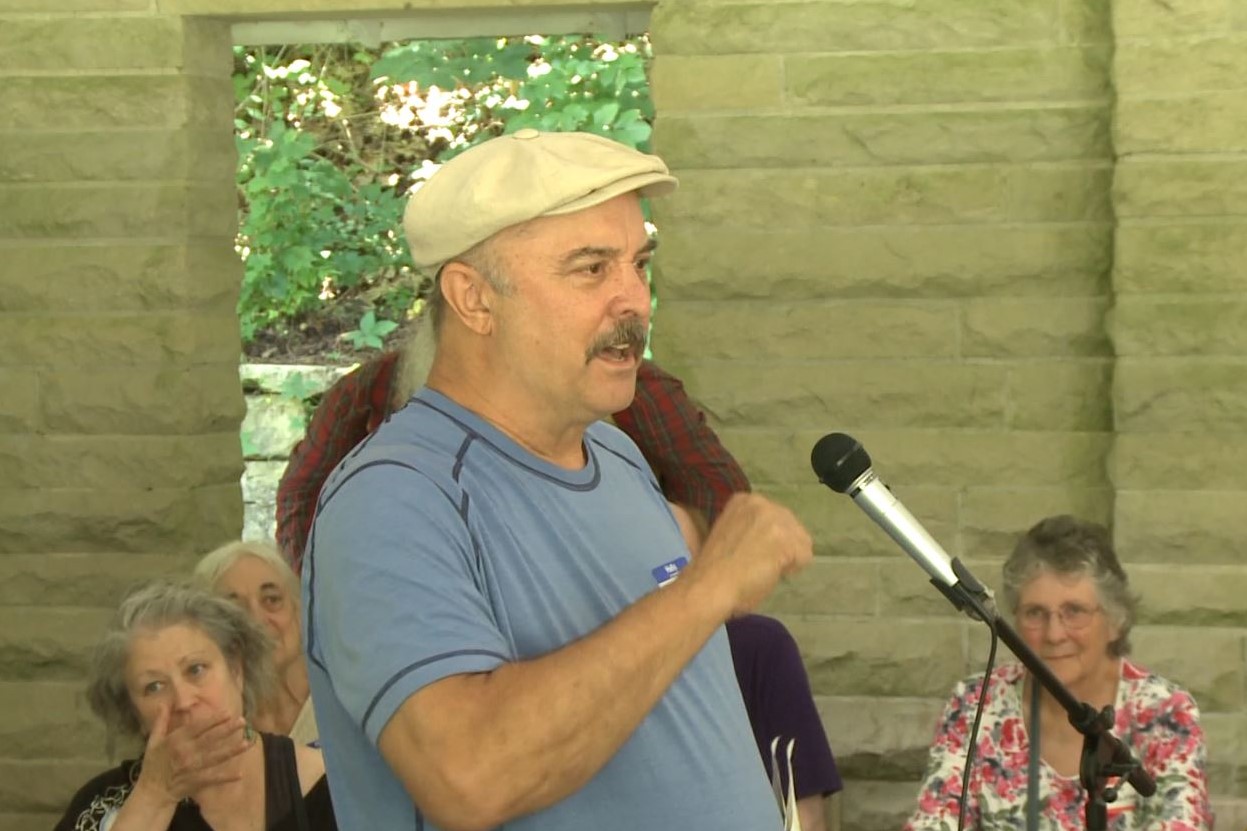 Support for 'no build' not unanimous
Most of the speakers said they oppose Hamilton's plan. However, there were some detractors. One of the most prominent dissidents was Greg Alexander, a member of the city's traffic commission.
Alexander, who does not drive, said Old State Road 37 is not safe for bicyclists or pedestrians, despite the road having speed bumps.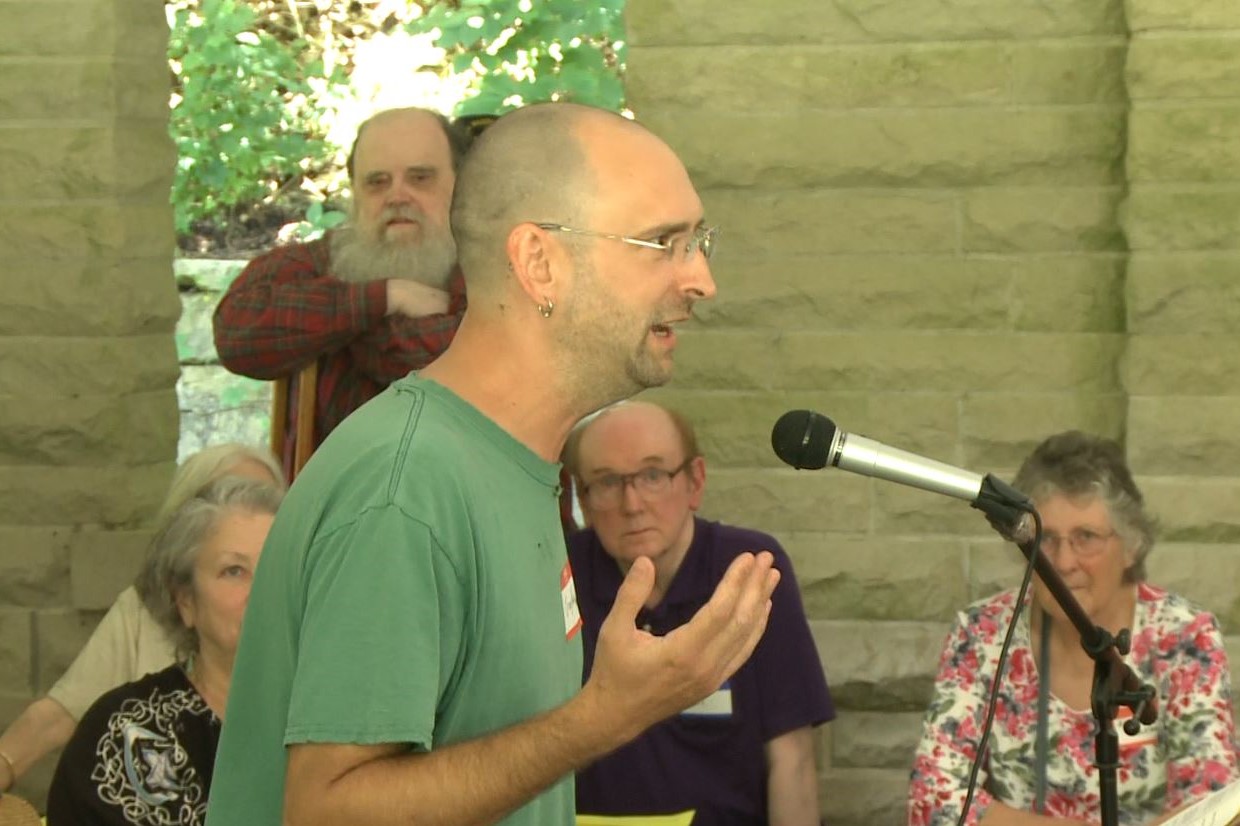 "I want the path to be open for bike and ped; for my kids," Alexander said. "My kids have actually come to this park a lot less than they could because we met this barrier of about a mile roadway that's not a safe place to walk."
He was also critical of Scholl for one of her earlier comments, saying that not all Bloomington natives are unified against the road conversion.

"Jami Scholl told you she's talked to a lot of townies, and they all want this to be closed to pedestrians and open to cars," Alexander said. "But I have talked to Jamie Scholl quite a bit, and I am a townie. So, she told you that I don't exist; that I am somehow other, different, apart from the city. I am not. My kids are the future of this city. My family is the past of this city."
Joe Lee, a former candidate for the District 1 seat on city council, said he sympathized with Alexander's point but disagreed with his approach.
"What we need to do is find a safer way for everyone to share the road, not to close access to the road," Lee said. "We want solutions. We want this part to be accessible to everyone (…) and to make it safer bicycles and pedestrians."
Alexander was the only one to speak so adamantly against the "no build" option. Others spoke favorably of Hamilton's plan but did not explicitly reject the other options.
One of those speakers was council member Isabel Piedmont-Smith. She took the podium to clarify that Hamilton's plan is to close only part of the road to drivers, not to entirely remove driver access to the park.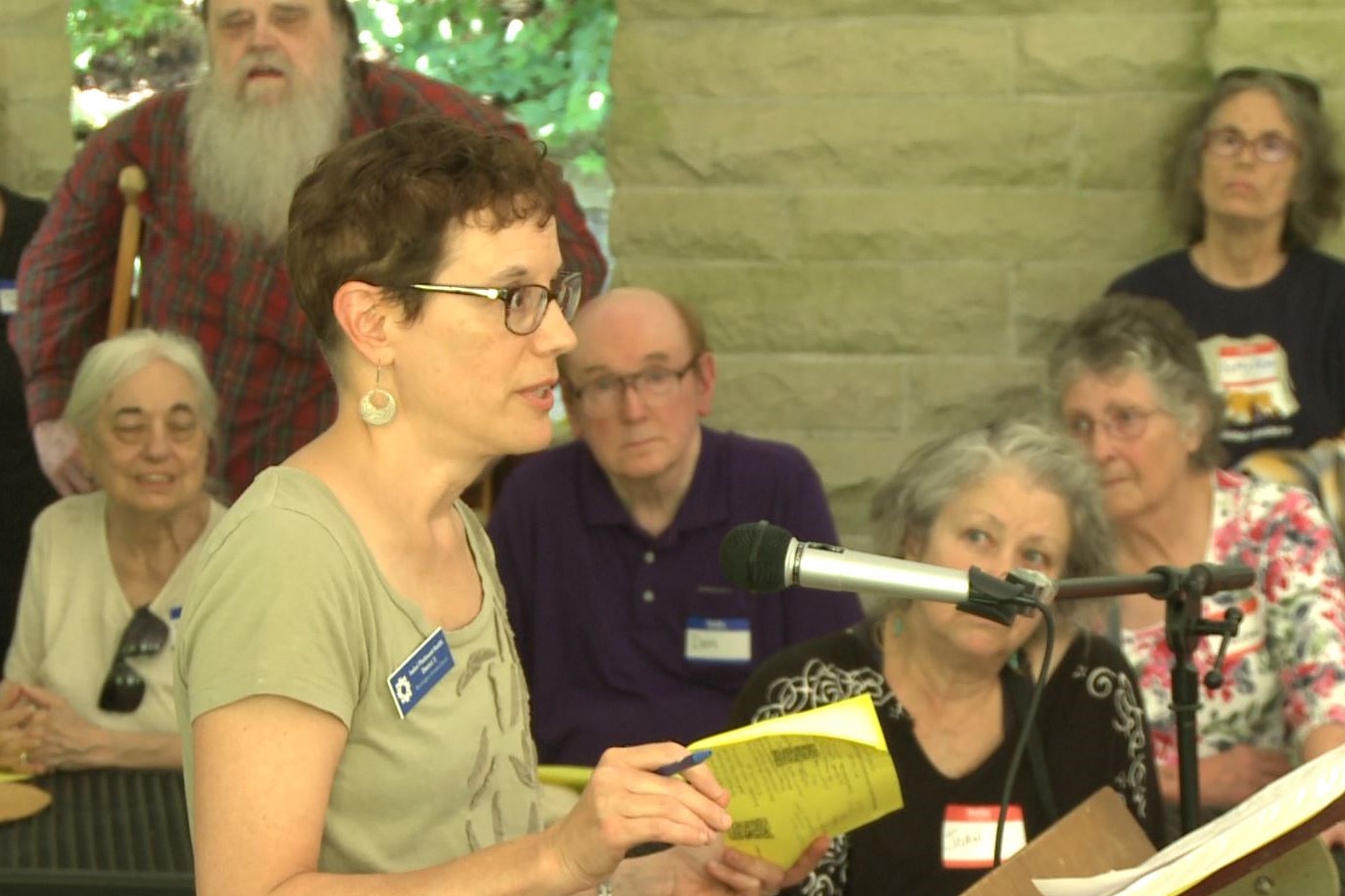 "You will still be able to park just as close to the amenities of this park as you can now," she said. "Accessibility is not just cars and public rights-of-way are not just to get cars around, but to get people around in various ways that they might choose to get around."
The immediate audience reception to her point was largely negative. Several attendees argued with and spoke over her all at once before someone interrupted, urging the crowd to let her finish.
One attendee asked Piedmont-Smith to state explicitly whether she supports Hamilton's plan.
"I guess it's pretty clear to you that I'm seriously considering voting in favor of making that road safe for pedestrians and bicyclists by closing that particular access for cars," Piedmont-Smith said. "Now, I know you're all going to get out your pitchforks, but I wanted to take the mic today — I didn't actually intend to — but I just feel like there's been a lot of misleading statements about 'closing the park to everybody.'"
Read more: AM radio legislation gains traction
David Canfield, husband of event organizer Carole Canfield, responded directly to Piedmont-Smith's comment about driver access. He said that if Hamilton's plan is adopted, it will force certain people to go out of their way to get to the park.
"Accessibility is more than just physical ability to get somewhere; it's also distance," he said. "Coming all the way around a couple of miles further to the north is going to limit the accessibility of some people because they won't want to take the extra time to drive the extra distance."
Piedmont-Smith was one of three council representatives present Saturday, along with Susan Sandberg and Sue Sgambelluri.
Sgambelluri represents the district that includes Lower Cascades. She has said the city should not repurpose Old State Road 37 but consider other alternatives.
What comes next?
Hamilton has not submitted a formal proposal to city council. If he does, the council would introduce it in a first reading at a later meeting. The council cannot vote on legislation on first reading, meaning it may be some time before members vote.
The newly appointed interim deputy mayor Larry Allen attended Saturday on behalf of the mayor's office. Hamilton was not present.
Allen said the first step in the process will be the staff report, scheduled for 6:30 p.m. Wednesday at the council chambers.
Read more: People travel to Indiana from all over the US for chimney sweep certification
"This may be a council-driven measure, in terms of choosing which of the four options is putting forth legislation," Allen said. "Generally, if the mayor's office is going to do that, we'll write up the legislation, we'll present it to city council, and give them an option to vote on how this is going to look, with the draft memo, the cost and the fiscal impact, and also the environmental impact and all those decision points."
Hamilton has said he wants the council to weigh in before the end of his term.
In the meantime, event organizers urge others to voice their opinions at city council meetings.
There are two periods of public comment at every city council meeting. Speakers are typically allowed five minutes each. Attendees can speak during one, but not both, public comment periods.