Tucked away in Plainfield, Indiana is the only in-person training you can get in the US to become a licensed chimney sweep.
People from all over the country come to Chimney Safety Institute of America for classes, either to get certified or renew their license, which they must do every three years.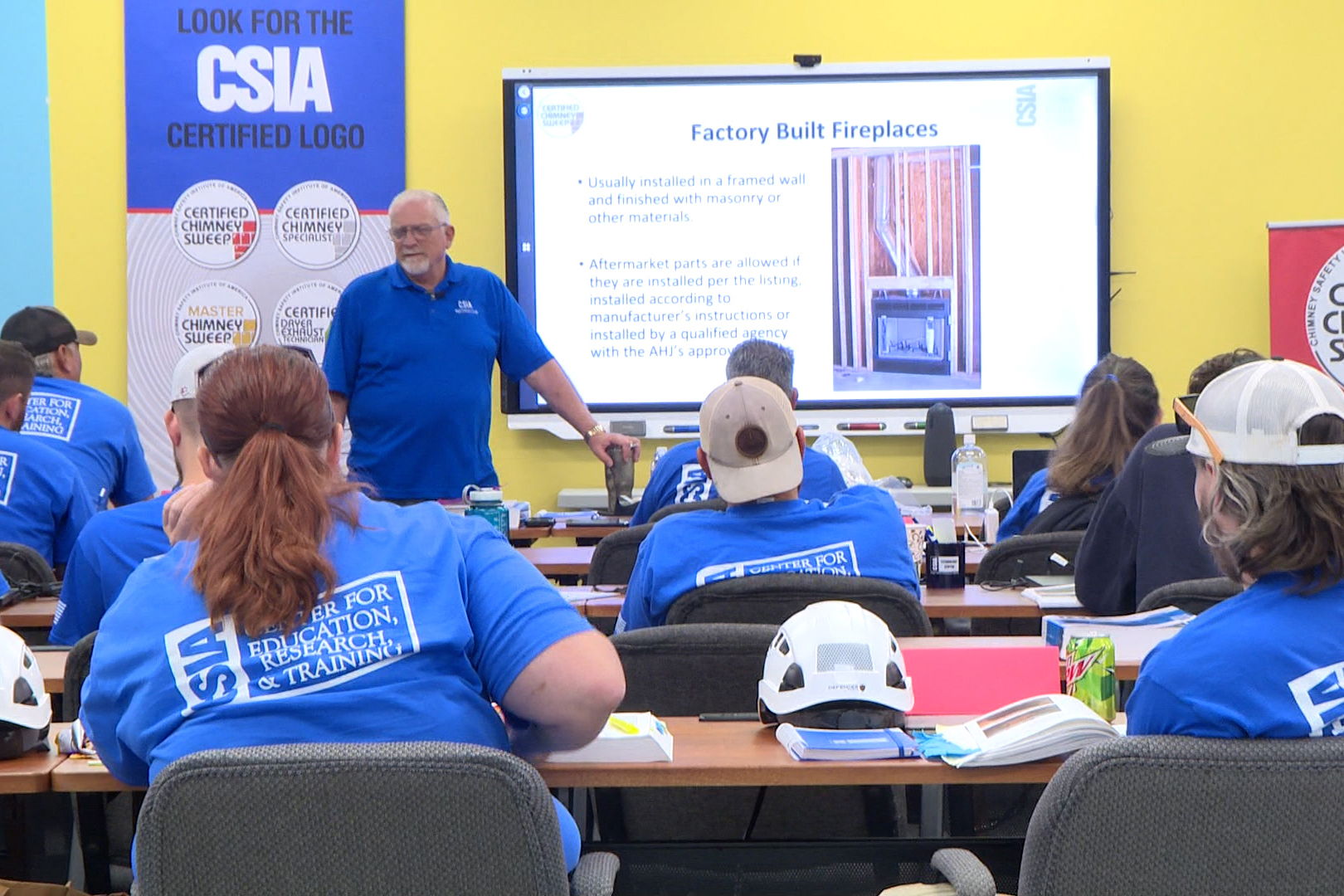 The institute's chief executive officer, Bill Wald, said chimney service demand has grown steadily in the last six years, especially during the pandemic. And that's reflected in their class sizes­– which average around 30 people right now.
"There's still people going to college, we all know that," Wald said. "But there are people who also want to be entrepreneurial. And this is a great place to be able to do it. It's a great opportunity to have that hands-on work."
He said many people go through CSIA's courses to get certified, then take more courses later to become a specialist. After nine years and additional training, CSIA certified people can become Master Chimney Sweeps. And many specialists and masters run their own businesses. 
And the institute is expanding in the next 15 months, adding another building next to the original for more demonstration space.
Rachel Blakeman, the director of Purdue University Fort Wayne's Community Research Institute, said demand for skilled trades and training has been long coming in certain fields, as baby boomers get ready to retire.
She said skilled trades jobs in areas like healthcare, construction and home repair are projected to grow in the next ten years. 
Read more: It could take a decade to rebuild nursing workforce in the state
"It's not necessarily new jobs that are being created, it is replacement workers, as people are aging out of the workforce," Blakeman said. "We've known this has been coming for literally decades, because today's births create tomorrow's workforce in about two decades."
State and federal governments put emphasis on workforce training in recent years, through initiatives like the Work Force innovation Opportunity Act, in 2014. And Indiana pays tuition and fees for in-demand certificate programs though its Next Level Jobs Work Force Ready Grants. 
Blakeman said improving employment outcomes is valuable, but lawmakers also need to raise wages in the state if they want Indiana jobs to be competitive nationally. 
CSIA offers certification courses 6 to 8 times a year, and occasionally at remote campuses if there's demand. 
Sean Peck attended CSIA's July course, to renew his license. He's been in the industry for 25 years and runs a business in Colorado. For the last 11 years, he's brought his technicians to CSI in Plainfield for training.
"My feeling was quality control," Peck said. "And being able to have that meant (my employees) following a policy and procedure."
The industry has seen him through recessions and the pandemic.  
"Those the pandemic years I've grown double in this industry," he said. "And now it's sustaining. It's not diminished."
In-person certification classes at CSIA cost around $2,300 for a student. That goes down though if a company is sends more than one person. 
After a few hours going over types of chimneys and issues, the class moves outside, where one of their instructors, Russ Dimmitt, demonstrates a chimney fire.
It's meant to show students the danger this type of fire poses to a home, and the effects of thermal shock in ceramic flue lining systems.
He gets a fire going in an outdoor chimney, and soon smoke and flames are visible from the top. 
"Once it starts burning, it just goes wild," Dimmitt said to the group. "You can get temperatures up to 2,100 degrees, and chimneys are not designed for that type of an application that kind of heat. So the masonry will get hot, and conduct the heat out."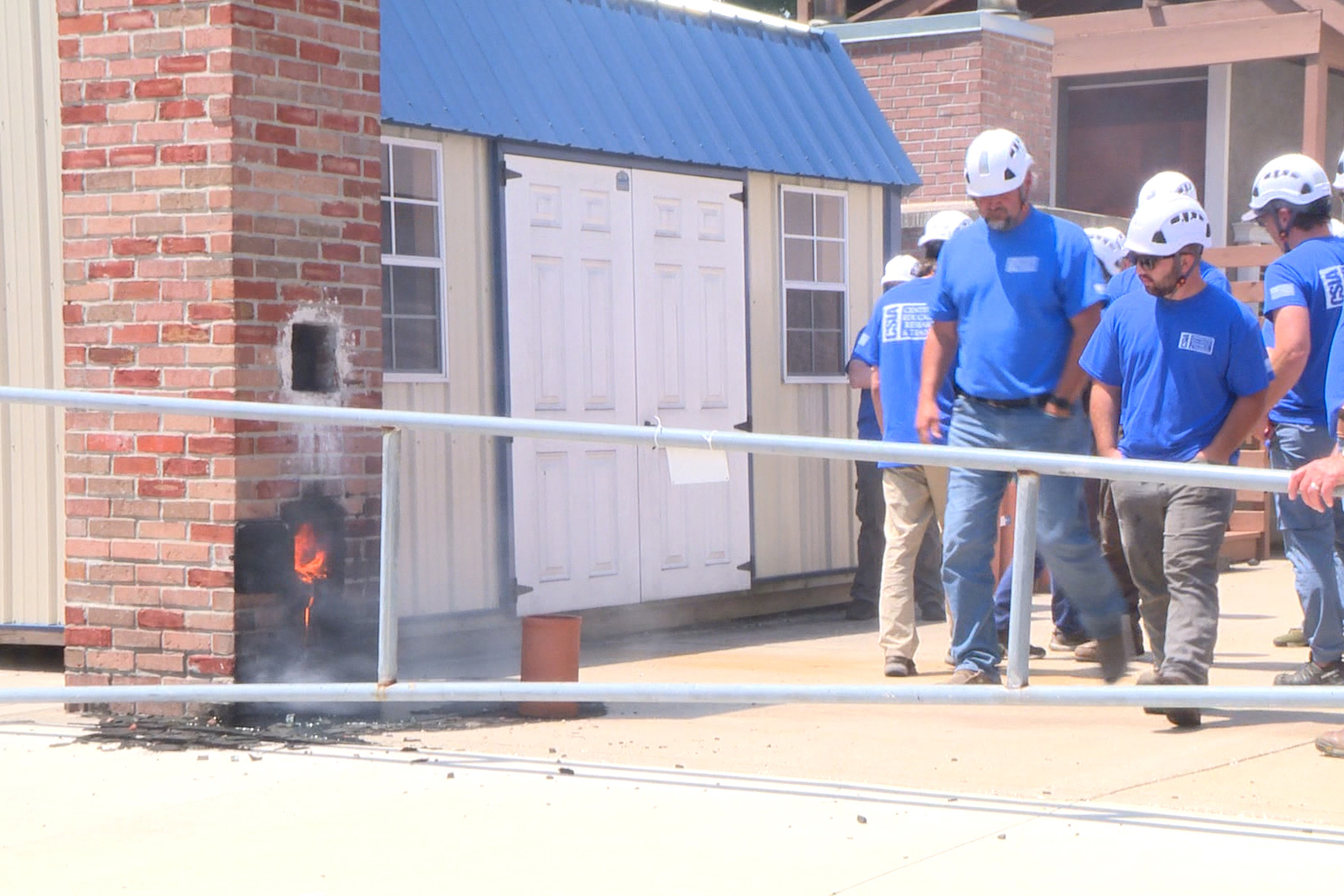 Dimmitt said the role of a chimney sweep is two-fold– educating customers about chimney safety, along with service and repairs.
He said inspections are the most important service they teach in the certification course. Behind him is a chimney designed with more than 100 defects, called a Prior Fire.
"That part of the class, they'll come out and actually do an inspection of this chimney, and see what they find," he said. "And it's a great opportunity for them to actually experience it. It's not just classroom, they get to look at it, see it."
Heating equipment, like chimneys and space heaters are the leading cause of fires in US homes. The number has fallen in the last 20 years, from more than 70,000 in 2003 to approximately 42,000 in 2020, according to the National Fire Protection Association.