"When I offered this class for the first time I had people saying 'well really what are we going to be cooking, tenderloin sandwiches?' And it's so much more than that."
This week on the show, we talk with professor Olga Kalentzidou about Indiana foodways and how migrant cultures influence the cuisines of the places they inhabit.
And Harvest Public Media shares a story about perennial grain farming.
Note: the audio for this episode will be available soon.
Geography of Food
Professor Olga Kalentzidou is a lecturer in the Department of Geography at Indiana University, Bloomington. She taught a geography of food class this semester, with a focus on Indiana foodways. I attended one of the cooking labs to get a feel for the kind of hands-on learning that Olga finds valualbe.
It's a hybrid class, with some students meeting in-person in the food lab in the basement of the Student Building at Indiana University. Other students are tuning in via Zoom, cooking in their own kitchens. 
The dishes for this week were focused around Indiana seasonal produce available in early spring. In the lab they made a frittata featuring asparagus and fresh, local eggs, a pureed butternut squash soup and a Moroccan/tagine style vegetable stew. Olga moved around the room offering tips and assistance while checking in regularly with the online students to hear how their dishes were coming along.
At one point, Olga pulled out an industrial-sized pickle jar from the fridge, with layers of light green vegetables packed in a bright red sauce. She explained that they made kimchi during their module on the Asian American experience and contribution to Indiana cuisine
Kimchi is a Korean pickled condiment made with Nappa cabbage and other vegetables seasoned with a flavorful red pepper paste. It is not the first dish that comes to mind for me, when thinking of Indiana cuisine. 
I sat down with Olga Kalentzidou in our studio to learn more about what it means to study food geographies.
Music on this episode:
The Earth Eats' theme music is composed by Erin Tobey and performed by Erin and Matt Tobey.
Additional music from the artists at Universal Production Music.
Stories On This Episode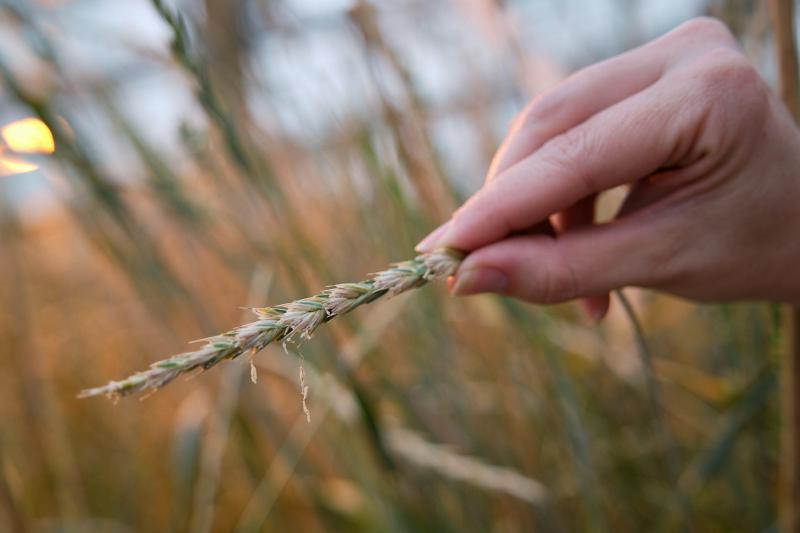 Farming feeds the world. But it's also heating the planet … responsible for about 12% of global greenhouse gas emissions. A small group of Kansans are trying to develop crops that could lessen agriculture's carbon footprint.