"It's really fun to look at those, and see the prices, and how prices of things change. One of the menus had a prime rib steak or something that was like $2.50. And so you're like 'Dang, if only I could get that today!'"
This week on the show we talk with Hilary Fleck, curator of the "Order Up" exhibit on the history of local restaurants at the Monroe County History Center.
And we have a persimmon pudding recipe with a history of its own.
Harvest Public Media shares reports on water conservation in a Kansas town, urban farmers struggling to access land and more, in this week's episode. 
Order Up!
Restaurants are an important part of any community. They can be a place to meet friends, a place to celebrate a milestone, or a part of one's daily or weekly routine. A great restaurant is more than just the food it serves, and a truly memorable restaurant is well loved by its guests even long after it is gone. 
The Monroe County History Center, located in Bloomington, IN, recently wrapped up an exhibit titled "Order Up!" dedicated to the history of restaurants in Monroe County. Producer Toby Foster works part-time as a bookkeeper at the museum, and noticed that the exhibit was receiving a particular warm response from guests and sparking a unique sort of joyful nostalgia. 
A community is both shaped by and reflected in its restaurants. Greek immigrants built some of Bloomington's earliest restaurants, including Nick's English Hut, which is still in operation today. The Hole, located in the basement of the J.G. Pollard Lodge, was built in 1950 by a Black fraternal organization during a time when segregation meant that not all restaurants were welcoming, and was an important gathering place and social hub for the black community of the near west side – and of Bloomington in general – until the 1990s. The 1970s saw an increase in health food and of global cuisine, and Bloomington remains a destination for international dining. 
Restaurants generally seem to serve an important social purpose. Municipal employees gathered daily at the lunch counter at Ladyman's Café, just steps from City Hall and the county courthouse. Others may remember Bruce's Café, which opened every morning at 3:00am to cater to the third-shift employees of the RCA plant, one of Bloomington's biggest employers at the time, or sitting at the Liar's Bench at the Village Inn in Ellettsville to gossip and eat breakfast before work. 
Toby sat down with the curator of the Monroe County History Center, Hilary Fleck, to talk about the exhibit and the response it received. She told him about how it came together, a little about the history of a few different restaurants, and about the fond memories that guests shared with her. 
Note: Hilary Fleck mentions this book in the interview,
Sweet Greeks: First-Generation Immigrant Confectioners in the Heartland
A recipe with a history
When Susan Gray was growing up in Bloomington,Indiana, she lived a few blocks away from the Kinsey family--as in Alfred Kinsey, the famous biologist, and sexologist. He was the founder of the Institute for Sex Research at Indiana University in 1947, now known as the Kinsey Institute for Research in Sex, Gender, and Reproduction. 
The Kinsey's lived in a brick house on first street, and they had a large yard with many native plants. Alfred's wife Clara was the member of the Kinsey family that Susan Gray remembers most. The Kinsey kids were a good 10 years older than her, so she never played with them, but Clara Kinsey ran a girl scout day camp that Susan attended for 2 weeks each summer. 
Susan shares a recipe for persimmon pudding that Clara Kinsey shared with Susan's mom (and anyone else who wanted it). She tells the story and walks through the recipe with Alex Chambers, producer and host of Inner States. 
(note: Susan Gray mentions this book in the interview,
Old Fashioned Persimmon Recipes, Bear Wallow Books
Music on this Episode:
The Earth Eats theme music is composed by Erin Tobey and performed by Erin and Matt Tobey.
Additional music on this episode from Toby Foster and  Universal Production Music.
Stories On This Episode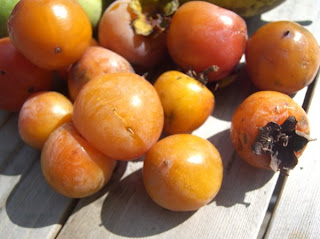 She shared her love of the natural world with her community, and she shared this recipe.