Monroe County and Bloomington city leaders are back at the table working to figure out how to move the convention center expansion project forward.
The city wants to take over the expansion project and daily operations. The county wants to pick up where discussion left off before the pandemic and create a capital improvement board.
Monroe County Council passed a food and beverage tax increase in 2017 to fund the expansion. Since then, county and city leaders have been at a stalemate. No decisions have been made about size, site plan and design.
On Wednesday, county commissioners Lee Jones, Julie Thomas, and Penny Githens; Mary Catherine Carmichael from the mayor's office; Sue Sgambelluri and Susan Sandberg of city council; and Geoff McKim and Cheryl Munson of county council met to talk about the proposal.
The city said it will pay off the existing debt of $2.2 million on the current center, receive ownership of the current land and property designated for potential use, and receive the county's share of the annual innkeeper's tax used for the convention center.
The city will also contribute its portion of the opioid settlement funds to the Monroe County Health Department and expand Bloomington Transit beyond city limits to provide an east-west corridor to Ivy Tech and nearby employers.
READ MORE: Monroe convention expansion at stalemate while Terre Haute, Columbus find momentum
The commissioners don't like those terms and say the city's proposal isn't worth much.
Commissioner Julie Thomas says the opioid funds and transit extension are unrelated to the convention center.
"That doesn't seem like much of an offer, because we can pay for and find a way to create a rural transit line out there if we need to," Thomas said.
Thomas says there also could be legal issues with transferring the county innkeeper's tax funds to the city. And she's uncomfortable transferring the property because she sees it as a backup location if the proposed site for a new jail falls through.
"We can't in my mind, sell, transfer, give away – whatever you want to call it, space when we may very well need it," Thomas said.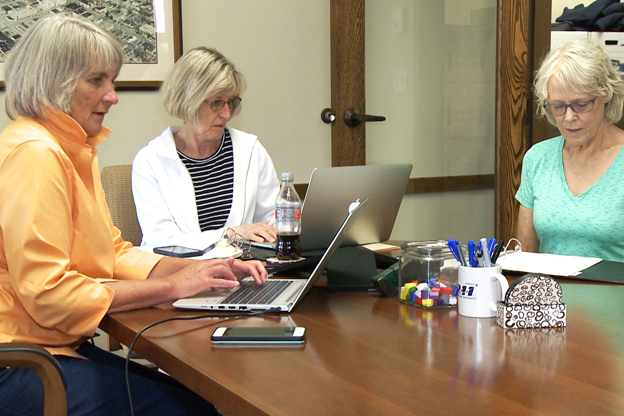 City public engagement director Mary Catherine Carmichael asked if the land was purchased with funds from innkeeper's tax, which is designated for convention, visitor, or tourism business.
Thomas said that's something they'd have to find out. Commissioners are also waiting on land appraisals.
City councilmember Sue Sgambelluri says the land paid for by innkeeper's tax money is meant for convention center expansion and shouldn't be assessed as being sold to a developer for housing.
Carmichael said it's not a traditional sale, but a transfer because the land was bought using public dollars.
"You wouldn't want the public to pay for something twice," she said.
Carmichael said Mayor John Hamilton does not want to move forward with the CIB.
"Why would you want to continue to have as you mention a co-equal partnership, it doesn't even sound like you're really 100 percent behind the idea," Carmichael said.
Thomas said her constituents want a collaboration between county and city officials.
"Our past colleagues have spent a quarter of a century investing in building up and ensuring the convention center operations," Thomas said. "That's the reason why I would want a CIB."
Carmichael said the city is under a time crunch as Indiana legislators craft legislation to sunset the food and beverage tax next year.
Officials will schedule another meeting to continue the discussion.