This story has been updated.
Squeezed between heavy traffic on Walnut and College streets, Millers-Showers Park is Bloomington's entrance for travelers heading downtown.  
Their first impression of the city could be a 40-foot monolith with light up letters spelling "Bloomington."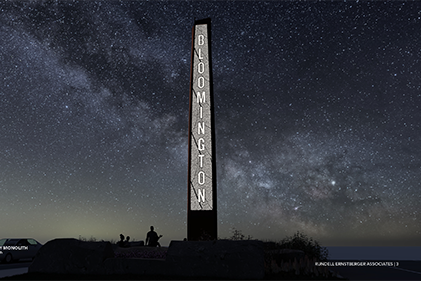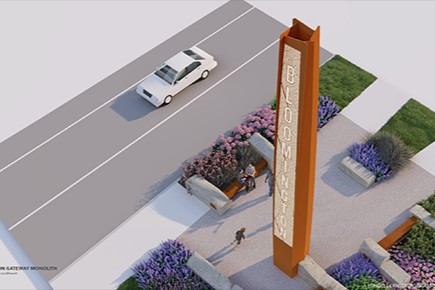 But after weeks of delays, city officials said they will be unable to build the monolith this year and are now considering changes to the design.  
The City announced construction publicly in September. Backlash was immediate.  
A Facebook group called "All Hail the Monolith" attracted more than 150 members. One of its administrators, Allen Rose, has used the group to organize further protests.  
"It was kind of a satire, chiding thing that someone started," Rose said. "I said, 'Here's the vehicle to get a group focalized.'"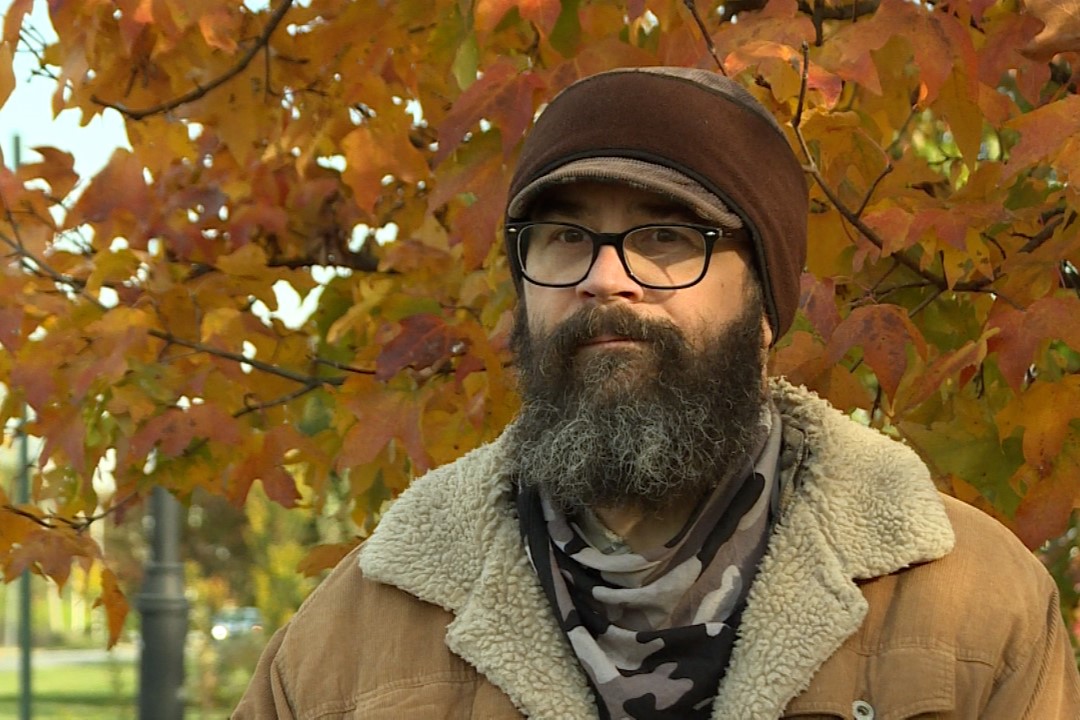 Criticism mainly focused on the monolith's design. Some critics balked at the million-dollar price tag and worried about the effect of LED lights on migratory birds. Rose was irked that local artists hadn't been consulted on the design.  
"They were entirely left out of this process," he said.  
After multiple delays getting permission to build from the Board of Public Works, the monolith that was approved five years ago is in limbo. Interim director of parks and recreation Tim Street said the way forward isn't clear.  
"We don't have a clear update on exactly where we're going with this at the moment," Street said. "However, we are looking at different aspects of the project considering what we've heard from the public, and the Board of Public Works and other folks."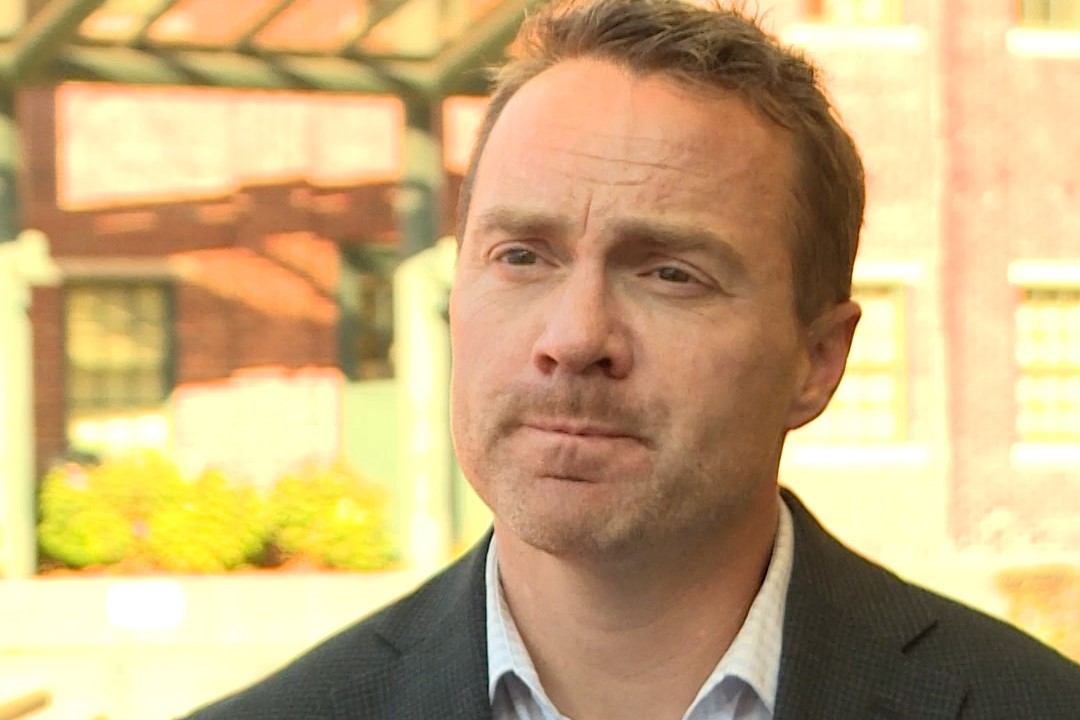 Two companies signed contracts with the city for the monolith's construction and installation: bo-mar Industries in Indianapolis and Reed and Sons in Bloomington. It's unclear what happens next with the two contracts, together worth around $970,000.
"Anybody who does work for us, we will pay them," Mayor John Hamilton said. "If it ends up being a very different gateway and it's not the same provider, then we may owe them some money for design."  
Asked whether there was a possibility contracts would fall through because of the delay, Street said it was "unclear at this time."  
Planning this monument played out in the open, in public meetings over five years. How were the people of Bloomington caught so off guard?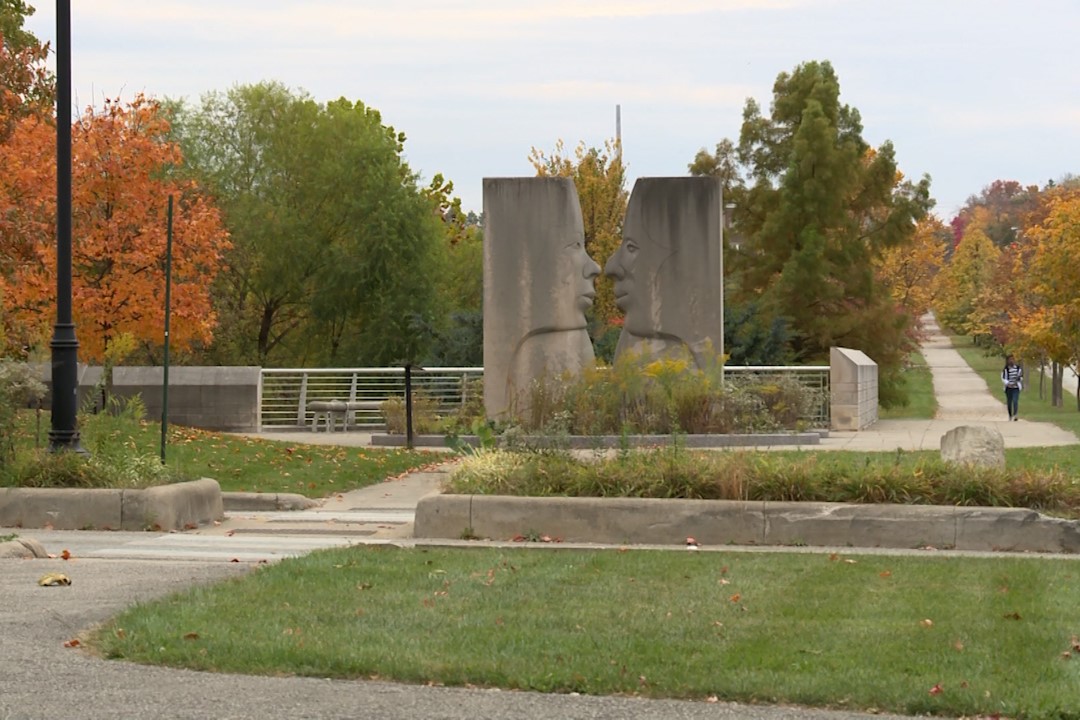 Hamilton pitched to city council selling $10 million in bonds to improve parks, trees, alleys and entrances, including beautification of the city's gateways for the city's bicentennial in 2018.  
By and large, city council was receptive to the mayor's proposal, but it was divided on the gateway project.   
Councilmember Dave Rollo was enthusiastic, saying, "I think this is a good community investment; I see it as a legacy project."  
By contrast, Councilmember Isabel Piedmont Smith (who voted in favor of the bonds) shared that, "the entryways, if they were standalone, I would vote against that." The bicentennial bonds passed city council seven to one.  
The public got its first peek at the monolith design by Indianapolis architecture firm Rundell Ernstberger Associates at a Board of Park Commissioners meeting in December 2019. It was one of three proposed and shared on the city website for public input.  
The original monolith design was made of wood: an homage to Bloomington's reputation as a tree city, according to architect Kevin Sweetland.  
(Story continues below)
View the entire original gateway concept presentation:
Commissioner Les Coyne was more excited about the first design, a multi-colored light tower.  
"The post with Bloomington on it: boring," Coyne said. "Light post: very un-boring. And I think this town is un-boring."  
The process was delayed by the pandemic, and the monolith's design didn't resurface until three years later, when the Park Commission sent it to the Arts Commission for feedback.  
The Arts Commission was only involved in an advisory role, and the monument received a lukewarm reception. Arts Commission member Holly Warren said she wished the Arts Commission had been consulted back in 2019.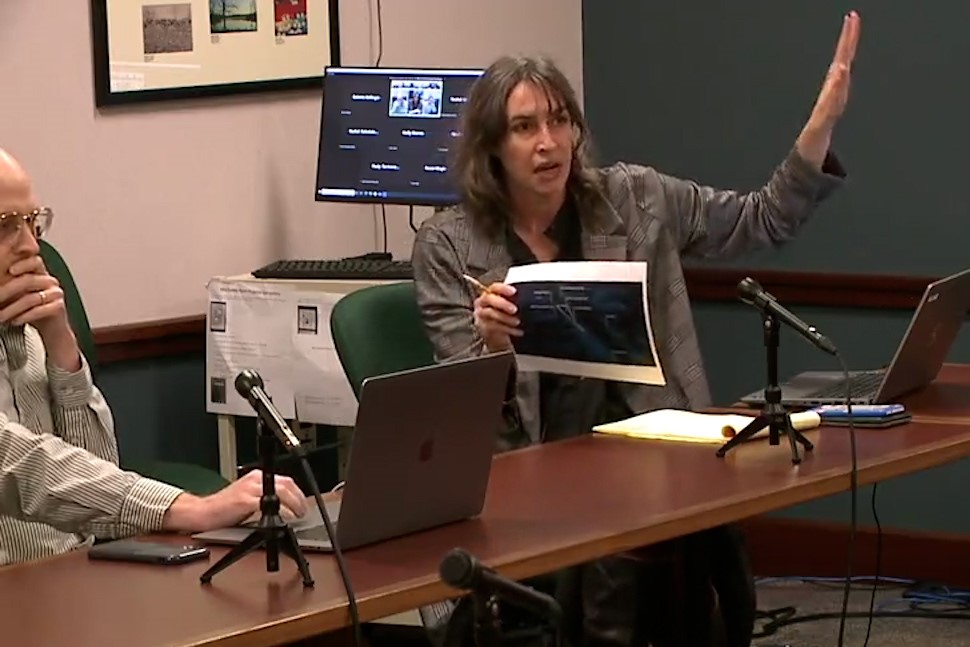 The next day, the Park Commission revealed images in an open meeting, again seeking input. Nobody from the public weighed in.  
That changed nine months later after a city press release this fall brought the monolith into the spotlight.  
Rose said he later became aware of the public meetings and city's requests for input, but he felt the city hadn't done enough to reach out and local news sources hadn't sufficiently covered the meetings.  
"We want more transparency, more attempts to do replete public outreach on multiple mediums and various outlets, not just the main few," he said. "The media landscape is a lot more diffuse now as far as where people are getting their information."  
"It was certainly out there in the public a couple of times before we reached this final release that came out in September," Street said. "I also understand that some people didn't find it or maybe missed that. That's something we can continue to look at in terms of how we get our news out."  
The monolith was approved, and contracts were signed. All that remained was one procedural step: getting right-of-way from the Board of Public Works so contractors could begin.  
But for three meetings in a row, the board tabled the vote. Normally, attendance at public works meetings is sparse. But the monolith discussion attracted a vocal group of critics.  
Former city and county official and community leader Charlotte Zietlow spoke for around five minutes during public comment.  
"This phallic symbol that's being proposed for the interests of the city, with the picture of Bloomington on it and colored lights, comes as a great surprise to many of us," she said. "And an affront, I must say."  
Rose created the Public Art Citizens Committee, which staged a protest in front of City Hall on Oct. 11, the day of the board's final aborted vote.  
"That was the third time that the Department of Public Works did not move (the monolith) forward," Rose said. "Can't say that we're totally responsible for it, but I think we put the final touches on it, for sure." 
Board of Public Works president Kyla Cox Deckard said her decision not to second a motion by colleague Elizabeth Karon to vote on granting right of way had nothing to do with public pressure; she was worried about how right-of-way could complicate public work's College Walnut corridor study. 
"My concerns really were the connection between these two city projects and the way that we can make those work best with the least amount of impact to the right of way for the public, especially that particularly busy intersection," Cox Deckard said.  
When nobody seconded the motion in the Oct. 10 meeting, the audience applauded.  
Street confirmed later that month in an interview with Indiana Public Media that the project could not be completed this year, due to the weather window for construction closing.  
Read more: Monolith construction on hold as city reassesses plans

He added that the Parks and Recreation department is still intent on moving the project forward.   
The monolith as it exists now is at bo-mar in Indianapolis, and no work is currently being done. What exists, said Street, is mainly "mechanical, electrical and structural engineering" work.  
But Street and Hamilton said they're considering public feedback made late in the process.  
"It may change some, it may change none; it may change a lot, a little as time goes past," Hamilton said.  
"Sometimes you get a process of input, whether it's on a park, or it's on a gateway, or it's on a plan, and we get a lot of public input. And then people may look at it later and say, 'Hey, I didn't get to weigh in on that. I want to weigh in on that.' Sometimes it's too late. Sometimes it's not."  
Now that it's been delayed until 2024, the monolith would be constructed under the administration of a new mayor, Kerry Thomson.   
Thomson told Indiana Public Media Friday morning: "I do appluad the mayor's decision to push pause on this. As I've been knocking doors and doing listening sessions and receiving outreach from residents, it's clear that this design didn't feel like Bloomington to many residents of Bloomington."
She said her starting point for looking changing the monolith would be to go back to the other designs proposed by Rundell Ernstberger.
This story has been updated with comment from Kerry Thomson.