The City of Bloomington is collecting public input on possible changes to the College Avenue and Walnut Street corridor just under two months after it initiated a study.
Dozens packed the city council chambers June 14 and 16 for meetings hosted by the city's Planning and Transportation Department to offer opinions and talk about design concepts. 
Those who attended were split into groups and asked to consider three questions: What do you like and want to see retained? What do you dislike and want to see changed? What's missing that you would like to see created? 
Common points highlighted by the various groups included a desire for more bicyclist and pedestrian protections, wider sidewalks, and more greenery.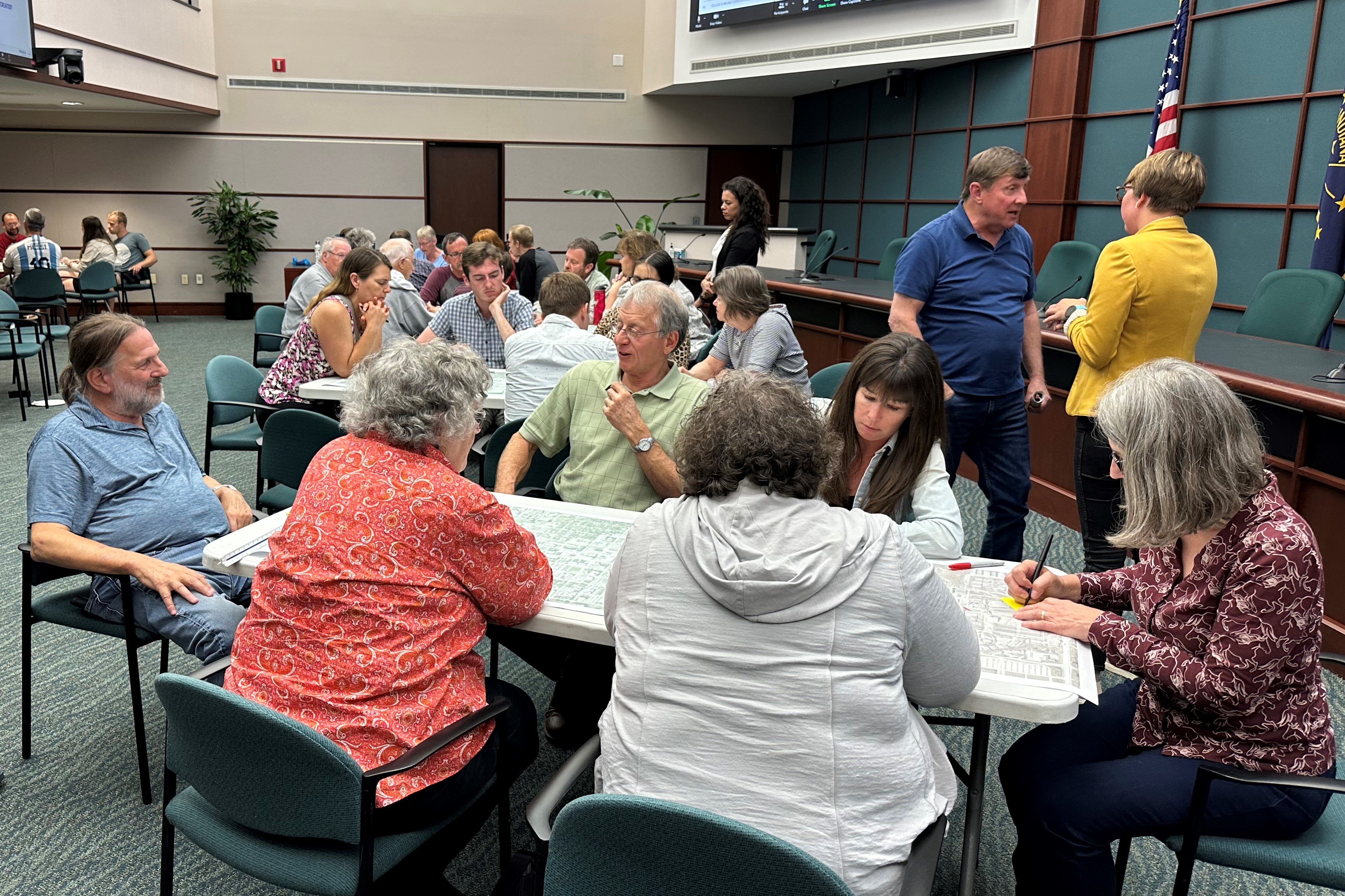 Changes to the corridor have been under consideration since 2018, but last week was the first time the city collected input in that format. 
College and Walnut serve as the main north-south vehicular thoroughfares for the city. The city's Transportation Plan, adopted by city council in 2019, identified the need for possible changes to a roughly 2.2-mile stretch of the roads from the State Road 45/46 Bypass to Allen Street. 
The city says the sidewalks, ramps and crosswalks along the corridor don't meet current accessibility standards and the pedestrian network that exists is incomplete and inaccessible. On top of that, car crashes there are frequent. 
There are about 150 crashes along the corridor each year, and over a five-year period there were 40 crashes resulting in serious injuries and four resulting in deaths, according to the city. 
Read more: City, county government resume talks on convention center expansion
Toole Design Group, the consultant the city is working with, has recommended in the city convert the roads from one-ways to two-ways. 
But Beth Rosenbarger, the assistant director of planning and transportation, said the city hasn't committed to that recommendation. It instead chose to conduct a corridor study so it could consider other potential options. 
"A corridor study is more holistic and looks at lots of options," Rosenbarger said. "We want to look at the outcomes we want to see as a community, which are very focused on improving safety and improving access, and then look at the different design options and see which options help us achieve the outcomes we want to see as a community."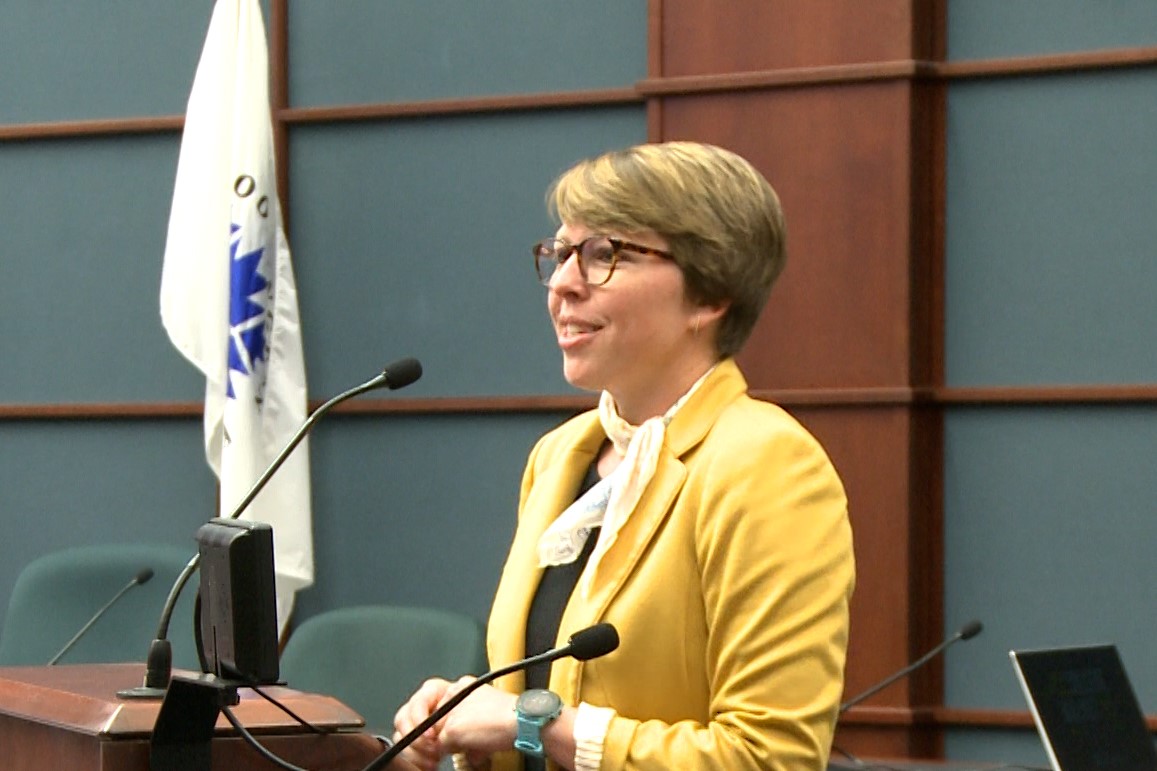 The Transportation Plan says the corridor study should consider options including two-way circulation; special bike roads with limited car access; restrictions on street parking for cars; new protected bike lanes; multi-use paths, sidewalks and amenities; and designated bus-only lanes. 
Wil Stahly serves on the board of directors of Bloomington Center for Global Children, a daycare and preschool that's located on North Walnut Street just north of downtown. He said many parents and guardians are concerned by speed and amount of traffic on Walnut. 
As a result, the center has installed a wooden fence surrounded by large tires between itself and the sidewalk. The goal is to provide an extra barrier of protection in case of a crash. 
Stahly said even though the lanes are very wide on that part of Walnut Street and there's room for drivers to park, there are not lines clearly indicating whether parking is allowed.  
"Our fear is that since there's no lines to indicate cars (can) park there, if there is an accident, the accident isn't hitting (any) parked cars first," Stahly said. "Rather, cars will travel into our building and potentially hurt any children. We just need a little more of a barrier to make that a lot safer." 
Stahly said the city should consider extending the sidewalk and planting trees, or at least painting lines for parking spots. That way, parked cars might receive the brunt of the impact from a crash instead the daycare. 
Stahly also would like the city to add signs to an alley next to the daycare that indicates which way drivers are supposed to go. 
Stahly's greatest concern is the speed at which drivers travel on Walnut. He said traffic has slowed somewhat after the city installed a new traffic light, but drivers still often rush through yellow lights. Drivers also frequently encounter several green lights in a row, which leads to even more speeding, he said. 
Stahly said he feels indifferent to making College and Walnut two-ways but believes the city should aim to reduce traffic speeds with whichever solution it chooses. 
"If there's just any way they can reduce the speed a little bit, that would be fantastic," he said. "Adding stoplights, adding more crosswalks, maybe. One or the other; it's whatever helps to reduce that speed would be fantastic for our kids." 
Read more: Federal judge blocks much of Indiana's ban on gender-affirming care for minors
Rosenbarger said much of the public discourse on College and Walnut has focused on the notion that the roads could become two-ways. While that option isn't off the table, she emphasized that it's not the only one under consideration. 
The city is weighing options such as adding trees, bike lanes and even a possible roundabout at the entry at Miller-Showers Park.

"People tend to get focused on particular designs," she said. "What we're talking about right now is looking at different designs and seeing how those score against the outcomes and goals we have as a community. Is two-way an option? … Of course, we want to consider any option that can help improve safety and help us achieve our goals as a community." 
People disagree on whether the streets should be two-ways. 
At one of last week's public input meetings, a participant who asked not to be named spoke strongly against the potential changes discussed. She believes many of them won't work because there isn't enough of a foundation for them yet. 
Read more: Studies on students experiencing homelessness show gaps in funding
Additionally, she said the corridor is a critical piece of infrastructure for drivers who want access to big-box stores on the west side and College Mall. 
Others said they felt like the city already has a plan in mind and is collecting public input out of obligation.
Many city council members also attended the meetings, including Sue Sgambelluri, city council president and representative of the city's former second district. 
Sgambelluri described the meetings as a good beginning but said there's still much work to be done. 
"One of the things about having charettes and public meetings like that is: we hear from those who show up, but we always need to ask ourselves, 'Whose voice have we missed? Who hasn't been at this meeting? Or who didn't have a chance to attend?'" she said. "So, I think we still need to challenge ourselves to ask those questions."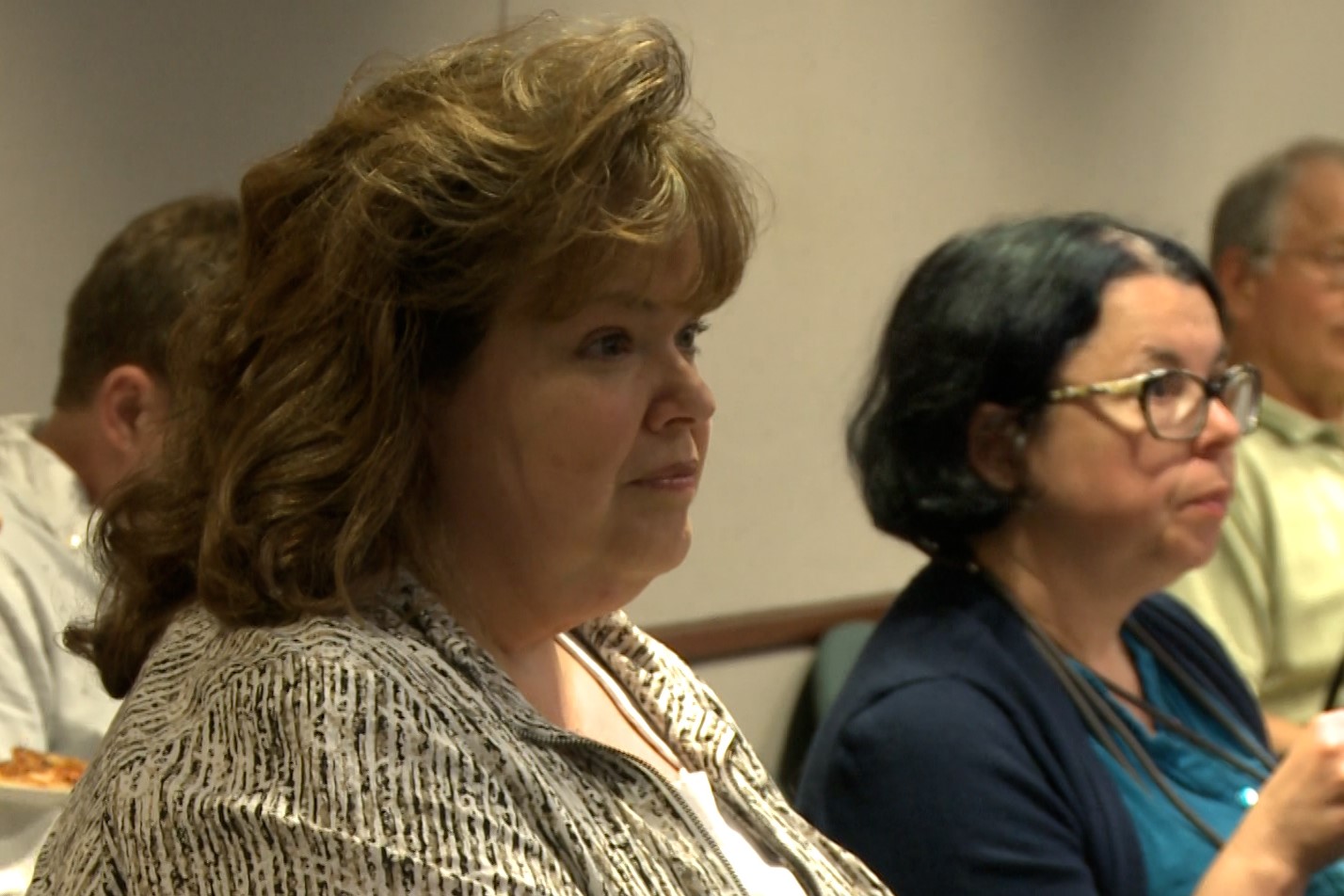 Sgambelluri said debates about whether the city should better accommodate modes of transportations besides cars was a common topic at the meetings, and one she continues to hear more about. 
"One of the individuals in my group made the comment that, 'It seems like every time we do something for bicyclists and pedestrians, we're making things harder for people in cars,'" Sgambelluri said. "Like a lot of situations, governing and leading is about trade-offs. That's what this process is about: kind of navigating and negotiating those trade-offs." 
City council action on changes to the corridor will depend on exactly what the planning and transportation department recommends. 
One possibility, Sgambelluri said, is to make no changes. In that case, there wouldn't be a need for city council to vote. She said city council would be likely to weigh in if the city decides on significant changes in parking or overall design. 
Read more: Holcomb says he's too busy as governor to run for U.S. Senate in 2024
"It depends on what the changes are, what changes are recommended, but I think plan commission is certainly in play, bike and ped commission is certainly in play; traffic commission as well," Sgambelluri said. "I think there are stops at all of those groups in the future as the city continues to gather feedback." 
Rosenbarger said the city eventually wants to narrow down a small list of potential design options based on the community input it collected last week. That process will take several months. More opportunities for public engagement are likely to take place later this year. 
"There will probably be a little bit of a pause here for the rest of the summer on this as we sketch some things out and come up with those broader options along the corridor and then circle back with the public this fall," she said.
Anyone who wants to submit input on the project can do so online.