The City of Bloomington plans to move forward with Convention Center expansion despite the breakdown of talks with the county.   
After six years of negotiations, the city and the Monroe County Commissioners have failed to reach a resolution, according to a statement released Saturday by Mary Catherine Carmichael, the City's public engagement director. 
"We believe it's time to shift focus fully to what we can do to follow through on our commitment to use the City's portion of the food and beverage tax to expand the space available for conventions and other large gatherings in Bloomington," Carmichael wrote. 
Read more: Ask The Mayor: Bloomington's Hamilton on convention center, scooters, city broadband 
The City and the County disagree on how the expansion project will be run. 
The convention center and the land it sits on currently belong to the county, which purchased it with revenue raised by an innkeeper's tax, a surcharge applied on hotel visits. 
The city has long planned to take over the expansion project by purchasing the existing site from the county, but it objects to the County's plan to create a capital improvement board to supervise the project; that board would ultimately answer to the county. 
Monroe County Commission President Julie Thomas said that such a structure would keep the project transparent. 
"It keeps the project of expanding a center or renovating a center very public," Thomas said. "The finances are public. The meetings are public. It is a group of Democrats and Republicans who were appointed by both the city and the county."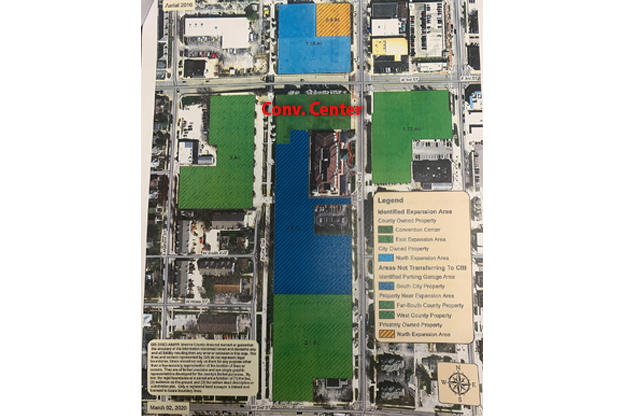 Carmichael said the city would prefer to take the property over and manage it through a 501(c)(3) nonprofit, which she said would be nimbler than a capital improvement board and would complete the project faster. A nonprofit could also manage other city property projects in the future. 
"Based on our experience so far and our problem coming to agreement between the two governmental entities, we were afraid that we wouldn't be able to reach agreement on things in the future," Carmichael said. She added that if the project doesn't move forward quickly, the state might axe the county's food and beverage tax, which raises money for the center's expansion. 
Thomas worries a 501(c)(3) might lack public accountability. "The problem with a 501(c)(3) is that they have no protection against tort claims by the public, the way that a public entity does like a capital improvement board," Thomas said. "With financing, with allocations with meetings, it could be public, but it doesn't have to be." 
As for the city's plan, Carmichael said cooperation with the County Commission will be crucial regardless on the path forward. 
Both the city and county say they hope to expand the current center rather than create a new, competing center. However, doing so would require a compromise that has proved elusive since negotiations stalled this summer.