For the last two weeks, Bloomington city officials warned those sleeping in tents overnight in Seminary Park that they must find shelter someplace else, or be removed.
READ MORE: City To Begin Enforcing Overnight Camping Policies In Seminary Park Next Week 
The city followed through with those warnings Thursday night as about two dozen Bloomington police officers, along with other city workers, arrived at the park just after 11 p.m. to start removing tents and camping structures.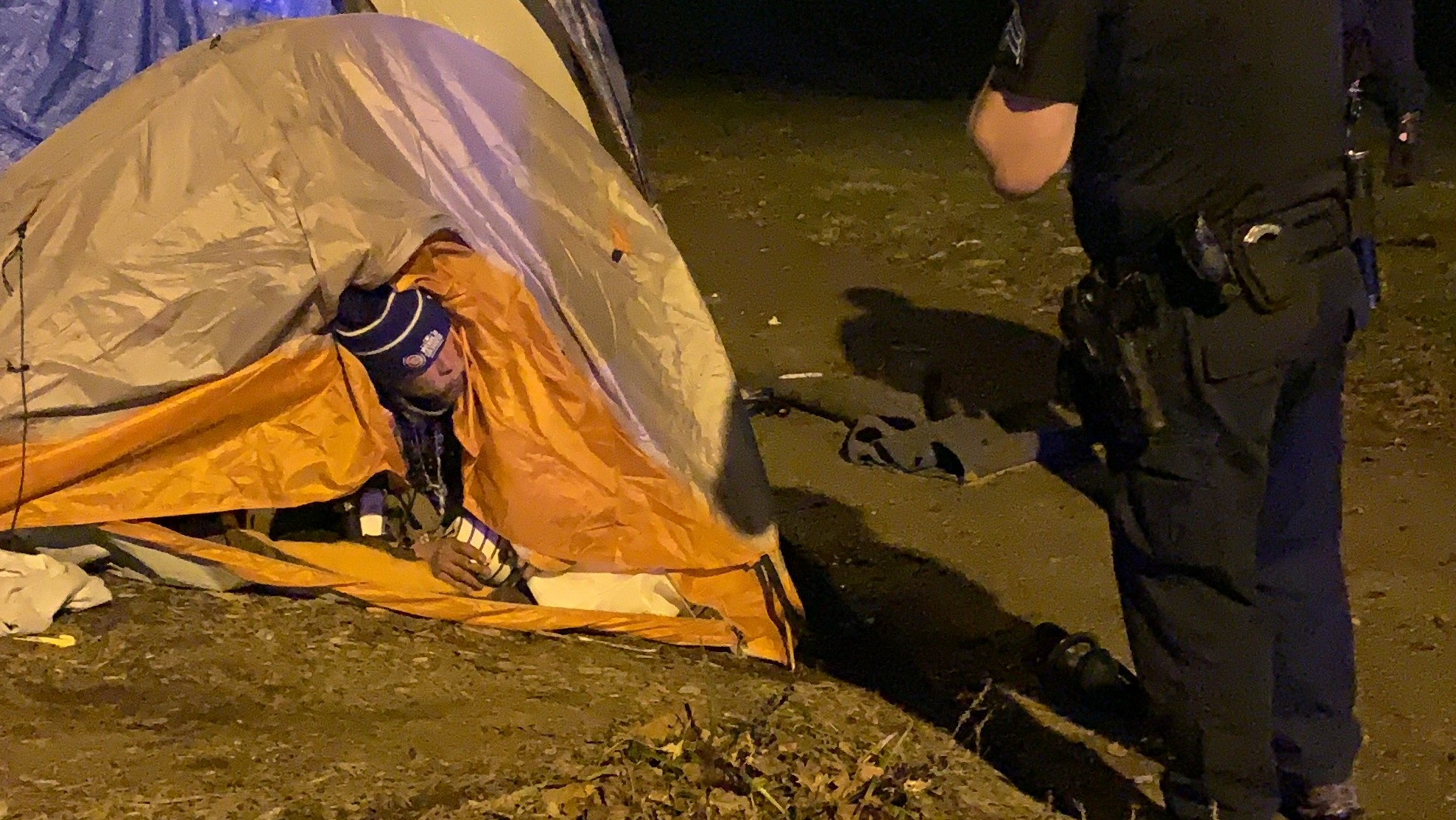 The city began the removal process earlier when sanitation workers showed up Thursday afternoon to clear the public right-of-way along South College Avenue.
Earlier in the week, a letter was sent to Mayor John Hamilton's office with over 1,500 signatures asking the city to put a moratorium on tearing down the encampment.
"Please stop. Let's stop the evictions. Let's work together to find a common solution instead of trying to forcibly remove people," said Rev. Forrest Gilmore, executive director of Beacon Inc. 
READ MORE: City Rejects Letter Calling For Moratorium On Evictions At Seminary Park
The letter received signatures from several elected officials including: the Monroe County Commissioners, members of the Bloomington City Council, members of the Monroe County Council, the Monroe County Democratic Party and several local organizations and activists. 
"This is their home. That's their neighborhood. That's where they feel comfortable. That's right next to all their amenities that they can get the food, the day shelter and the showers," said Marc Teller of the Bloomington Homeless Coalition. "Short of that, they would have to walk miles to just get warm clothes."
Both Teller and Gilmore represent organizations who have been pleading with the city to hold-off on tearing down the encampment for just a little longer, stating there isn't enough shelter space in the area.
"Everybody that has any involvement in this is simply asking for more time," Teller said. "We have things in the works that could solve this."
One of the solutions is opening a new low-barrier shelter in a warehouse south of Seminary Park.
Gilmore said he has already walked through the building with the Bloomington Fire Dept. and everything looks like it can be made to fit the local fire code.
"We could probably open very quickly, but we would have to staff it up. That would take some time and of course we'll need financial support to do that," Gilmore said.
Gilmore said he's currently in the process of writing a budget that would need roughly $60,000 to get the shelter operating. He said both Bloomington and Perry Townships have donated $15,000 each, and Beacon can contribute another $10,000.
That would leave about $20,000 of funding left to meet Gilmore's budget.
"We think it's a viable location that has heat," Gilmore said. 
The Bloomington city council's public safety committee also met Thursday night, just hours before the Seminary Park encampment was taken down. 
Councilmember Isabel Piedmont-Smith said legislation is being drafted that would require the city to give at least a 15-day notice before removing any future encampments.
"Another aspect of it would be that people's belongings would have to be saved and kept in a safe place for an extended period to give them a chance to recover their possessions," Piedmont-Smith said. 
But future legislation does not help the people who are experiencing homelessness right now.
"We surveyed 44 people and estimate another 20 or so sleeping outside in camps, so 60-65 is a conservative estimate of who we know is sleeping outside in camps," Gilmore said. "There also are an uncounted number of people sleeping in cars."
Gilmore said he hopes to get approval and funding to open the new shelter as quickly as possible.