Bloomington sanitation workers arrived at Seminary Park Thursday afternoon to enforce rules against camping on public right-of-ways, where people experiencing homelessness had set up tents and other dwellings.
Tents are not permitted on right-of-ways at any time, but the city said it had relaxed its enforcement of the rule for the past several weeks to give people time to find shelter eslewhere.
"I was not expecting them to come today, and I've been consistently surprised by the city's actions taken at Seminary Park," said Rev. Forrest Gilmore, Beacon Inc. executive director.
Around a dozen Bloomington Police officers arrived at the park around 3:15 p.m. to make sure city sanitation workers could begin clearing out the right-of-way.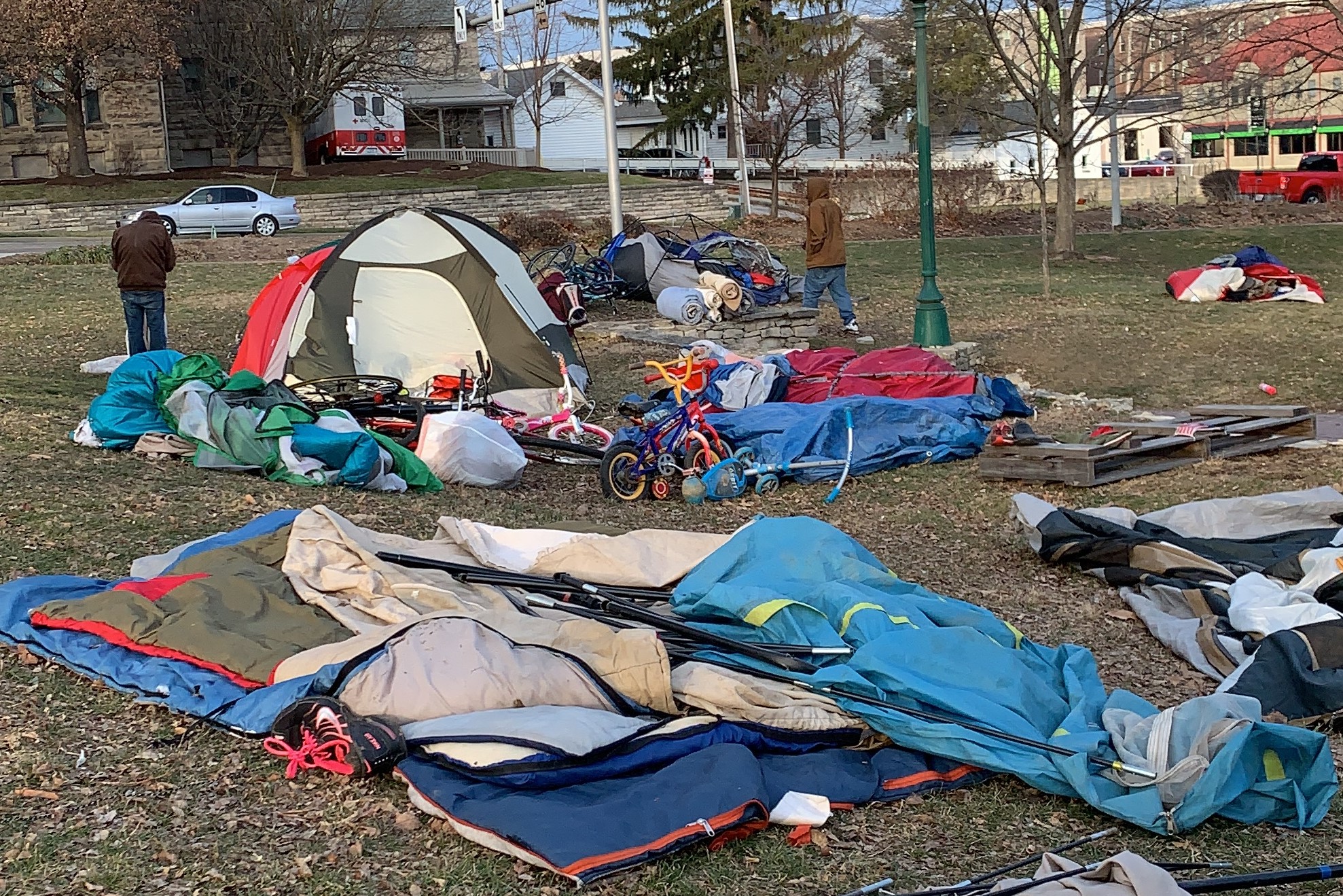 Around that same time, local volunteers, residents and people experiencing homelessness began moving tents and personal possessions from the right-of-way onto Seminary Park's property, where camping is allowed until 11 p.m.
The city posted signs in the park last week warning people that on Jan. 11, the city would begin enforcing its overnight camping ban and people needed to find other shelter. But the Monday deadline came and went without city workers or police arriving to enforce it.
READ MORE: City Does Not Enforce Park Policies And Remove Tents From Seminary Park Monday Night
Advocates sent a letter with more than 1,500 signatures to Bloomington Mayor John Hamilton urging the city to impose a moratorium on the scheduled eviction of those experiencing homelessness in Seminary Park.
"Today we are working with our community partners to complete the transition process for folks staying in the Seminary Park area to safer sheltering options," the city's director of public engagement Mary Catherine Carmichael said in an email. 
The email also said the city plans to release a statement tomorrow, but people in the park are still unsure what will happen tonight at 11 p.m. when camping is no longer allowed by law.
"As far as we know, the city will be coming back tonight," Gilmore said.