As winter continues, people experiencing homelessness in Bloomington's Seminary Park have been camping overnight in tents to keep warm. 
There are about 25 camping structures set up on the land categorized as public right-of-way between the park's property and South College Avenue.
Although park rules do not allow overnight occupants between 11 p.m. and 5 a.m., the city has relaxed its enforcement the past few weeks after it sent resource officers into the park last month to clear everyone and everything out. 
"Nobody is allowed to occupy the public right-of-way at any time," said Mary Catherine Carmichael, the city's director of public engagement. "But we hadn't been enforcing that. Although, we felt that was not a safe situation."
Earlier this week, the city posted a new sign in the park to give notice that starting Monday, Jan. 11 at 11 p.m., the city will enforcing the rules again.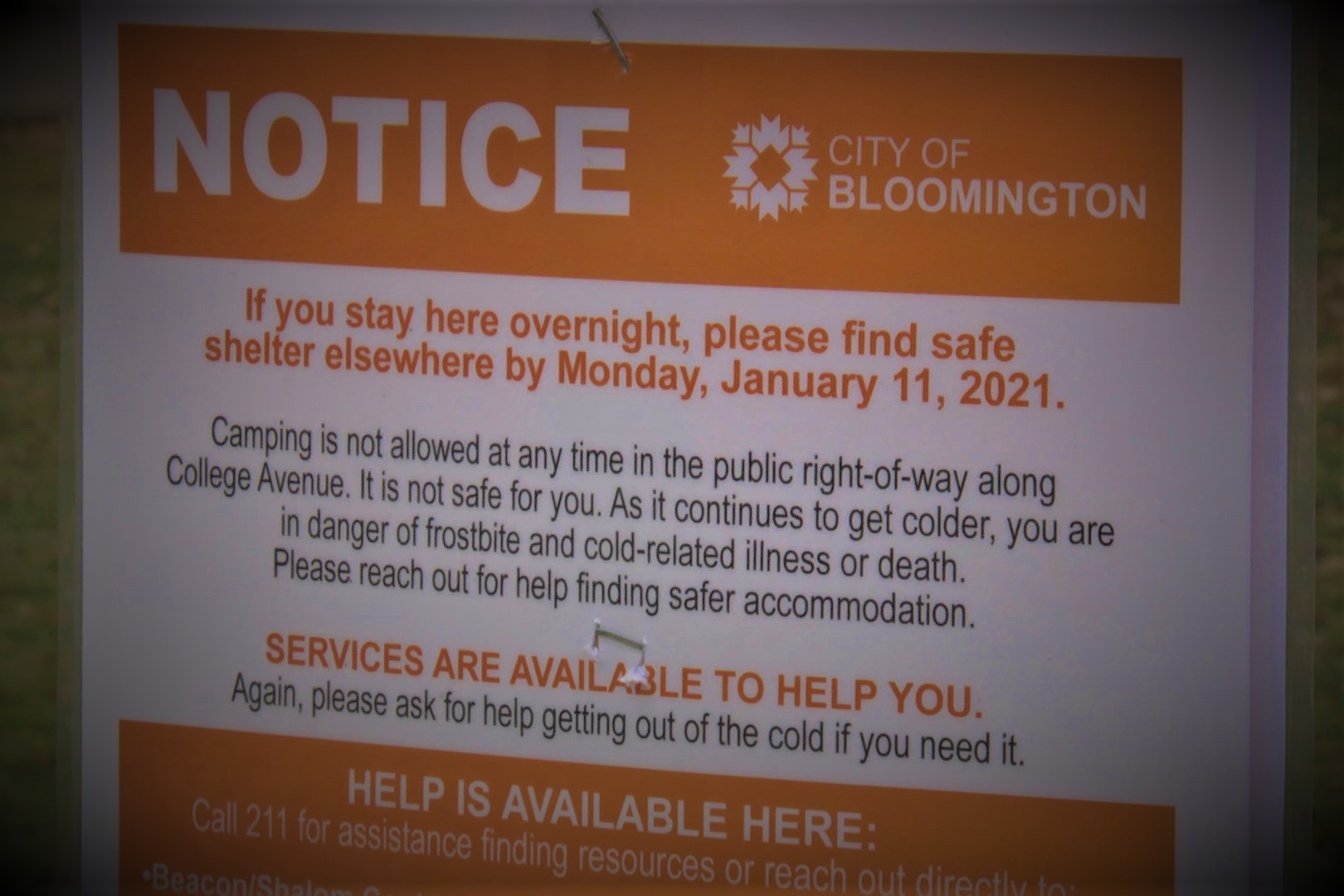 The notice also lists the location and phone number of every local shelter that has available beds and services for those experiencing homelessness. 
"There's not a good solution or alternative, and I think to kind of get through this it's going to take everybody working together and figuring out which agency can do which, and which shelters are appropriate for people in the park," said Greg May, administrative director for Centerstone. 
Both May and Carmichael said it's also not safe for people to stay in the park under the harsh winter elements.
"You run into issues like frostbite, hypothermia or other kind of cold-related illnesses," May said. "Not to mention just being in a public space during a pandemic where everyone is in close proximity."
Since the encampment appeared in the park at least one person has died.
On Christmas Eve morning, Bloomington Police officers responded to a distress call in Seminary Park where a 51-year-old man experiencing homelessness had died.
READ MORE: Bloomington Police Investigating Death Of Man At Seminary Park
According to a BPD news release, both officers and EMS personnel performed a welfare check on the man as well as unsuccessful resuscitation efforts. Police said there were no signs of foul play or injuries.
"No one wants to see or hear this type of thing happening in our community. It goes against all that we have worked so hard to do, and the progressive community in which we live," said Dana Jones, director of the Wheeler Mission For Men. 
But there is fundamental disagreement about removing tents from the park amongst local shelter directors, city officials and the public. 
READ MORE: Park Board Strikes Down Special Use Policy On Tents In City Parks
"My concern is that in that people will disperse and become harder to access. They will become less visible and we'll be less able to take care of them," said Rev. Forrest Gilmore, executive director of Beacon Inc. 
Gilmore said during Beacon's last survey of Seminary Park, there are about 30 or so individuals living in the encampment, but trying to find proper living arrangements in such a short period of time is complicated.
He said despite availability at local shelters, some people experiencing homelessness do not feel safe going there for a variety of reasons.
"Sometimes we get very focused on shelter, but we forget that the core problem and what we need to always keep our eyes on is homes," Gilmore said. 
Gilmore said he hopes as many people as possible find safe shelter before the city begins taking down the encampment.
"We have a major affordable housing crisis in our city and we're just pretending like it doesn't exist, or certainly not doing anything to change how we do things to prevent it from existing," Gilmore said. "We need a replenishable housing fund where we're committing regular funds every year and taking this seriously."
But people sleeping in the park will only have until Monday night to vacate the premises.
For the latest news and resources about COVID-19, bookmark our Coronavirus In Indiana page here.