The encampment of people living underneath the B-Line bridge over Grimes Lane is not the only one of its kind in town, it is just one of the more visible.

"A lot of folks, you know are camping in areas that are out of people's view," said Beacon executive director Forrest Gilmore. "Because once they get into people's view, people start trying to make them move or get them arrested or whatever."  

Gilmore said homelessness is a complex issue that is not unique to Bloomington.

"Somewhere in the range of 10 to 20 percent of people experiencing homelessness, experience what we call long-term, or chronic homelessness," he said. "And most street homeless individuals are chronically homeless." 

But the lack of affordable housing is only part of the issue. Most people experiencing chronic homelessness struggle with co-morbidity or tri-morbidity, a combination of a substance abuse disorder, mental illness, and physical disability.

Gilmore said there is no way to look at what is happening under the bridge without also acknowledging the lack of resources available to those people.

"Housing is almost always the main solution needed when dealing with homelessness, but often there are other things that go with that as well," he said. "As we say, it's housing first but not housing only." 
LISTEN: What Action Is The City Taking To Improve Housing Options For People Experiencing Homelessness?
Gilmore said evicting people from encampments on public property only makes the issue worse – especially when shelters are near capacity.

The city was in that situation this past winter at Seminary Park.
READ MORE: City Removes Tents From Seminary Park After Two Weeks Of Warnings

Several dozen people were sleeping in the park, and on at least two occasions, the city evicted the homeless encampments, and encouraged the residents to go to a local shelter.
Gilmore said there weren't enough beds for all of the people to go to shelters. …and he maintains that in this situation people have a right to sleep on public land – according to a Ninth Circuit Court of Appeals ruling.

"Right now, there is law that certainly affirms the possibility that that's a right, but it hasn't been fully addressed here locally," he said.

We reached out to the mayor's office and a city spokesperson declined an interviewing saying it's not exactly clear on who owns the property. However, the administration is actively looking into it.

The camp falls in city councilwoman Isabel Piedmont-Smith's district. She said the mayor's office is drafting a policy to address homeless encampments on city property.
READ MORE: Ordinance Protecting Bloomington Homeless Encampments Fails
"The mayor's administration needs to make clear and public what their process is," Piedmont-Smith said."In what circumstances they would close an encampment, how much notice they would give to the people there and the service providers who might be able to help those people."

She said asking someone to go to a shelter can be tricky. However, if the camp were asked to vacate the area, it would be different than December and January.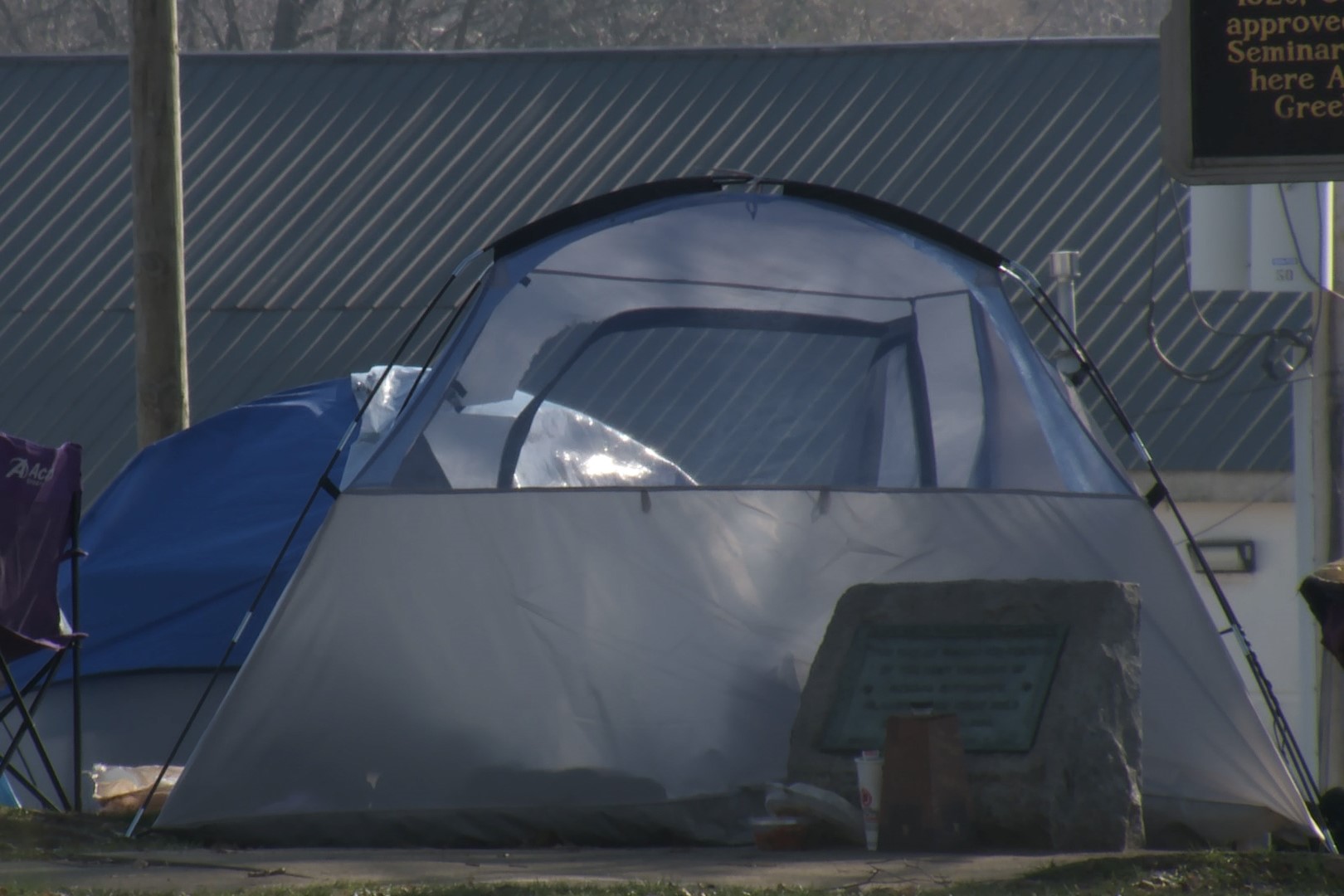 "Even if the ninth circuit ruling applied in our circuit, I think it wouldn't apply here because unlike in the winter when the shelters were pretty full," Piedmont-Smith said. "Currently, I think there are plenty of spaces available." 

But even if there are enough beds in shelters, Forrest Gilmore said there is no way to shelter our way out of homelessness.

He said the best way to provide affordable housing for everyone is to increase rapid rehousing, permanent supportive housing, and public housing. Without them, the problem will never go away.

"The average age of death of a chronic homeless person is 47 years old," Gilmore said. "So, they die on the streets if we don't intervene for them. It's not this thing of you just make them suffer until they finally wake up to change their lives- they die." 

Mayor Hamilton plans to ask city council in the coming weeks to approve $1.2 million of American Rescue Plan Act (ARPA) funds for the housing insecurity working group priorities.