The Bloomington Plan Commission granted major site plan approval for two projects Monday.
The first is a 21,000 square foot office building in a portion of the empty lot diagonal from the The Mill in the downtown Trades District. The development will feature office space on the first two floors and an outdoor terrace on the third floor. 
The city's assistant director of small business development, Jane Kupermsith, said the tech center is meant as a graduation space for The Mill.
"It's speculative in that we don't have tenants yet," Kupersmith said. "But we are building it for potential users that we think are next in line in the growth cycle."
The project is part of the city's goal to build on the Trades District with a $3.5 million CARES Act Recovery Assistance grant awarded Sept. 3 last year.   
"I think it is a great use of the grant funding for this project," plan commissioner Jillian Kinzie said. "This is terrific."
READ MORE: Bloomington Looking To Expand Trades District, Build On Coworking Success
The project will be approved once the board of zoning appeals grants two variances, including one for the use of metal siding.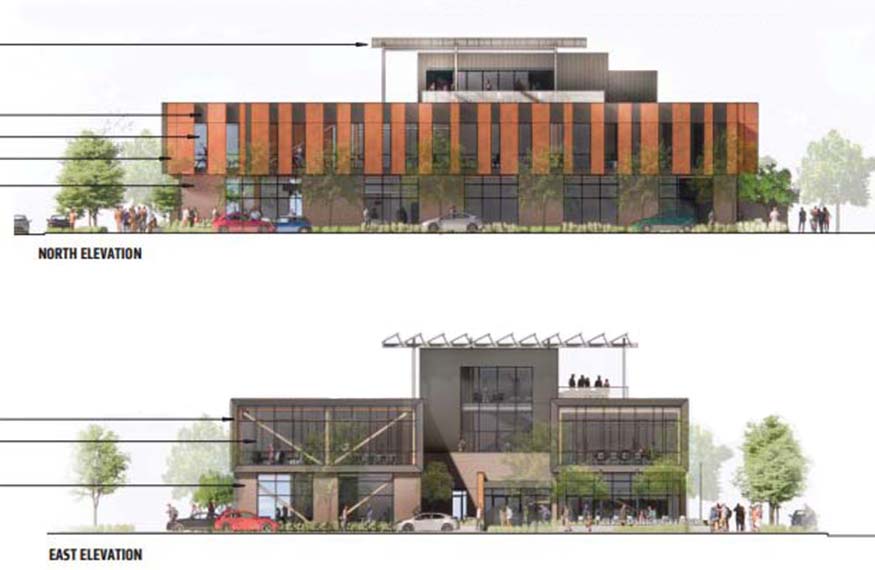 The second major site approval is a four-story housing development at 613 E. 12th Street. A single-family home currently occupies the .20-acre lot, which is zoned Mixed-Use Medium Scale. 
Grant Properties is building a 17,500 square foot housing development with 18, one-bedroom apartments spread across three floors. The ground floor includes a mailroom and parking garage with eight vehicle spots.
Plan commission approved the project as part of its consent agenda, but staff's recommendation in the meeting packet said the project is appropriate given the neighborhood's proximity to Indiana University.
Trinitas Planned Unit Development
The plan commission also considered two amendments to the city's largest planned unit housing development at 1550 N. Arlington Park Drive. The neighborhood was approved in 2020 and includes 825 bedrooms and 337 units. 
READ MORE: Bloomington Council Approves 39-Acre Housing Development
Project developer, Trinitas, is seeking an amendment to the PUD to create flag lots extending to Arlington Road and 17th Street to place free-standing signs. However, the neighborhood's address is set to be on a new public road, Telluride Street, which will connect the two larger roads. 
"We feel the signage along 17th and Arlington is critical to the leasing and marketing efforts and its imperative to the general safety of the property," Trinitas development operations manager Austin Tracey said.
But city planning staff said the shape of the new lots would be "extremely out of sync with standard UDO length/width ratios" and local code prohibits signage far this far removed from developments.
"If you live back there and you're giving someone directions to your house, you're not saying "drive down Arlington and then search for my subdivision,'" development services manager Jackie Scanlan said. "You're saying, 'turn right on Telluride.'"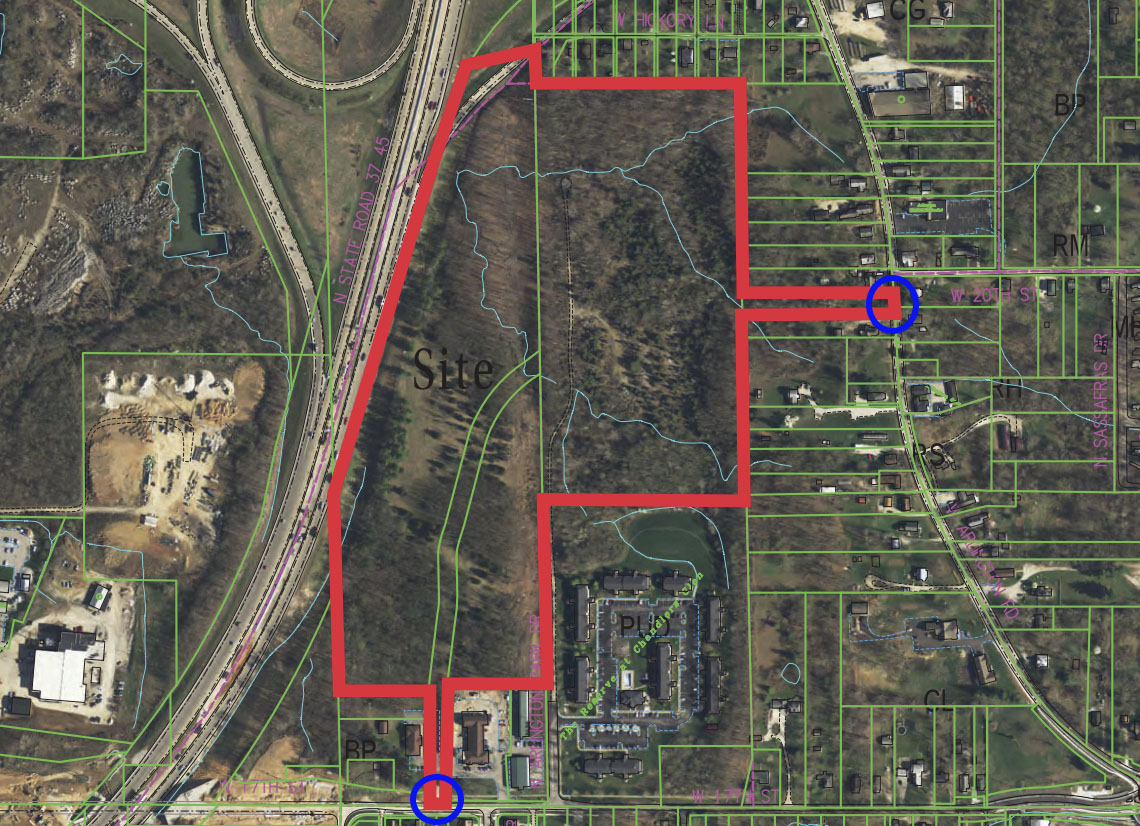 Commissioner Jillian Kinzie said she understands the value in signage but is concerned other businesses would follow suit.
"I can imagine other businesses that are on the side streets of Walnut [Street] wanting signage directly on Walnut, versus where they have to do it on their property," Kinzie said.
The commission unanimously voted to forward the amendment to city council with a negative recommendation. However, it sent a positive recommendation to allow podcast and video studios as an approved use in the development's commercial space.
This story has been updated.