"Coworking" is when people use a shared office space to complete work. As opposed to a public library, coffee shop, or spare bedroom, coworking centers offer remote workers and startup businesses office amenities for affordable prices. 
Erik Robinson, a member of The Mill in Bloomington, said coworking centers offer desk space, mailing addresses, and access to printers, call centers and conference rooms.  
"The really advantageous thing is you're typically around other people with their own startups, side businesses, or freelancers, or remote workers, and so you can certainly swap stories," he said. "You can kind of engage 'oh hey, what's a good online payroll service? what kind of accounting system do you guys use?'" 
Robinson uses The Mill as director of business development for Helix BioStructures, a company specializing in drug development, chemical and structural analysis, and protein production and purification. 
He said coworking spaces do not have a long-term lease commitment, whereas commercial office leases tend to last 18–24-months. 
"You can do daily, weekly, monthly," Robinson said. "If you want to do an annual that's fine, you know, depending on the space you need and what other resources you have." 
Coworking began as an opportunity for computer hackers to share information in the same room in Berlin in 1995. The first coworking office space eventually opened in Vienna in 2002, and the first space in the United States opened in San Francisco in 2006. 
Since The Mill opened its doors in 2018, Bloomington Mayor John Hamilton said it has become a beehive of innovation and entrepreneurship for the city.  
"That trades district is really meant as an employment center, and kind of the new economy center of gravity, if you will, working with IU and our entrepreneurs around the city," Hamilton said.
Hamilton said Bloomington is looking to build on its long-term trades district goals with a $3.5 million CARES Act Recovery Assistance grant awarded Sept. 3.  
The grant is designated to construct a three-story, 22,000-square-foot Trades District Technology Center with tenant office spaces, conference rooms, as well as other shared amenities. 
"It's exciting news, we really appreciate the partnership with the federal government," Hamilton said. "You know, many people don't know Bloomington is home to the fastest growing co-work space in the state."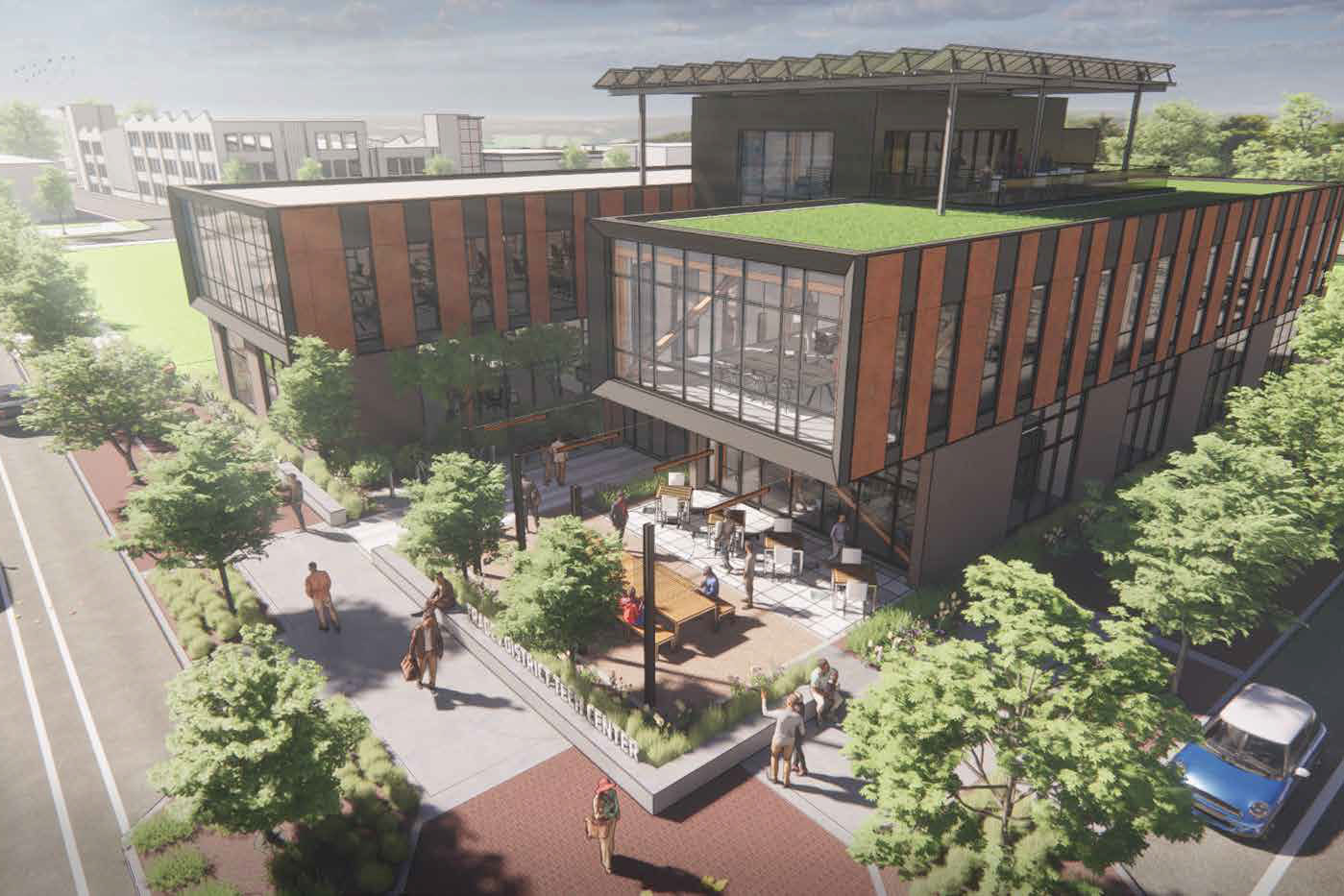 The Bloomington Economic Development Corporation worked with the city to apply for the grant last fall. BEDC president Jennifer Pearl said it will offer next steps for tech businesses to grow in south central Indiana. 
"The center will actually serve tech companies that are beyond the startup phase, and provide services and space to help them grow and mature, while also growing quality employment for the region," she said.
Pearl said organizations like Indiana University, Ivy Tech and Crane Naval Surface Warfare Center offer a lot of people with tech expertise to the region, specifically with things like artificial intelligence.  
She said about 30-40 tech companies are operating in Bloomington or Monroe County, but there is significant opportunity for expansion.  
"If this is successful, we anticipate that over the next 10 years the tech center can create around 530 jobs directly in tech and generate around $51 million in private investments," Pearl said.
The next phase of the city's plan includes adapting the kiln structure on the Showers campus into a business center, and the Showers Administration Building into a headquarters for a management company. 
"The result of it is going to be, sort of increased focus in that area on innovative businesses, technology, and really fostering future-focus jobs for the whole community," Pearl said.
The city is currently working to finalize the business center's design and said it will seek construction proposals in 2022. It anticipates breaking ground later the same year.