While most of the world hunkers down at home to slow the spread of COVID-19, it's not enough to just keep entertained with TV, movies and games. You've got to keep your mind sharp. And that's where a show like "Jeopardy!" comes in.
It's America's most prestigious form of shouting at the television, before football and cable news. And in this year's "Jeopardy! College Championship," Bloomington has its own representative with whom they can shout along.
We talked with Indiana University senior Tyler Combs over video call to find out about his time on the show, how to prep for the competition in just a few days and some of the surprising things he learned on set.
This interview has been edited for length and clarity.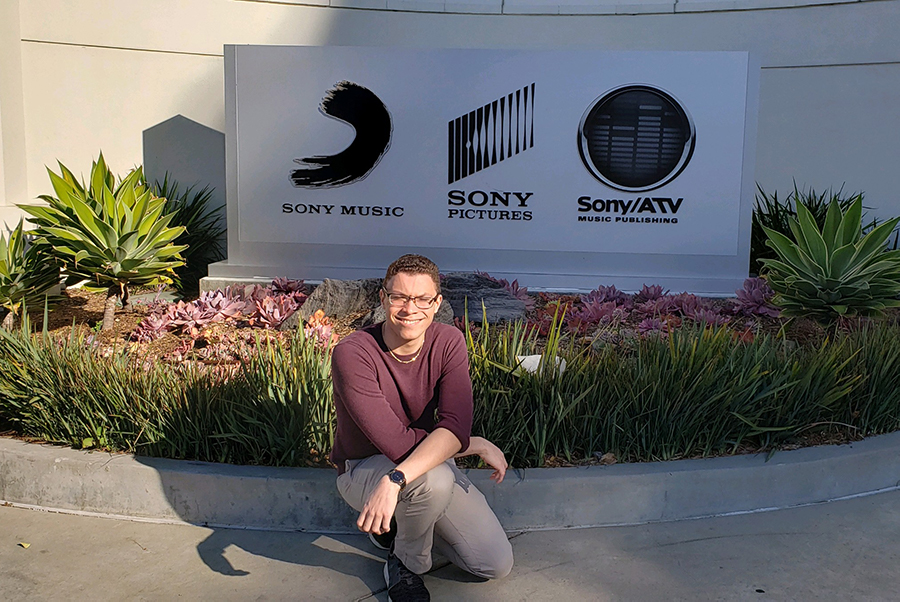 [Indi]android: I understand you're a senior at IU studying political science and East European studies. How's all this craziness impacting your last year in school?
Tyler Combs: It's frustrating and annoying, but I could worry about it or I could not. A lot of the last best times with friends aren't happening.
Every year I've been like, 'Yeah I'll go to the [Little 500] race this year' and then I don't. Then me and my friends are like, 'We're gonna quit being nerds and we're gonna go.' And then boom – canceled.
IA: What's your history with 'Jeopardy!?' It seems like a lot of contestants tend to already be die-hard fans of the show.
TC: I've been watching the show since either late elementary or early middle school. When I was growing up, my family would all gather around the TV at 7:30 p.m. sharp to watch the show.
Being home for quarantine means I'm watching a lot more 'Jeopardy!' than I have been these last few years. 
IA: Walk me through how you got onto the College Championship.
TC: I auditioned for the Teen Tournament my sophomore or junior year of high school. Then I auditioned for the College Championship my freshman year of college. But then [this year] my mom sent me the link – even though I'm gone, my parents still watch it every night. I signed up to take it, and here we are.
They have you take the online test, which is 50 questions, open-ended, online, at a specific time on a specific day. Then, if you do really well on that, you advance to the live auditions. Then after that, if you do really well, you go onto the show.
There were 18,000 who took it this year. They took the top 300 of those and had us go to live auditions in groups of about 20. My audition was in St. Louis.
They had us do another 50-question test, this time on paper but the same format of open-ended questions. One of my questions at the audition was actually, 'This Midwestern university is located in the city of Bloomington.' Good omen, right?
Then we actually had live rounds: 'Jeopardy!'-style buzzers, and they take us up three at a time to go at it. Then after that, personality interviews.
At the end of the day, it's a TV show. They want people who are going to make for good television. I threw on everything I learned in my intro to acting class.
IA: How did you prepare?
TC: The turnaround from finding out I was on the show to the actual show was a matter of days.
I went back and watched several episodes of the show. I had this nice little Jeopardy! pen that they had given us at the audition that was made to look like a buzzer. I went through watching the show and practiced like that.
Support For Indiana Public Media Comes From
It's a broad base of knowledge, but at the end of the day, 'Jeopardy!' is a show for people who are relatively intellectually well-rounded, so it does come down more to the buzzer than what you know.
I'm not sure if this is public knowledge, but they lock you out if you buzz in too early. A light goes on the screen that has the questions, and that's when you can buzz in. You buzz in a millisecond before those lights go off and Alex is done speaking, you get locked out for five seconds.
One of my friends on the show was like, 'Yeah, I feel a lot more sympathy for people on the show because it's really hard.'
IA: The show shoots on the Sony Pictures lot in California. Tell me about your time on the show.
TC: They had us meet in the lobby of the hotel at 7 a.m. Really, I had been up since 5. From there, they shepherded us onto a big Jeopardy! bus and took us to the studio. Did hair and makeup, did some promos, some rehearsal rounds on set. From there, it was just, wait. We didn't actually know what order we were going in, and we couldn't have any contact with the outside world. So we ended up just sitting in that green room all day.
Here's the thing: my episode airs April 10, the last day of the first week of the tournament. Guess which game of the day I was? Last one. Going at 4 p.m. after having been up since 5 a.m., trapped in this green room since 8 a.m.
They only film the Monday and Tuesday of every week. They do five games each day. They've got the returning champion - that person's doing several games in a day. Which tells you just how big of a feat it is to go several days as champion.
IA: Fashion on the 'Jeopardy! College Championship' is crucial. How did you decide on which IU hoodie to wear?
TC: Well, I have two IU hoodies, so I went with what I had.
IA: Were you lucky enough to get roasted by Alex Trebek?
TC: They found early on who they wanted their whipping boy to be. We had a guy named Marshall from the University of Texas at Austin.
They decided that this guy could handle roasting, so they were like, 'We're going to flay him.' All day long, the 'Jeopardy!' staff were roasting this kid. But he was a really good sport. That unironically brought us together.
IA: Did you get along with your other contestants?
TC: You expect that a group of high-achieving college students who are competing on nationally syndicated television to be competitive and at each other's throats. But there was hardly any competitive spirit. Everyone was there to have a good time and live out what was, for a lot of us, a childhood dream. We really came together and became really good friends out of that experience. Weirdly wholesome.
---
The "Jeopardy! College Championship" begins airing Monday, April 6, and Tyler's episode airs April 10. Unlike usual episodes, the College Championship brings together 15 university students in a tournament setup. First are the quarter finals, then the semi finals with those five winners and four highest scorers among the non-winners. They all end with two days of finals between the three semi finals winners.
You can check your local listings here.