Any given Wednesday, most local comic book shops are packed with readers and collectors chomping at the bit for new releases. For decades, major publishers like Marvel, DC Comics, Image and Dark Horse have put out some kind of new single issues or collected editions like clockwork—even on holidays.
But during the coronavirus pandemic, that's all gone out the window. For over a month and a half, the comic book industry came to a standstill, and local shops closed their doors in service of nationwide stay-at-home orders.
That doesn't mean everything in comics has been totally quiet, however. The past nine weeks has seen a whole host of industry-wide changes, all while local shops have been coming up with ways to keep the lights on.
As shops are beginning to reopen, we spoke with the owners of three Indiana comic shops to find out how they're dealing with the shifts and what running a store during a global pandemic looks like.
On March 24, Diamond Comic Distributors announced it would be halting distribution on new comic books as of the week of April 1.
Each major publisher has distributed print comic books exclusively through Diamond for about the past 20 years, basically ensuring their monopoly on the industry.
While that can occasionally be frustrating for retailers, the three shops we spoke with said their working relationships with the distributor have been generally positive.
But with no distribution comes no new comics for readers; and most publishers announced they'd be halting publication soon after Diamond declared their hiatus. Regular series went dark, and high-profile event comics were pushed back several months.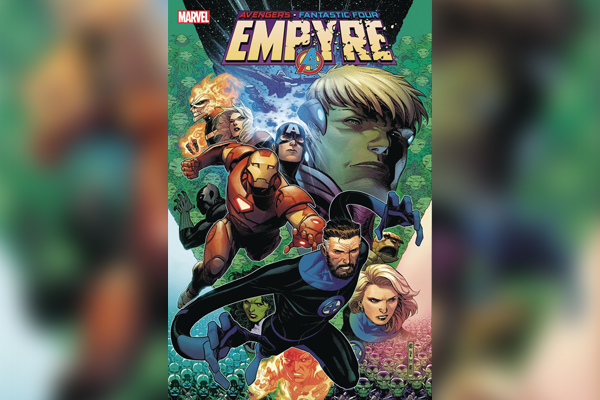 No new inventory could be worrying, but with the writing on the wall for the worsening pandemic, a halt on new comics meant not having to pay for them, either.
"People would be shocked. A shipment of comics cost a lot of money," said Matt Traughber, owner of Vintage Phoenix Comic Books in Bloomington. Even as a smaller store, Vintage Phoenix usually spends up to $10,000 a month on inventory. "The last two months without new comics, from a business sense, was for us the right thing."
With a pause on new books to sell, it was up to shops to sell what they could, however they could.
In Indiana Gov. Eric Holcomb's initial state of emergency declaration, bookstores were not deemed essential businesses and ordered to close for in-person shopping. However, they were later authorized to offer curbside pickup, which all three stores did for most of April.
Comic Book University in Indianapolis even turned to eBay as a way of offloading some of their cards and collectibles.
"We weren't getting new product, and it was basically just turning our attention to the stuff that we've had around and stuff we've accumulated over the years," said owner Rob Skorjanc.
Just because they had a way to sell inventory didn't mean it was smooth sailing. With most people encouraged to stay home and most other non-essential businesses closed down, stores didn't see nearly as much business as usual.
Doug Stephenson, co-owner of Downtown Comics in Indianapolis, said the shop closed two of its three locations and only operated curbside pickup out of its Castleton store.
At Vintage Phoenix, which generally employs Traughber, his business partner and one part-timer, Traughber says he stopped taking a paycheck from the store for most of the shutdown. "That money's gotta be here, because I don't know what's going to happen," he said.
Traughber expressed frustration at the lack of guidance from local government and said any decisions he made about changing his business model came from his own research.
"Throughout this whole thing, I've never been contacted by anybody. I've never had a direct email or a direct call," Traughber said. "I'm not complaining, I understand there's a million more important things to do. And they're probably just assuming everybody is clued in. And if they're not, they'll deal with it later."
While comic shops around the country tried to figure out new business models with added restrictions and fewer products to sell, the two largest publishers weren't content to put their businesses on pause.
Diamond's distribution hiatus was soon followed by a number of changes in the industry. Days after Diamond announced its hold on physical books, DC Comics said it would continue publishing comics on digital platforms, albeit with just a handful of smaller titles.
Then on April 17, DC said it would resume publishing print comics on April 28 through two new distributors—more on that in a moment. On April 21, DC then said it would be publishing a daily line of new "Digital First" comics - although it was later clarified that these were series previously published in the Walmart-exclusive "DC Giants" line of books.
In May, DC Comics announced it would become the only major publisher to release new comics on Tuesdays rather than Wednesdays, which has been the industry standard for years. This would mean an extra day for shops spent unpacking and organizing new shipments.
And lastly, beginning in early May, both DC Comics and Marvel announced a number of select titles would be transitioning out of print and to digital-only releases.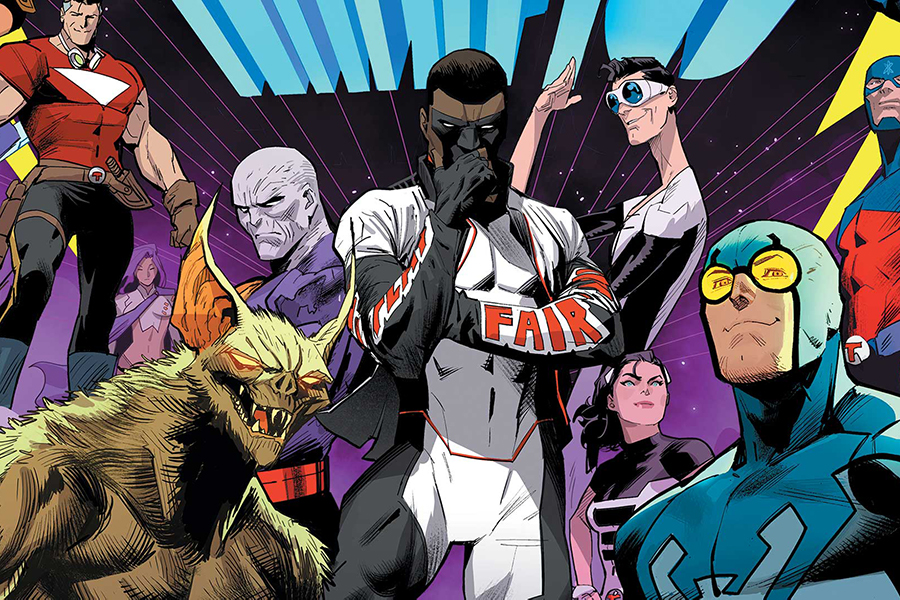 That's a lot of changes in just over a month, especially from the Distinguished Competition. And the majority of them, particularly the push towards digital-only titles, don't appear to be too friendly to smaller local shops.
But the move that seems to have left the biggest impact on local retailers is DC's introduction of two new distributors.
Both Lunar and UCS seemingly came out of nowhere. That's because, Newsarama reported, Lunar and UCS are actually newly-created sister companies to existing storefronts Discount Comic Book Service (based in Fort Wayne) and New York City's Midtown Comics, respectively. 
According to their agreement with DC, Lunar and UCS would each distribute to half of the U.S. and part of Canada, with the former handling Indiana.
Both companies have long sold comics directly to consumers, often at wholesale prices - which makes them direct competitors to local shops.
"In the abstract, I don't think there's anything wrong with having a second distributor or two or three or multiple distributors," Stephenson said. "[But] by accepting [Lunar] as a distributor, DC essentially made one of their biggest retailers also a distributor."
"I'm sure I've lost customers to them in the past," Traughber said.
Lunar Distribution Co-Owner Christina Merkler told [Indi]android that she understands why some stores were hesitant to jump on-board with Lunar and DCBS, but said the company's history speaks for itself.
"We have been in business for almost 21 years and anyone who has worked with us, whether it is as a customer, publisher or vendor, knows that we are a very honest, hardworking, and ethical company," she said. "Every decision we make is in the best interest of our customers. This is the same for the retailers who have chosen to work with Lunar."
Traughber noted that after the new distributors were announced, shops only had four days to apply for the first shipment of books. And the batch of books on offer were either smaller titles or reprints with little to differentiate them from Diamond's previous output.
Merkler said DCBS had no plans to distribute comics to shops until DC approached them.
"It was all a direct result of the pandemic and the shut down of Diamond," Merkler said.
Vintage Phoenix ultimately decided against signing on with Lunar. Comic Book University did, but they will soon be reverting to buying from only Diamond. And Downtown Comics will continue using Lunar, but only as a backup option to Diamond.
Each store we spoke with said they welcome a break in Diamond's monopoly, but that doing so in the middle of a global pandemic—and with a competing store—could have used more forethought.
"Hindsight is 20/20, but DC probably should have just done what everybody else did and just suspended everything," Skorjanc said. He thinks of the new model as a more temporary fix and wonders whether it will exist in a year's time.
According to Merkler, Lunar will continue its distribution until DC asks them otherwise. There are currently no plans to expand to Marvel, Image and other major publishers, although Merkler said the company is in early talks with several unnamed, smaller publishers.
"We plan to follow up with them soon to see what their needs are, and determine whether we can be of help," Merkler said. "[We] look forward to seeing what the future holds after the pandemic."
Support For Indiana Public Media Comes From
Despite consistent changes and uncertainty, May 20 saw the first New Comic Book Day in almost two months. Major publishers slowly began to release comics they had accumulated from the past several weeks—save for Marvel, who released its first rounds of books on May 27.
"It actually could have looked like a regular Wednesday if we would've had more products," Skorjanc said. "All things considered...it wasn't disappointing."
But even though Downtown Comics, Vintage Phoenix and Comic Book University are open again, it's still not business-as-usual. There are plenty of questions circulating about how they can keep customers safe as the country navigates the pandemic.
"I don't suspect that comic shops are the type of shops that you're going to see much preparation [from]. It's just not in their DNA to be planning for unlikely eventualities. Usually it's just day-to-day survival," Traughber said. "Every time we have a good day, then there's a big bill due the next day."
Each owner said he'd likely be more conservative with ordering comics in the future. Any unsold comics are money out of the stores' pockets, so Traughber said smaller books would likely fall through the cracks in the ordering process unless customers ask for them specifically.
"I am, unfortunately, asking people to communicate with me before things come out about whatthey want. [We] expect comic buyers to say, 'I want this comic in a month,' instead of waiting and looking at it," he said.
Stephenson believes that with fewer copies ordered, there's a chance collectors may start paying closer attention.
"I don't like to try to boost the speculator market, but that's the way it's going to go. You're gonna see all kinds of books just go for silly money out of the gate. They'll be selling for $50 a day after they come out. But that has a way of straightening itself out," he said.
One of Comic Book University's biggest draws is its tabletop gaming offering and play spaces, and the store has regularly held group nights and tournaments for games like Magic: The Gathering and the Pokémon Trading Card Game. As we spoke about what a Friday Night Magic event looks like in the time of coronavirus, Skorjanc started weighing some options.
"You're getting me thinking now. I want to know if there's any way of, you know, separating those tables with Plexiglas. You'd almost have to make stalls," Skorjanc said.
Realistically, Skorjanc noted that the store most likely won't hold any organized gaming events until July at the earliest. But he's taking that in stride.
"If we're not letting people in the store anymore to do gaming, then, in my head, I've got more room for trade paperbacks."
Each shop is continuing to think up new ways to keep its customers and employees safe during the pandemic. All three owners said they're regularly disinfecting surfaces and that all employees will be wearing masks for the foreseeable future. They're encouraging customers to do the same while they practice social distancing. But even with those precautions, they recognize the risks inherent to comics.
"I can't wipe down comic books, obviously. We've got all these boxes of comics people going over and they're breathing onto them. And I can't do anything about that," Traughber said. "That's a personal kind of risk you're taking, if you want to go look at the comics that somebody else has looked at." 
While these three shops were fortunate enough to not have to fundraise, there's still plenty of uncertainty in the months to come. The comic book industry has never been a particularly stable one, and the pandemic has only exacerbated that.
But when asked how people can best support their stores through tough times, Stephenson, Skorjanc and Traughber all had a simple response: Keep buying (and enjoying) comics.
More importantly, Traughber added, if you're already a subscriber at your shop, don't abandon your comics. Stores are always happy to work with customers if their situation changes, but any abandoned books are essentially lost revenue.
"I will be curious to see what the landscape looks like in three months, in six months, in one year. Comic shops, like a lot of hobby shops, are run by individuals or small groups that generally do not have a great amount of funding and capital to work with," Traughber said. "It doesn't take much to just knock you out permanently."
To find a comic book shop near you, you can head to the
Comic Shop Locator Service
. And to support local stores experiencing financial difficulties, you can consider donating to the
Book Industry Charitable Foundation
.