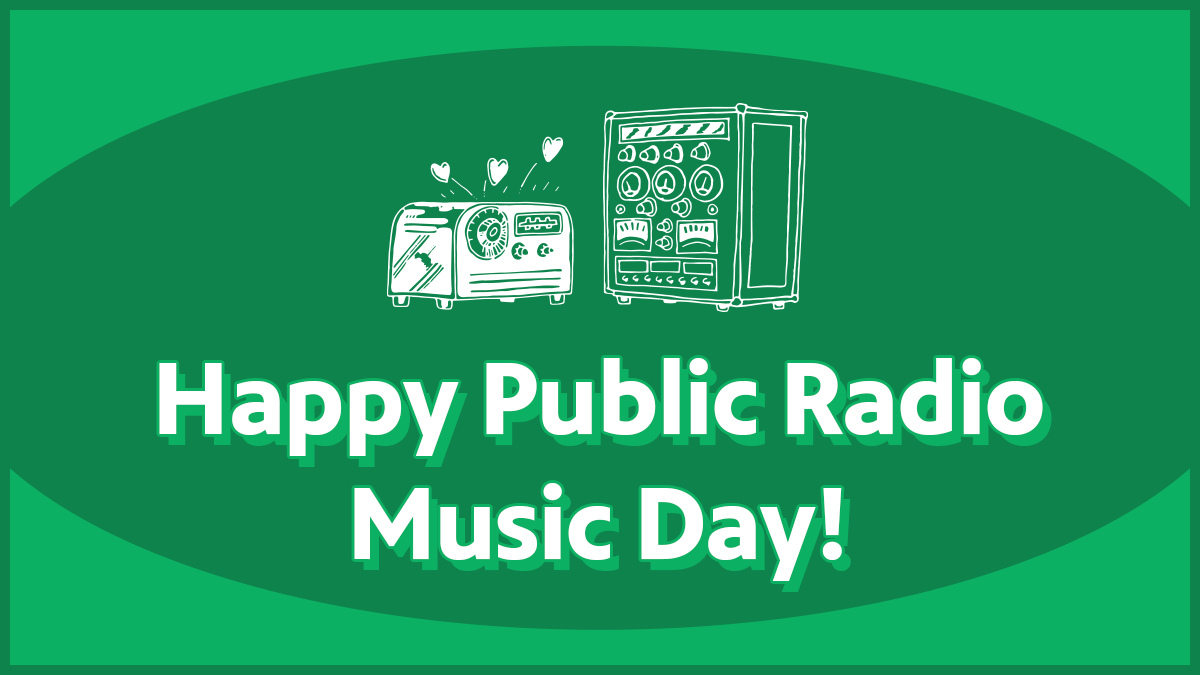 Today, we celebrate Public Radio Music Day and what it does best—connect our community.
Here at WFIU, we believe that music is therapy. It feeds our soul and unites us all, especially during this coronavirus pandemic. We've been working around the clock to make sure you still have access to essential music programming that comforts and entertains. Our hosts have even turned their homes into makeshift broadcast studios so they can continue bringing you locally-produced music programs while social distancing.
On this Public Radio Music Day, we want to make sure you have the music and resources you need during this time. Check out the schedule, entertaining content, and helpful links below to see how we're remaining connected through our mission and deep understanding that music improves our lives.
And, if you are able, consider making a gift of any amount to help fund this important service.
---

Locally-Produced Music Programs On WFIU

Classical Music
Daily
Classical music has a special place in our hearts, and we have multiple programs and hosts bringing you a variety every day. George Walker is on weekdays from 9am-noon on WFIU, and Joe Goetz is on weekdays from 5-9am on WFIU2. And just last year we added a new, locally produced classical music program with renowned soprano Sylvia McNair. You can tune in for her program Saturdays from 10am-1pm on WFIU2.
The Soul Kitchen
Friday 3-5pm and Saturday 10pm-midnight
Brother William serves up music with a message every time he's on air. And so many of you have told us how much you appreciate this program. It's unlike any other on our air, and is a great place to discover new voices in music.
Just You & Me
Monday–Thursday 3-5pm
Host David Brent Johnson is always looking to bring you a touch of Indiana during this program, so every Thursday features homegrown musicians. On Thursday, listen for the premiere of IU jazz faculty member Greg Ward's "Scorch: A New Piece for Jazz Quartet and String Orchestra."
Afterglow
Friday 8-9pm
Only on public radio would you find a weekly show dedicated to popular song and jazz. Host Mark Chilla shared an exciting announcement last week about a new listener in his family he's calling "Young Blue Eyes." And he mentioned a new episode next week—"The King Cole Trio Starts to Swing"—that was produced entirely from his basement studio.
Night Lights
Friday 9-10pm
Even when we're playing classic jazz, we want it to be an experience you can only find on public radio. Night Lights takes you on a musical journey each week with unique themes like "Jazz Women of the 1980s."
Porchlight
Saturday 8-9pm
This show is an invitation to visit the familiar and the forgotten through song and stories. Tom Roznowski hosts this hour of radio and will introduce you to everything from classical music to how Americans' sense of place has changed over time.
Ether Game
Tuesday 8-9pm
And if you're ready to test your own know-how about music, check out our weekly one-hour guessing game. New host Christopher Burrus brings a new theme each week, and you can call in to participate.
---
Ways To Listen

All programs can be heard on WFIU in multiple ways:
- Over the air
- WFIU (103.7 FM Bloomington, 100.7 Columbus, 101.7 French Lick, 98.7 Greensburg, 106.1 Kokomo, 95.1 Terre Haute)
- WFIU 2 (101.9 FM or 103.7 HD2 Bloomington, 100.1 Seymour)
- Online Streaming
- Ask your smart speaker to tune to WFIU
And did you know that we program our radio schedules so that when one channel is broadcasting news, the other is playing music? Check out the full WFIU and WFIU2 schedules here.
---

More Music Content To Entertain You

Did you miss our "Live from Joshi" event in February? We partnered with the IU Jacobs School of Music to broadcast a live concert from their Georgina Joshi Recording Arts Studio. You can watch the full concert here.
Our hosts are social distancing, just like you! Check out this video from WFIU classical music host Joe Goetz demonstrating what it's like to set up a broadcast studio from his home.
NPR Music compiled a list of virtual concerts you can watch this week. It includes everything from The Metropolitan Opera and jazz at Lincoln Center to Paul McCartney and Lizzo. Get the rundown here.
Follow WFIU's [Indi]android as they meet up with Indianapolis-based musician Aaron, who goes by the name of Defense Mechanism. His music specialty? Chiptune, electronic music made from the sounds of vintage arcade machines, computers, and video game consoles. Watch the video here. 
Catch up on NPR Music's Tiny Desk Concerts! They're publishing a mix of concerts recorded at NPR headquarters before social distancing and shows recorded at artists' homes. Watch them all here. 
---
Resources for Artists and Musicians During The Crisis

Are you an artist or musician in Indiana? Do you want to help the arts community during this crisis? Check out these links to find resources and ways to help.
Indiana Arts Commission Resources for Artists
Federal Stimulus Relief for Musicians
Musicares COVID-19 Artist Relief Fund
If you know of any resources we can add to this list, please email and let us know.