In late March, Governor Eric Holcomb announced Indiana would lift its statewide mask mandate and restrictions on businesses, citing lower COVID numbers and increased vaccine availability.    
But some counties, including Monroe, have opted to keep local restrictions in place. That prompted one listener to ask City Limits: if our positivity rates are below the state average, why do we have more restrictions?
Read Now: Monroe County To Keep COVID-19 Restrictions In Place Despit Veto Override
While Monroe County's seven-day positivity rate for unique individuals is lower than the states– Monroe County's sits at 8.4% and the state's at 13.2%– local health administrator Penny Caudill said that doesn't mean the county is ready to relax all its restrictions just yet. 
She said looking at just one number doesn't paint a full picture of community spread. 
"Community spread is still at a moderately high level, we're seeing over 100 cases per 100,000." 
Until Wednesday, Monroe County had consitently recorded more than 100 cases per 100,000.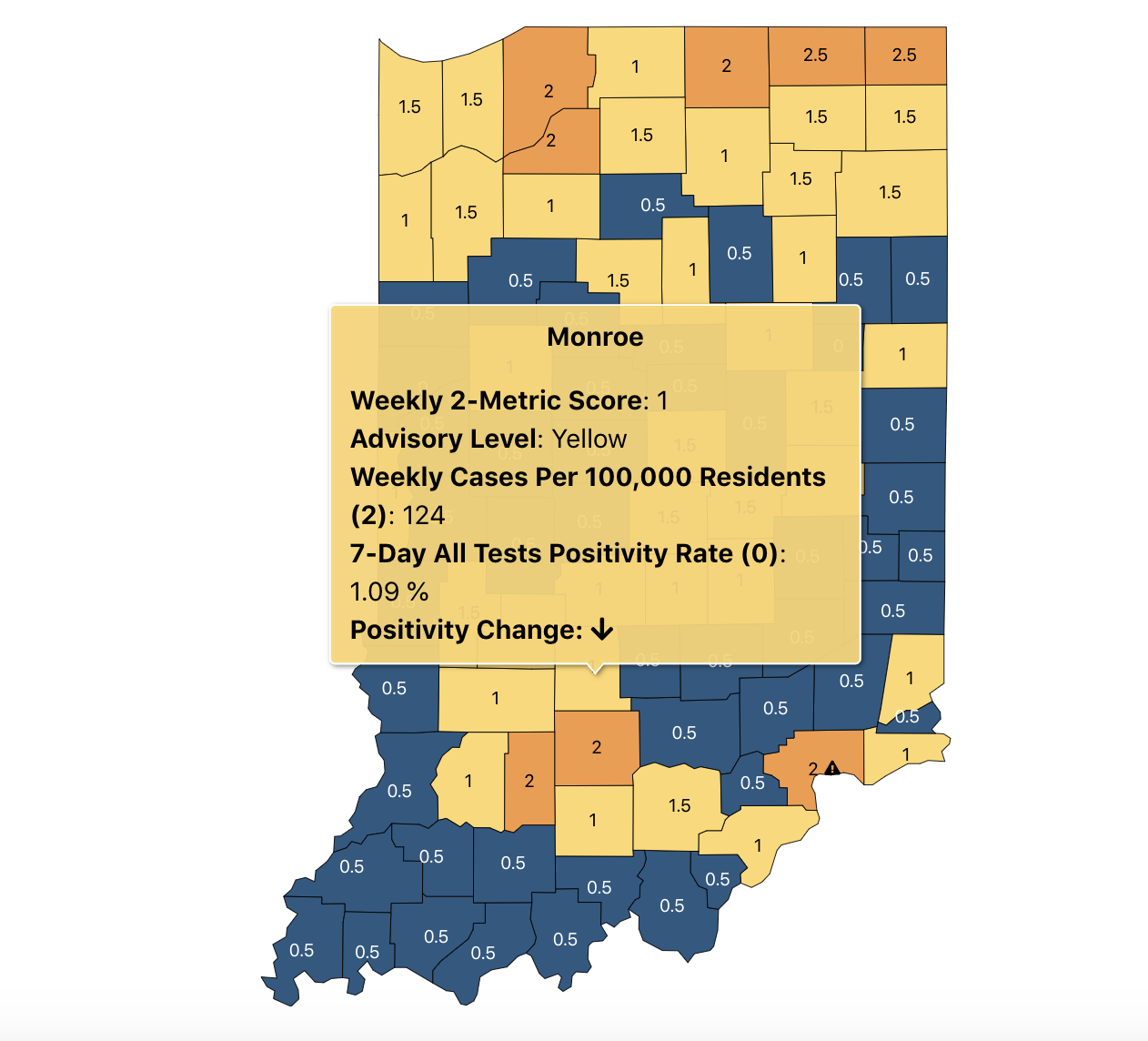 Indiana State Department of Health's color-coded system says 10 to 99 new weekly cases per 100,000 puts a county in the low to moderate risk "yellow" category. As of Tuesday, Monroe County had 124 weekly cases per 100,000 residents – which considered alone would have put county in the higher risk "orange."  
The Centers for Disease Control says between 10 and 49 cases per 100,000 people represents a moderate risk of COVID spread in a community. 

"And the last few weeks, we have been in this kind of plateau," she said. "Like this week, I think we were at 123. The week before it was 105, the week before that it was like 123. So we've kind of jumped a little but we're kind of hovering over that 100 mark."  
She added that IU's aggressive testing has diluted the county's positivity rate. As students leave for the summer, the local positivity rate will likely rise. 
"And we saw that happen over break, when they weren't doing as much testing, our positivity rate came back up. So if you were only looking at that, you might get kind of an uneven picture of where we really are." 
When students went home from Thanksgiving to February, Monroe County's seven-day average positivity rate jumped from about 14 percent to 22 percent in 10 days. 
Brian Dixon is the director of public health informatics at the Regenstrief Institute in Indianapolis. He supports the cautious health policies of Monroe County and likens the  situation to being in a boat with a small leak.  
"So imagine you're on Lake Monroe in a canoe. Right now we are able to bail out the water as it comes in," Dixon said. "We're kind of flat in terms of our new cases, hospitalizations are actually going up a tiny bit over time, not what we saw last fall. So our situation has improved quite a bit from the fall in the winter, when we saw things spike, but we're not seeing case rates go down." 
Dixon said when he heard Indiana would be rescinding its mask mandate, he was immediately concerned.
"These types of decisions really shouldn't be political, they really need to be made by health and public health officials who have the science, the evidence to guide decisions, the data to guide decisions, and, and it really shouldn't be up to others. But unfortunately, it has become kind of political."  
Monroe County could be at risk of seeing numbers go up he said, given the number of people who commute in to work and people who come in for recreation over the summer. 
As of Wednesday, positivity rates are rising in the counties surrounding Monroe. 
He said the COVID vaccine will be key to keeping cases under control in the coming months. 
IU Health South Central Region president Brian Shockney agrees with that.  
Shockney said vaccination has been successful in older populations, but his hospitals are still seeing younger groups coming in with serious COVID cases.   
"The corner we have not turned is the younger populations, getting the vaccine and not getting sick."  
For the state, people between 60 to 69 make up to largest percentages of those vaccinated.  
Shockney said cautious decision-making has saved lives. 
"What are people going to say about the decisions we've made?" Shockney said "I think a year from now, people are going to say Hamilton County and Monroe County were smart. When your loved one gets COVID and ends up in a hospital, very sick, maybe on a ventilator. And your county didn't take all those restrictions. You know, you're gonna say, well, maybe it was maybe that was a good idea. Maybe lifting those restrictions wasn't such a good idea." 
Caudill understands why people are impatient for restrictions to relax but echoes that the desire to prevent more COVID hospitalizations and deaths. She says if people have question about getting the vaccine, they should talk to their health care provider or go to coronavirus.in.gov.
Have a question? Ask City Limits:
Our community is changing, from closing businesses to traffic and road construction to affordable housing, and we see the impact of these changes all around us.
We want to know: What questions do you have about how the Bloomington of tomorrow will impact your work, your personal life, your community and your future?
Here's how it works: You submit a question you'd like us to explore about how Bloomington has changed over the past few decades, what you want to see for the city in the future and how ties with IU continue to shape the community.  
So: What do you wonder about how Bloomington is changing and how it impacts your life?
Interested in an ongoing conversation how Bloomington is changing? Join our Facebook group!