Steve Lyday spent most of April preparing what would've been Morgan County's largest vaccination clinic.
It was scheduled at Paul Hadley Middle School in Mooresville, an area of the county officials have had trouble serving because of the tight controls on vaccine storage. The state provided 2,400 Moderna doses to be split between two mass clinics: one scheduled for last Saturday and a follow-up effort in May.
"1,200 – that's what we based our entire plan on," said Lyday, the county's public health and response coordinator. "And it didn't materialize."
When Lyday checked the schedule Tuesday, 97 people had signed up. He had 40 medical professionals and volunteers coming to work the clinic. It didn't make any sense logistically, so the county had to cancel.
"I was really kind of excited to see if we could pull it off," Lyday said. "We have these plans [but] we've never actually had to do it for real life event. I was just hoping to see that happen, and it didn't."
The number of coronavirus vaccines administered both statewide and nationally has been falling since about mid-April.
The Indianapolis Star reported last week that a Miami County clinic with 600 available vaccine doses had six people to sign up. Columbus Regional Health officials anticipate vaccine demand will drop in the coming weeks, according to The Columbus Republic.
Despite the slowdown, the state passed an important milestone this week: a third of Hoosiers 16 and older are fully vaccinated. But Lyday says now, most of the doses he's providing are second shots.
"We were doing roughly 270 to 300 (vaccinations) a day, and now we've dropped [to] probably about 40-50 a day. So, the struggle is real trying to find people."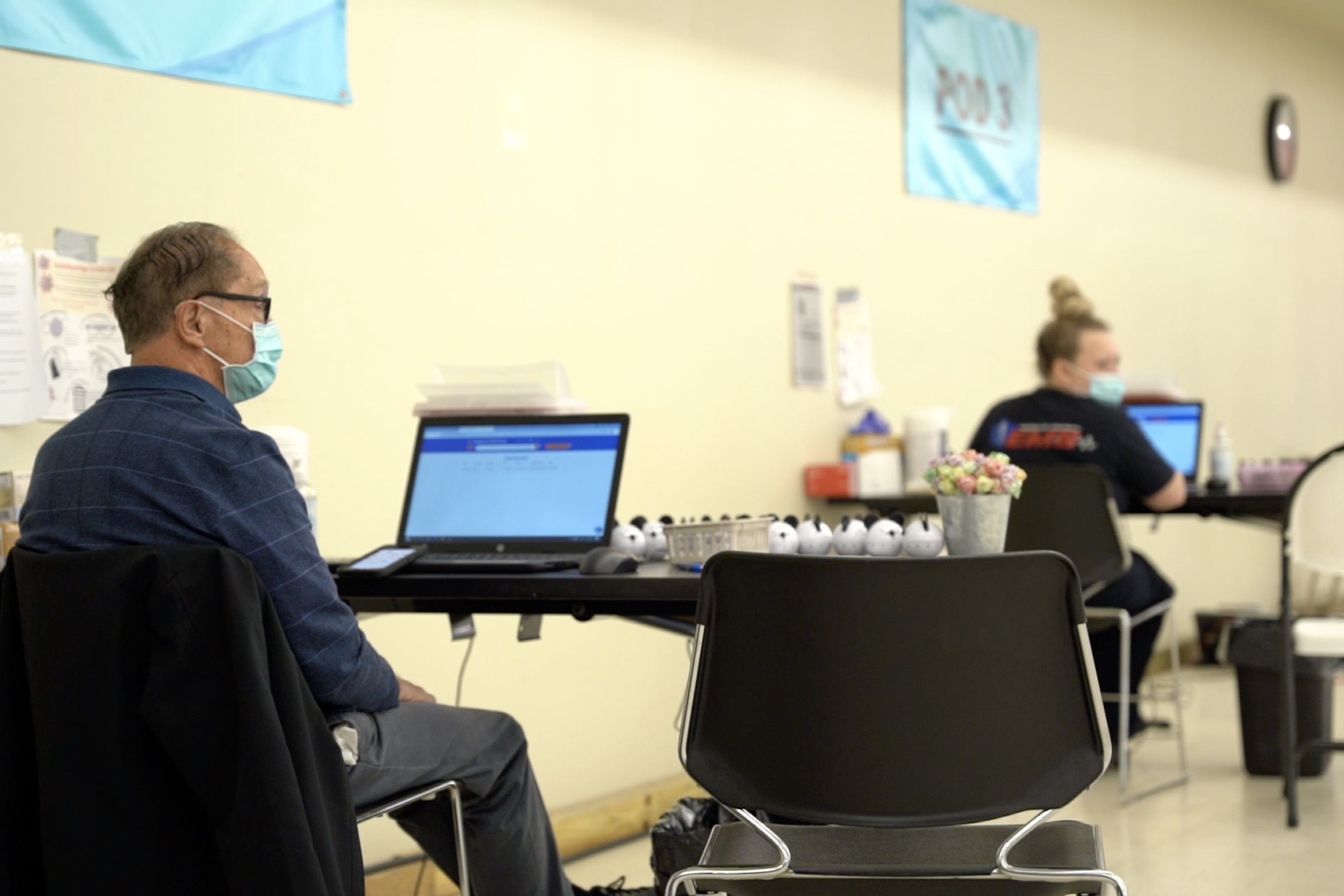 The Indiana Department of Health called a news conference Wednesday to provide updates on the vaccine rollout and discuss trends. It opened with a literal plea from the health commissioner for Hoosiers to get vaccinated.
"We don't have any big announcements, just a lot of really good data to share," said Dr. Kris Box. "And a plea and an ask that you help everyone that you know – your family, your friends and your community – to get out there and get vaccinated."
READ MORE: Health Officials Outline Future Consequences For Indiana Vaccine Hesitancy
The issue? Many of those who originally got the vaccine were older adults most concerned about the virus. Now, a majority of those left are younger Hoosiers. And many don't seem interested in getting the vaccine.
Dr. Dan Handel, regional chief medical officer for IU Health, says many of the people currently hospitalized with COVID whom he's seeing are in their 20s and 30s.
"There's still the sense of invincibility in younger adults," Handel said. "Either they've scheduled it and they haven't gone yet, or they're still kind of waiting it out."
As the Regenstrief Institute's director of public health informatics, Brian Dixon has been tracking COVID data all through the pandemic. He says two younger populations have been the wariest of getting vaccinated: Black Hoosiers and conservatives. Considering the state's demographic makeup, that could be an issue.
READ MORE: Advocates Face Uphill Battle Against Vaccine Hesitancy In Minority Communities
"It is concerning, particularly for individuals who are in rural areas, where we know that those areas also have a majority of people who lean conservative," Dixon said.
In largely rural Morgan County, Lyday says trust in the vaccine has plummeted. At this point, he's hoping half the county will get inoculated.
"When they hit the pause on the Johnson & Johnson (vaccine), the bottom just fell out. I think anyone that had any concerns or skepticism when they paused the vaccine, that just put the end to anybody wanting to get it."  (The CDC is permitting the J&J vaccine again, though with a warning about rare side effects.)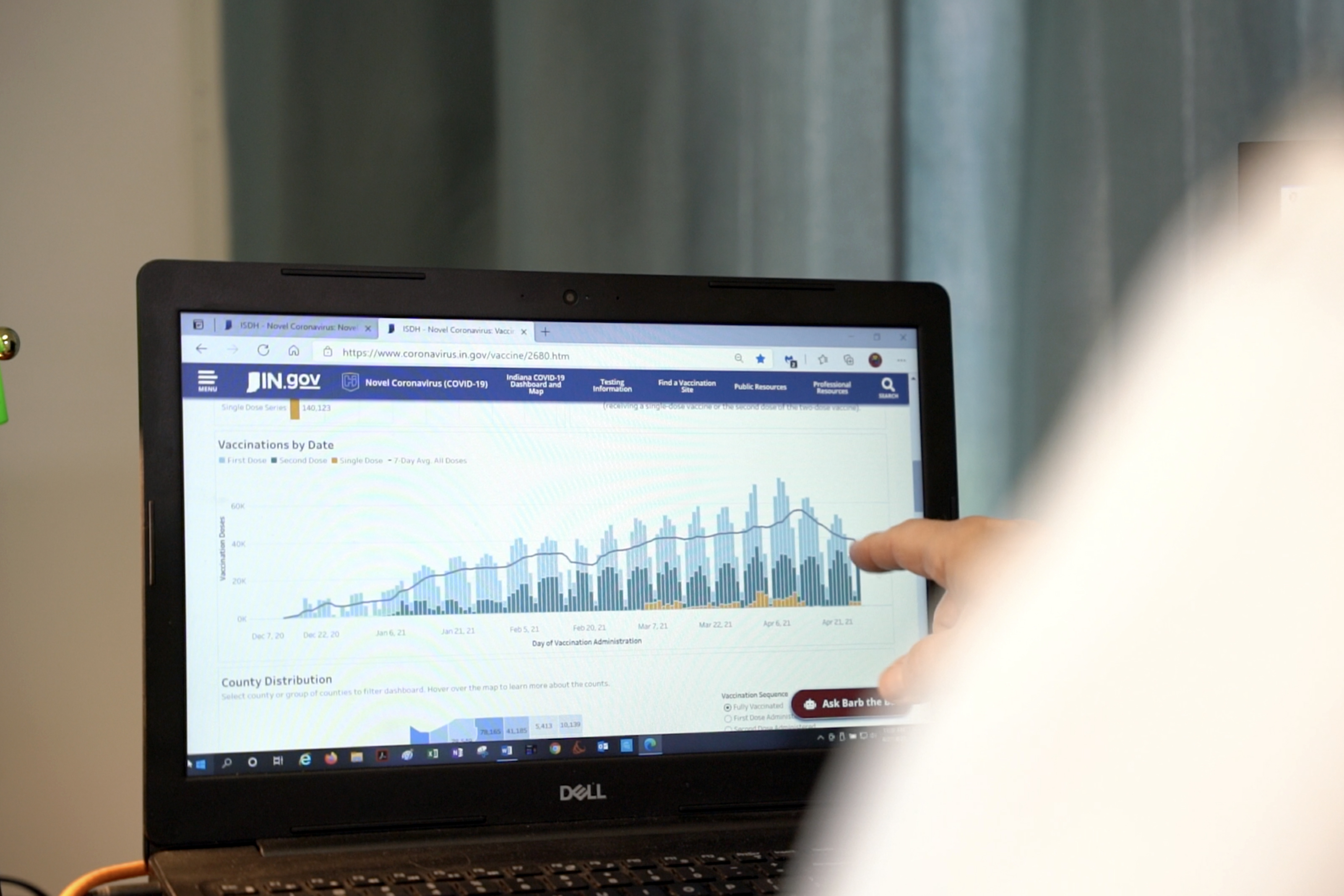 More than 30 percent of Morgan County residents have received at least one shot, and a quarter of the county has been fully vaccinated.
But those working the county clinic in Martinsville are ending their days scouring Facebook for people who want the shot. It's largely been effective but Lyday's concerned many of those who want a vaccine have already gotten one.
"We've hit a wall," he said. "And getting the trust back is beyond the local health departments."
Dr. Lindsay Weaver, the state's chief medical officer, said Wednesday that officials are doing "everything [they] can to get as many people vaccinated." Box said they're talking with the Indiana Rural Health Association, Purdue extensions and State Farm Bureau to increase rural participation, but personal connection may be the most effective prompt for inoculation. That would include making the vaccine available for primary care providers to distribute.
"That's really just about having a conversation with them," Box said. "Individuals who care about them, whether they work with them, whether they're part of their family, part of their community, part of their church, you know. Kind of investigating with them what it is that keeps them from getting the vaccine."
The slowdown is concerning to Dixon, but he wouldn't say the state has hit a wall yet. He was expecting a lull considering the mass rush at the beginning, when people were scheduling shots months out. 
"If you have some hot new product on the market, people rush into the stores to buy it," Dixon said. "And then, after it's been on the market for a few months, you start to see declining sales. So, I don't think that this phenomenon that we're observing right now is really any different than some of those other scenarios." 
Weaver said she thinks herd immunity is attainable this year, but if vaccinations continue stalling, cases could spike as they did last fall.
"I don't want people to have to learn their lesson or learn their lesson from seeing a family member get sick, and so we're going to continue to work over the summer and find every opportunity that we can to get people vaccinated," Weaver said.
Officials are hoping the convenience of walk-in appointments will help, especially with younger Hoosiers. But social pressure and private businesses requiring vaccines also could be keys to getting back to normal life.
Have a story idea? Find Mitch on Twitter @ByMitchLegan or email him at mitlegan@iu.edu.
For the latest news and resources about COVID-19, bookmark our Coronavirus In Indiana page here.