Indiana's agricultural tradition is well-documented. From Indy 500 winners drinking milk to county fair midways and local 4-H animal exhibits, farming is celebrated.
But, the national conversation around race is largely absent in many rural Indiana communities. That, paired with decades of economic hardship and discrimination, is making a certain type of farmer disappear. 
Lyles Station is the quintessential example. Passing through on state highway 65, it looks like any other Indiana farm town.
"I grew up here," Denise Jamerson reflects. "I was fortunate enough to see my uncles farming, and to see the other Black farmers and to live in this community, when it when it was more of a community."
Her family has farmed this land in southern Indiana since before the Civil War.  
Settled in the early 1800s, Lyles Station was a bustling community and haven for thousands of Black farmers. It offered freedom and a pathway to economic vitality, but over time the community that once defined this place has eroded.
"It was a farming community," Jamerson said remembering community staples like fish fries and holiday celebrations. "They're happy because their crops are in and crops are growing, you know, that's where it's at," she said.
Her recollection of this community defined by Black farmers is more of a distant memory.
"I've been able to witness, not what dad has, because when dad was here, this was full Black farming community," Jamerson said.
Jamerson and her father, Norman Greer, 84, are now almost exclusively surrounded by white farmers.
They're not alone; the percentage of Black farmers across the country has declined in nearly every survey throughout the last century. 
According to the latest data from the United States Department of Agriculture, there are only 134 total farmers in Indiana that identify as Black or African American. That's compared to more than 93,700 who identify as white.
"We're kinda what you call it landlocked to where they bought stuff all around us," Jamerson said sitting under an awning on her family farm. Her father left to start planting soybeans.
Norman has farmed this family land his entire life, but it's becoming more difficult.  
"You don't see the Black farmer expanding or getting bigger—they're getting smaller," he said.
Changing Economics & Racism Squeeze Out Black Farmers
Smaller operators, regardless of race, are struggling, as margins shrink. 
The "get big or get out" mantra is what many live by. However, white farmers don't experience the racism many Black and other farmers of color say is routine.  
Whether accessing credit, participating in government programs or dealing with subtle racism from local vendors, many farmers of color say the problems are systemic. 
Many Black producers point to a federal loan forgiveness program passed as part of coronavirus relief efforts earlier this year. In theory, the program would help "socially disadvantaged" and minority farmers, but backlash from lenders and a ruling from a Wisconsin judge effectively stalled the program, which led lenders to claim forgiving loans could tighten liquidity and have an adverse effect. 
The lenders contend tightened liquidity would hurt minority farmers in the long run.
For farmers like Greer—who has already settled his loans—the recent legal battle is just another example of the resistance Black farmers have faced for decades. 
"They're all just about gone," he laments. "There's nobody to relate to anymore."
USDA Secretary Tom Vilsack admitted during an NPR All Things Considered interview earlier this year discrimination did occur in the agency from 1970 through 1990. 
John Boyd, President of the National Black Farmers Association, agrees, and says both parties are to blame. 
"I want to be really clear here, it took place on the watch of Republicans, it took place on the watch of Democrats, and it took place on the watch of the American people," he said. "Everybody's guilty here."
He admits he's disappointed with how the program has been rolled out, but believes the resistance is part of a bigger problem. 
"Fifteen to 20 minute ride out the highway from any of those major cities, is the real America, rural America," he said. "You see Trump paraphernalia flying alongside the confederate flag flying higher than United States flag. There's a real division between white America now and Black America."
But, for Boyd, there's an even bigger division between white and Black farmers.
All Hope Isn't Lost In Lyles Station 
Back in Lyles Station, all hope isn't lost. Despite being largely surrounded by white farmers, the Greer and Jamerson family is determined to retain their farming legacy.
Each year, extended family from different parts of the country return to the farm.
Greer's grandson, DeAnthony, is will soon graduate from Tennessee State University with a degree in agribusiness.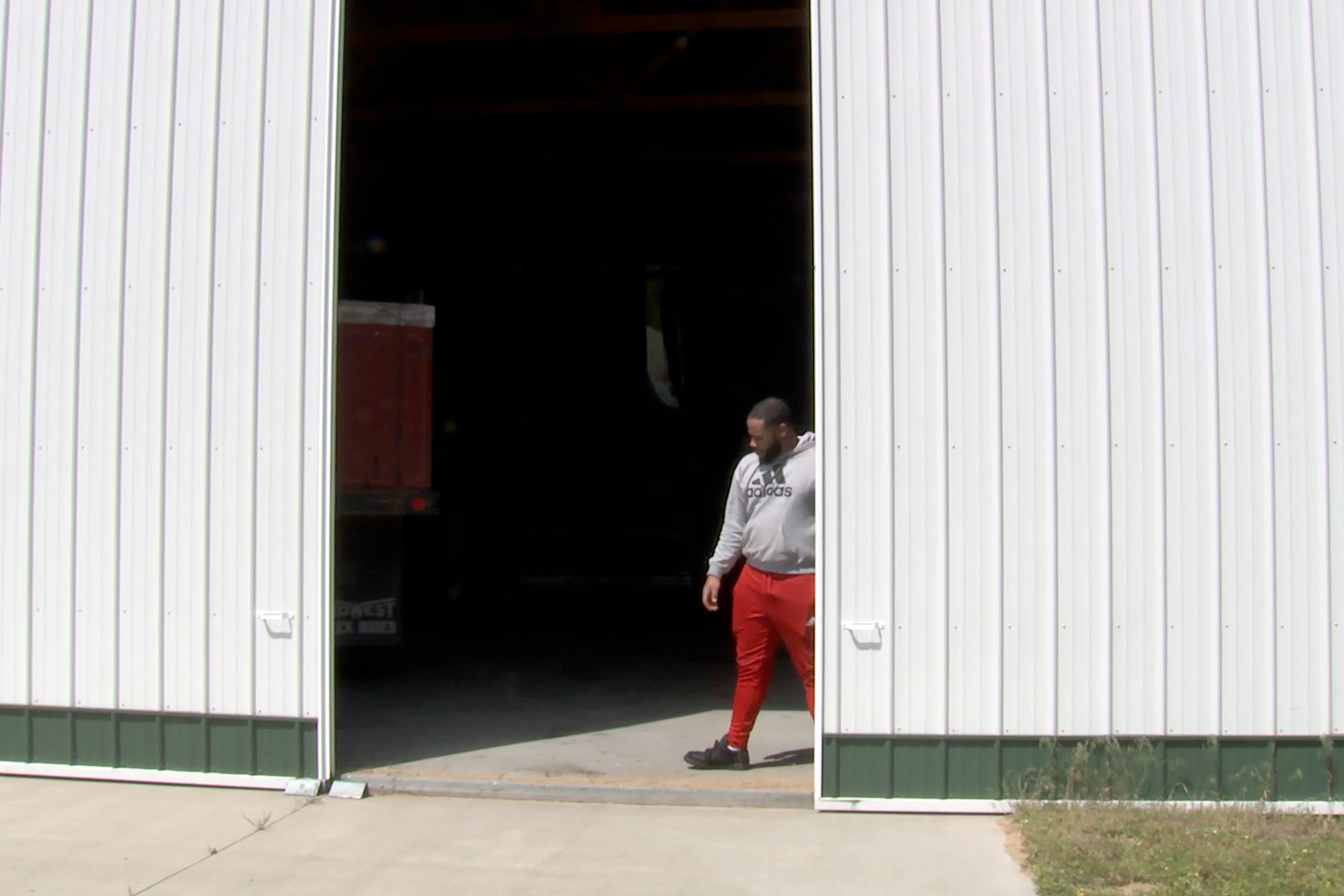 Before going to school, he planned to leave the farm. But now, seeing his grandfather struggle, he's decided to remain in the family business.  
While he's not sure he'll be driving the John Deere tractor and planting soybeans, like his grandfather was on this humid, May morning, he knows the farm is home.  
He believes that's something all farmers—white or Black—can understand. 
"We want to be out here too," he said. "We want the same thing as you do. We want to be able to carry on family legacies, family land, and be able to grow our own legacies as well." 
According to a report from the National Young Farmers Coalition, 98% of U.S. land is owned by white operators.
Greer's family says they want to keep the land in the family, no matter the pressure. He has a different goal.
"I'm trying to hang on 'til I'm gone," he admitted before hopping in his John Deere tractor to begin the day's planting. "That won't be too long."