Dozens of Indiana nursing homes could soon be cited as non-compliant with the federal government's COVID-19 vaccine mandate.
The rule applies only to skilled nursing facilities receiving federal funding through the Centers for Medicare and Medicaid Services (CMS).
If a certain number of employees are not vaccinated facilities will be deemed non-compliant, and could face monetary penalties.
Despite the vast majority of residents being fully vaccinated and boosted, not all staff are.
One couple's journey to vaccination and experience with COVID-19
For Ken and Oma Buckner vaccination wasn't a complicated or controversial decision.
"I didn't want to get it, and I didn't want to give it to my family," she said from her and her husband's apartment at Sugar Grove Senior Living in Plainfield. "It's a really crazy virus. And it's been going on a long time."
The Buckners are in good company. Around 85 percent of Hoosiers residing in nursing homes are fully vaccinated.
After experiencing the virus firsthand, they were even happier to receive their vaccines and booster shots.
"I was sitting down at the cafeteria eating lunch," Ken recalls. "The nurse came along and said, We will test you." 
Ken obliged, but what he would soon find out would come as a surprise—one that more than 1.6 million Hoosiers have experienced—positive for COVID-19. 
Buckner said the staff informed him he needed to retreat to his room. Once there, the situation started to become more real.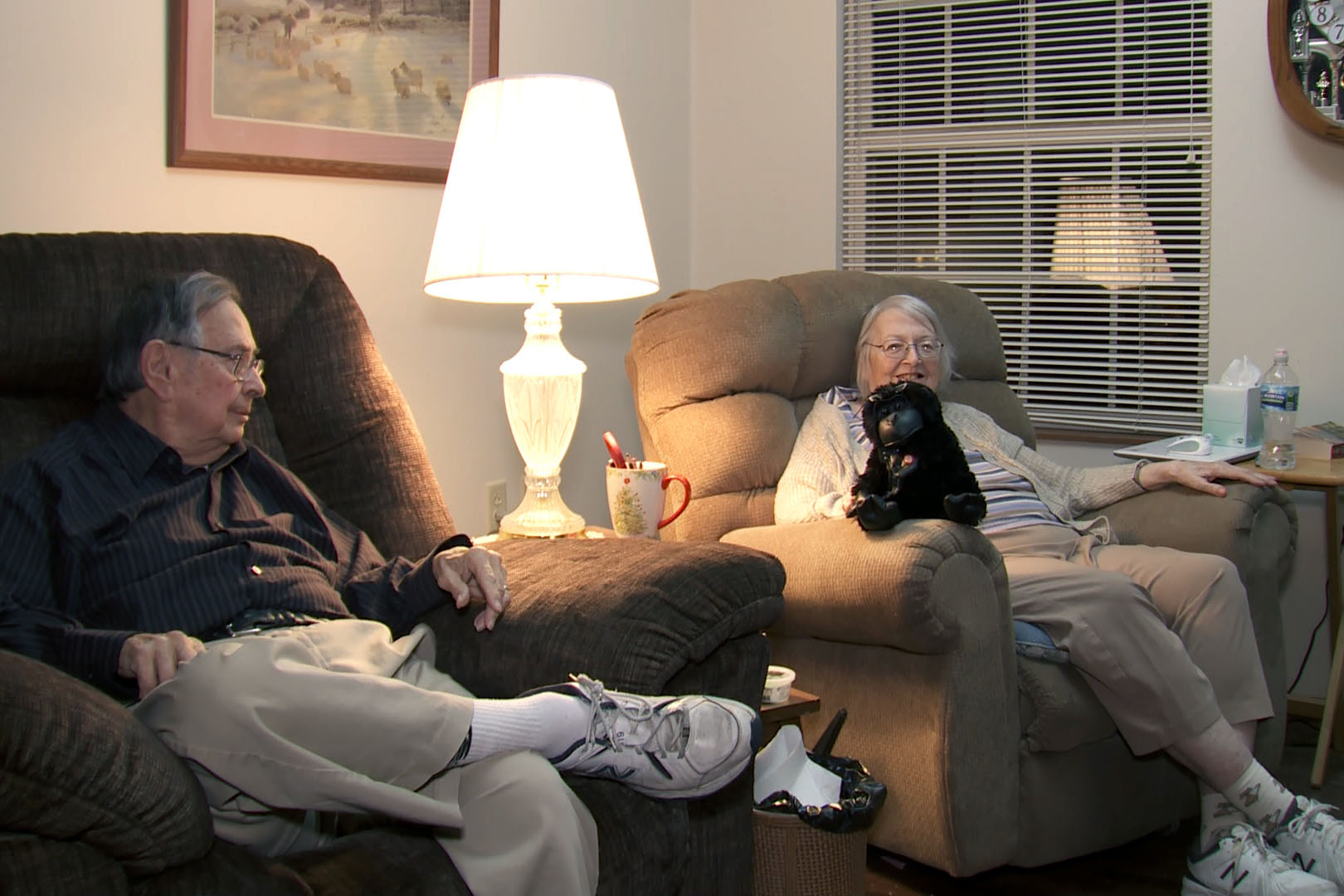 "It sort of hit me. Gee, I'm dangerous person," he recalled about four weeks after testing positive.
His wife Oma was impacted too.
"I came back here," she recalled. "The nurse came by and said, 'You're not supposed to be in there playing bingo. You're supposed to be in isolation.'" 
Both she and her husband Ken admit isolation wasn't as bad as they had feared. Meals were delivered to their apartment, they were checked on regularly by staff donning PPE, and continued watching their favorite television programs.
But isolation wasn't without a challenge or two.
"The only thing I really miss is playing bingo," Oma said.
Ken never experienced symptoms—which he credits to his vaccine and booster effectiveness. His wife, Oma, never tested positive.
That's an example they and other experts point to for the efficacy of vaccines. But not all residing in similar facilities share Ken Buckner's experience with asymptomatic illness.  
Statewide, residents of long-term care facilities account for one in three deaths attributed to COVID-19. That's while accounting for about 2 percent of the state's total number of positive cases, according to the state's dashboard.
Health experts agree vaccines are effective against severe illness. However, not all nursing home staff members are on board. Just over 78 percent of staff are fully vaccinated.
Hundreds of nursing home staff need to be vaccinated or facilities could face fines
That means there are hundreds of workers who still need to be vaccinated—or file an exemption—in order for their employers to be compliant with federal rules.
After multiple publicized court battles, the Supreme Court upheld the federal mandate requiring workers at facilities which receive Medicare or Medicaid funding be fully vaccinated.
"Now it's mandatory across the board for basically every healthcare provider and supplier that provides services to Medicare and Medicaid residents," Zach Cattell, President of the Indiana Health Care Association, a trade group that represents nursing homes and other long-term care providers, said.
Fines—which range in severity—start in May for states like Indiana that challenged the federal rule.  
"You'll still be cited as non-compliant if you're below 100% In March," Cattell said. "But they'll withhold actual monetary enforcement 90 days from the rule."
He said there is variation throughout the state, but remains confident providers will meet the federal requirements.
"We have buildings that are at 100 percent today, there are a handful of them," he said. "So, they are working towards it. I do believe that a lot of facilities will either be at that 100% compliance level, and certainly be above 80 percent So that they can avoid financial penalty and continue to work towards that 100 percent goal that will end up being ultimately enforced in May."
Sugar Grove—where the Buckner's call home—is an assisted living facility, and is not required to report its data to the federal government.
The facility's parent company Tutera said it supported vaccinations and was working with staff to ensure all were vaccinated.
Misinformation & Misconceptions
Erica Bowman is the administer at Miller's Merry Manor in Hope—her facility is subject to the CMS rule.
"I personally was a little surprised that there was as much resistance," she admitted.
85 percent of her staff were compliant as of February 22, but the rate of boosted staff is even lower, which is common across Indiana.
Fewer than one in three staff are boosted, while nearly 75 percent of residents are, according to CMS data.
Cattell believes misinformation is at least partially to blame.
"I think that there was a lot of confusion of Omicron not being a severe virus, right. So, you're vaccinated already, you're already protected. So the booster with this less severe strain, maybe it's not as important," he said relaying information he's heard from staff. 
"I think that that information is unfortunate. That belief or choice is unfortunate," he said candidly.
Bowman claims she sees less resistance to the booster in her facility, which is above the state's average, and partially blamed the timing of when staff received shots. Education and trust are key too, she says.
"Having those relationships and having that trust where the staff knows that if they have questions, if they have concerns, they have someone that is there to support them and talk them through concerns," she said
Cattell and public health experts agree building trust is an effective, but arduous task.
Ken Buckner generally is on board with that, but offered a slightly different approach.
"Ask not what your country can do for you, but what you can do for your country," he said quoting former President John F. Kennedy. "This is one of those times," Buckner said. "So it's infringing on your benefits and infringing on your rights to get a shot. Big woo."