Negotiations are becoming more intense as officials try to move forward on the Monroe County convention center expansion.
Thursday night's meeting was the third between county and city elected officials. The work sessions focused on funding, site plans, and forming a board to oversee the project.
But the meeting got off to a contentious start when County Commissioner Lee Jones asked for an amendment to the agenda that the city commits to an equal number of appointments in the project no matter the governance.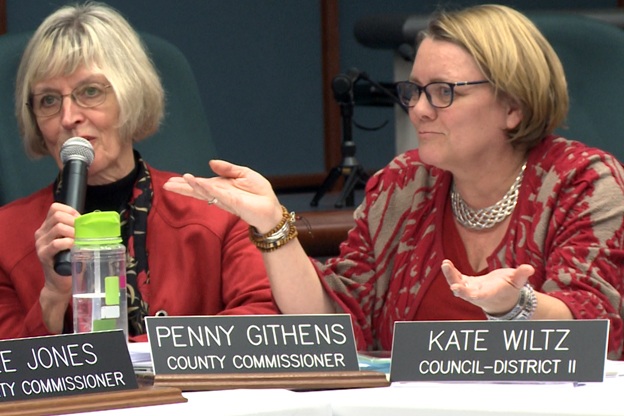 Mayor John Hamilton says he's not able to commit to the number of appointments because he hasn't had advice of city legal staff.
"I think it would be useful to hear there are differences between the CIB and the 501(c)(3) that could affect the appointments," says Hamilton.
County Commissioner Penny Githens says the equal representation discussion should happen in a public forum, not in city offices.
"We have emails that show that city staff have struck out true equal partnership when we have proposed it. And we've asked to have it put back in, they've cut it out. That's not moving us forward," says Githens.
The debate went on for an hour until City Council Member Isabel Piedmont-Smith asked commissioners if they would be satisfactory with their vote of equal project partners since they are the financial approving body.
All members said yes except City Council Member Dave Rollo who wanted to hear the presentations first. Council members Allison Chopra and Andy Ruff were not present.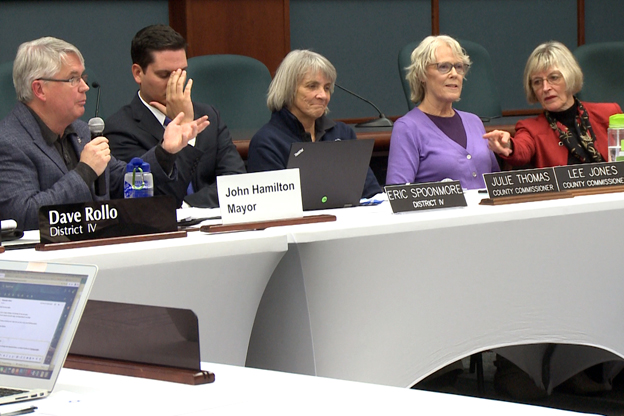 The CIB or 501(c)(3) governing bodies and site plan of exhibit hall space to the north or east were presented.
The CIB has authority to issue its own bonds, but no more than four of seven members can be affiliated with the same political party. A 501(c)(3) corporation has more flexibility on board creation and size, but doesn't have the same authority as a CIB.
No votes were taken as the meeting was informational.
Hamilton says he thinks if the executives were able to meet, they'd be able to agree on a list of people to appoint to a new board.
"No, no, no," Commissioners Julie Thomas and Lee say shaking their heads.
"That's not what we decided on," Githens says.
Hamilton says city council will be moving forward with an appropriation to begin the design work of the expansion project.
"We'll be in touch with the city council," Thomas says.
Hamilton replied, "We look forward to working with you."