Todd Walton has been working in the funeral business for nearly his entire life.
After taking a summer job as a funeral home groundskeeper when he was 16, Walton has spent the last 30 years in funeral service and is now the director of funeral homes in Spencer, Linton and Worthington.
And he's never seen anything like this before.
"The pig flu – I remember when that first arose, and people had passed from it, too," Walton says. "And that was the biggest scare I think we had as far as any kind of a disease compared to this, today. But nothing compares to this."
Last week, Gov. Eric Holcomb extended his order for all Hoosiers to stay in their homes except for essential business until the end of April.
Part of that order limits gatherings in the state to 10 people or fewer, meaning Walton's three funeral homes have been quieter than usual.
Funerals in Albany, Georgia, turned that city into one of the country's worst coronavirus hotspots in March. No one wants a repeat of that.
All this led one of our readers to ask – what happens with funerals now?
"We're able to hold services with 10 people or fewer," says Jan Smith, funeral director at Flanner Buchanan in Indianapolis and spokesperson for the National Funeral Directors Association. "So, it is a gathering. We can have a service and honor a life, but it just looks different than it did three months ago."
What it looks like for people like Steve Wolfgang, who recently lost his mother, Jean, is a funeral with just a couple of close family members present.
"When my dad died – they were known as a couple, you saw them together and were married 68 years," Wolfgang says. "For his memorial service, the largest room that Flanner Buchanan had was filled. They had to set out more chairs, I would guess, in excess of 100 people. So, for mom, we're down to 10 people."
Wolfgang says normally, the 10-person cap would create difficulty deciding who could go. But restrictions on travel across the country almost made the decision easy.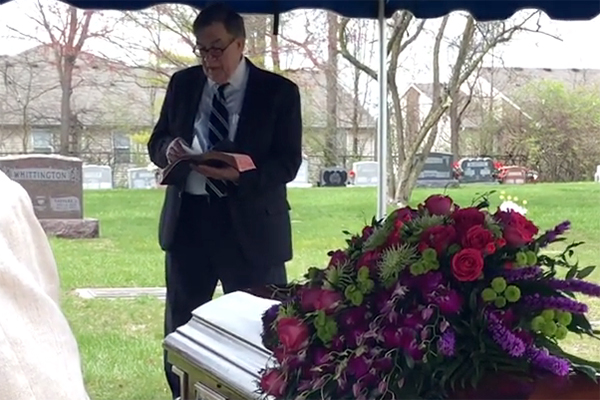 "My brother lives in Portland, Oregon, and they are not going to be able to travel," he says. "My sister lives in Louisville but even though it's 100 miles away, the governor of the Commonwealth has said if you leave the state, you're going to be put in quarantine when you return."
And if losing a loved one during the coronavirus pandemic isn't enough, that 10-person limit includes funeral staff.
Wolfgang says counting himself, there were just a handful of people at his mother's funeral in Indy last week.
That can create problems for funeral staff, too.
"We had a service in our Linton funeral home and we had to make sure that only 10 people were in the building," Walton says. "I actually had one of my funeral directors running that service. So, I stepped out during the funeral so one more person could come in."
With all these constraints, funeral directors and attendees are coming up with ways to share the experience with more people.
"(Other family and friends) might be off in a distance at a cemetery, I guess, if they show up," Walton says. "But we're doing everything we can to keep under those guidelines to protect the public health and try to take good care of people. And one of the nice things we do, and I thank God we did this last year, we put in the capability to webcast."
That's what the Wolfgangs did.
"So we just keep looking for creative solutions," Smith says. "We have a program that we just started here in our funeral home called hugs from home, where people can get online and leave a note to the family that we will print and put out for them at the funeral service to make them feel like those people are there with them as well."
Some funeral homes have started "drive-in" services to allow more people to pay their respects.
Funeral directors such as Walton and Smith say they understand no text message, livestream or drive-in service can take the place of being there in person.
Many families, including the Wolfgangs, are choosing to have smaller, more intimate gatherings now, and opting for a memorial service or celebration of life down the road.
"It's still not – it's just not the same. No question," Wolfgang says.
Both Walton and Smith say they agree that the situation is less than ideal, but 10-person funerals will be the norm for the foreseeable future – and, unfortunately, odds are there'll be more of them in the coming weeks.
What About the Bodies?
As of now, the National Funeral Directors Association and Centers for Disease Control and Prevention maintain that risks for transmission of COVID-19 from the deceased to the living are "not a concern when handling human remains or performing postmortem procedures." That includes preparing the body, burials and cremations.
"It's not much different as far as handling someone that had passed away than it is any other time," Walton says. "Because we treat everybody just like they would have something, some kind of communicable disease."
Walton and Smith say funeral homes' designation as an essential service puts them in line to receive personal protective equipment such as gloves, goggles and masks.
For the latest news and resources about COVID-19, bookmark our Coronavirus In Indiana page here.