Located less than 25 miles from "the limestone capital of the world," Bloomington has many beloved limestone structures.
Despite being near many quarries, newer city developments are often clad in brick -- and that's troubling for some limestone lovers.  
Sandy Lynch has lived most of her life in Bloomington. She said she misses the views of iconic limestone buildings she enjoyed before newer and taller brick-covered buildings sprang up.   
"As I go down Rogers Street, I used to be able to see the courthouse above everything, and now it's blocked. And I miss that," she said. "It also looks like the new Fourth Street garage is going to be clad in brick. So, I'm just kind of discouraged that we're not making use of at least a facade of limestone."   
Lynch admitted her desire to see limestone used more in newer developments is rooted in nostalgia. 
"Limestone to me is warm, and also bright. I just love limestone. I worked in Bedford for many years, near some of the mills and quarries, and I just love it. And when I see these new buildings coming up without limestone, I just get a little sad."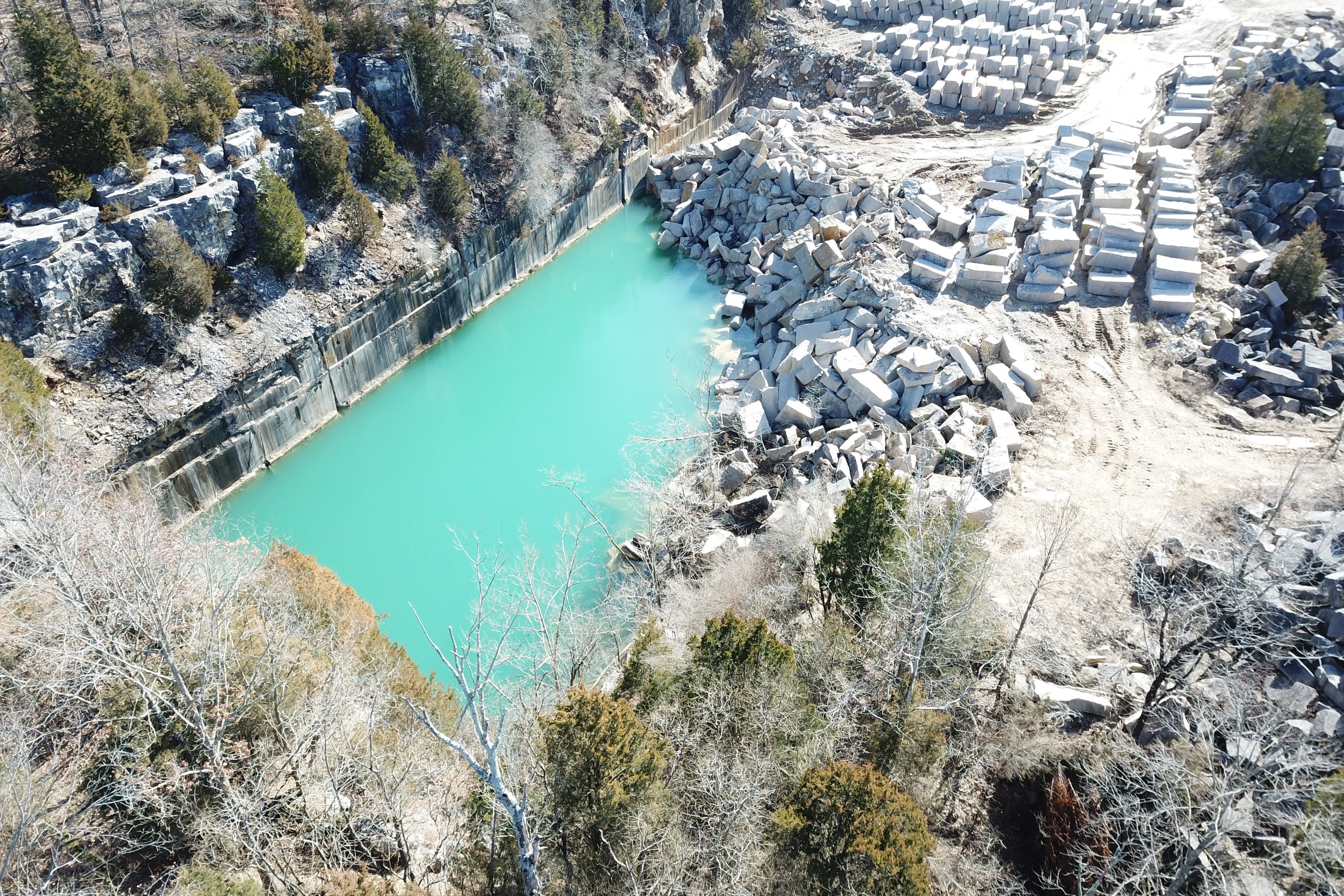 Architect Doug Bruce grew up in Bloomington near First Street. Walking neighborhoods of limestone houses on Maxwell, First and Ballantine Streets influenced his choice of profession.  
"Walking by those homes, and still even today driving down the road. It just, you know, if you don't get an emotional feeling from those, you, you know, something's wrong with you," he said. 
As an architect, Bruce says the choice of whether to use brick or limestone on a building comes down to several factors: cost of the material, cost of the labor, and the scale and frame of the building.   
"You would think because we're located, you know, within miles of the limestone capital of the world, that limestone itself might be a fairly inexpensive building material, but in fact, it is quite a few times higher than brick as a material and brick is not an inexpensive material in itself."  
READ MORE: 'Breaking Away' Quarry Partially Filled In: 'There Would Be 300 People Back There'
Bruce said limestone is a great material to work with, but the cost of a smooth faced limestone panel, even with no ornamentation, is simply much more expensive than brick.   
"I mean, really, if you're looking at a square foot of brick, or, you know, eight square feet of brick might cost you $12 to $15. But a couple square foot of panels is going to cost you $200 or $300, so, there's that increased cost."  
And then there's the labor. Bruce said most brick masons can also install limestone panels. But because of limestone's weight, contractors need special equipment to install them, especially if they are being placed more than a few feet off the ground.  
"The other part that people don't see is what it takes to hang and support and anchor the limestone panels versus brick masonry," he said. "So, limestone panels require all sorts of flashing all sorts of stainless steel, anchoring systems and because of their sheer weight, it's not something that a general laborer can install."  
Even when cut thin for a façade, Bruce said, limestone is still heavy. And because of the sheer weight of it, buildings must have a sturdy frame.  And steel frames are more costly than the wooden structures found in many buildings around town. It's difficult to hang even two-inch limestone panels from a wood-frame building. 
"And if you've noticed a lot of the apartment buildings in downtown Bloomington, you know, if they're not parking under the building, then most of the buildings that are three or four stories are wood framed buildings, and that's just not really conducive to hanging limestone from."  
Bruce said in terms of aesthetics and design trends limestone still is seen as desirable.           
"I don't think it's going out of style at all. And I think all of the quarries locally would tell you they've never been busier," he said. 
Bruce said he loves limestone, but he doesn't always get to use it because of these costs and limitations. He said when he can, he seizes the opportunity to use it in ways people can not only see, but also touch, like at the entry way or base of a building.