Indiana has been famously anti-pot for a while now.  
The state was one of the first to ban cannabis without a prescription back in 1913, as Eli Lilly cultivated one of the nation's biggest marijuana farms. When the federal government cracked down on the plant in 1937, Indiana followed suit with some of the nation's toughest state-level restrictions.  
Today, cannabis is listed as a Schedule 1 controlled substance – under state law, possessing a  joint could land you in jail for 180 days and set you back $1,000.  
Gov. Eric Holcomb has been consistent he wouldn't consider legalization of marijuana until the federal government lifted its prohibition. 
Still, many cannabis connoisseurs have found a hemp-based alternative right here in the Hoosier State with Delta 8 THC. 
DELTA WHAT? 
Tetrahydrocannabinol, or THC, is the chemical component of cannabis that gets you "high." 
Normally, when people talk about THC, they're referring to Delta 9 THC, the plant's main psychoactive cannabinoid. It's not the only one, though.  
Delta 8 THC is similar to Delta 9 THC but differs slightly chemically, making it less potent. Users report similar effects to consuming regular marijuana, just a "lighter high" with less paranoia or anxiety than may come with Delta 9 THC.  
In Bloomington, home of the state's flagship university, Delta 8 is everywhere. Smoke shops, gas stations and CBD dispensaries advertise Delta 8 edibles, tinctures, vape cartridges and more as legal alternatives to the "real stuff." 
Andy Manson has owned and operated Stimline Variety, Bloomington's staple head shop, since 1989. He says he gets adults of all ages – not just students – asking about Delta 8. 
"It seems like we have developed ourselves with the level of products that we sell, that we do have a pretty large clientele coming to us for Delta 8 products," Manson said.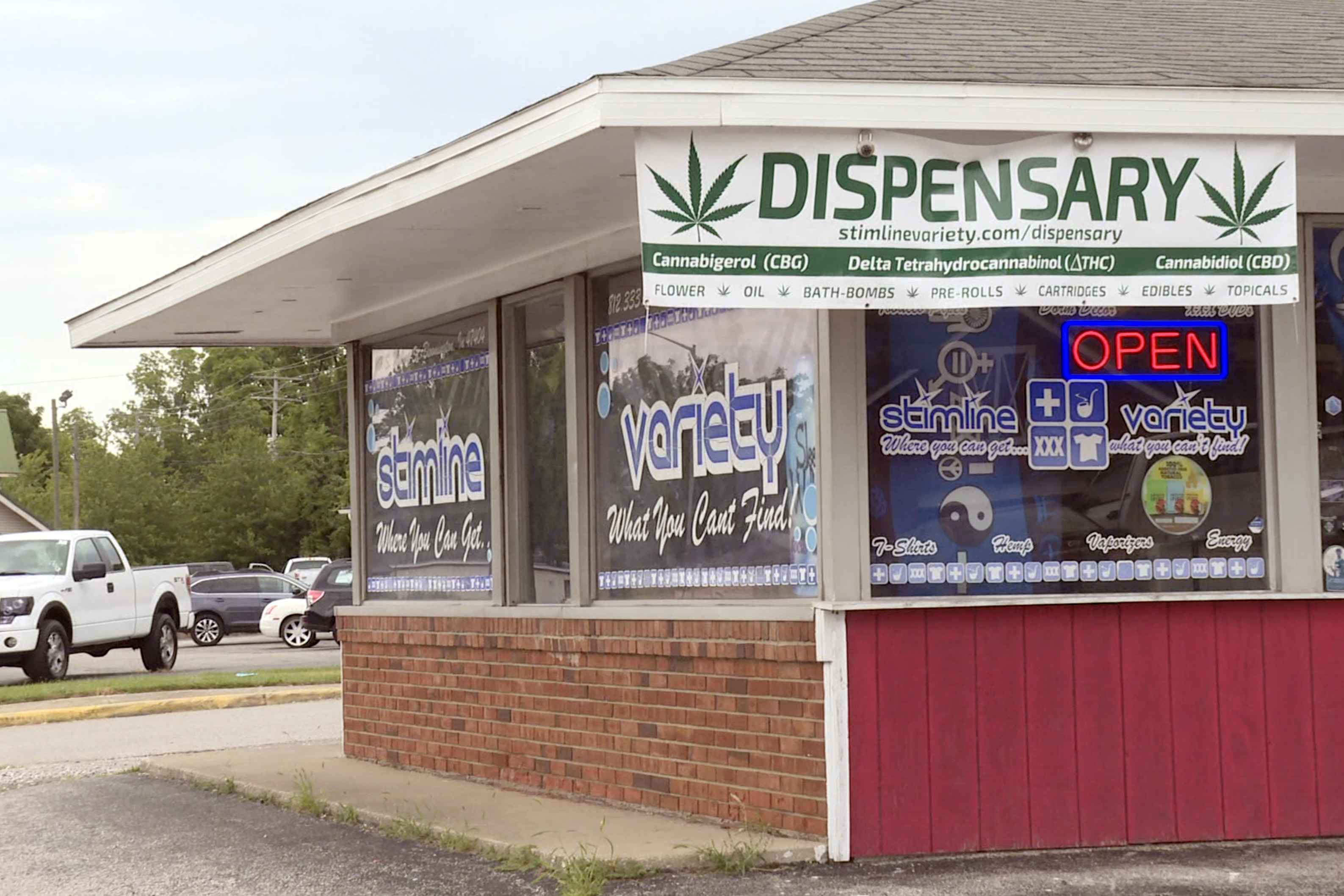 Many Delta 8 advocates say it provides relief for those who might be medical marijuana patients if the state had such a program. Manson's surprised by how many customers he gets purchasing Delta 8 products to help with cancer treatments or other chronic issues. 
"It seems to help people who are either having adverse effects with various painkillers or insomnia drugs," he said. "It just seems to be so helpful to people that we just decided to go with it." 
He doesn't deny many are excited about getting a legal alternative to consume recreationally, and understands it has put the state in an unanticipated situation – nobody thought a federal bill aimed at helping farmers would open the door for Delta 8. 
"It's a gray area," said Manson. "And we just decided that it was in our best interest to start to go into that area." 
THE 2018 FARM BILL 
Delta 8 retailers and producers point to the 2018 Farm Bill as the legal basis for their products.  
The bill allowed for the cultivation of hemp, defined as cannabis plants with concentrations of Delta 9 THC below .3 percent. 
Indiana followed the feds, and state law allows "any part of that plant (hemp), including the seeds thereof and all derivatives, extracts, cannabinoids, isomers, acids, salts, and salts of isomers." 
Delta 8 advocates say Indiana Code only mentions Delta 9 THC; therefore, Delta 8 products derived from hemp are good to go. 
"With about two years' worth of research, we finally came up with our proprietary process for producing our products and started to put them into production," said Devin Crispin, one of the owners of Bloomington-based Earthshine Labs. 
Earthshine Labs started selling Delta 8 products this spring and is already in 65 stores across the state.  
"When they wrote and approved the Farm Bill, they made anything with over .3 percent Delta 9 THC and its precursors illegal," Crispin said. "The Farm Bill did not exclusively address Delta 8. And because it does come from a hemp plant, it's categorized as part of hemp."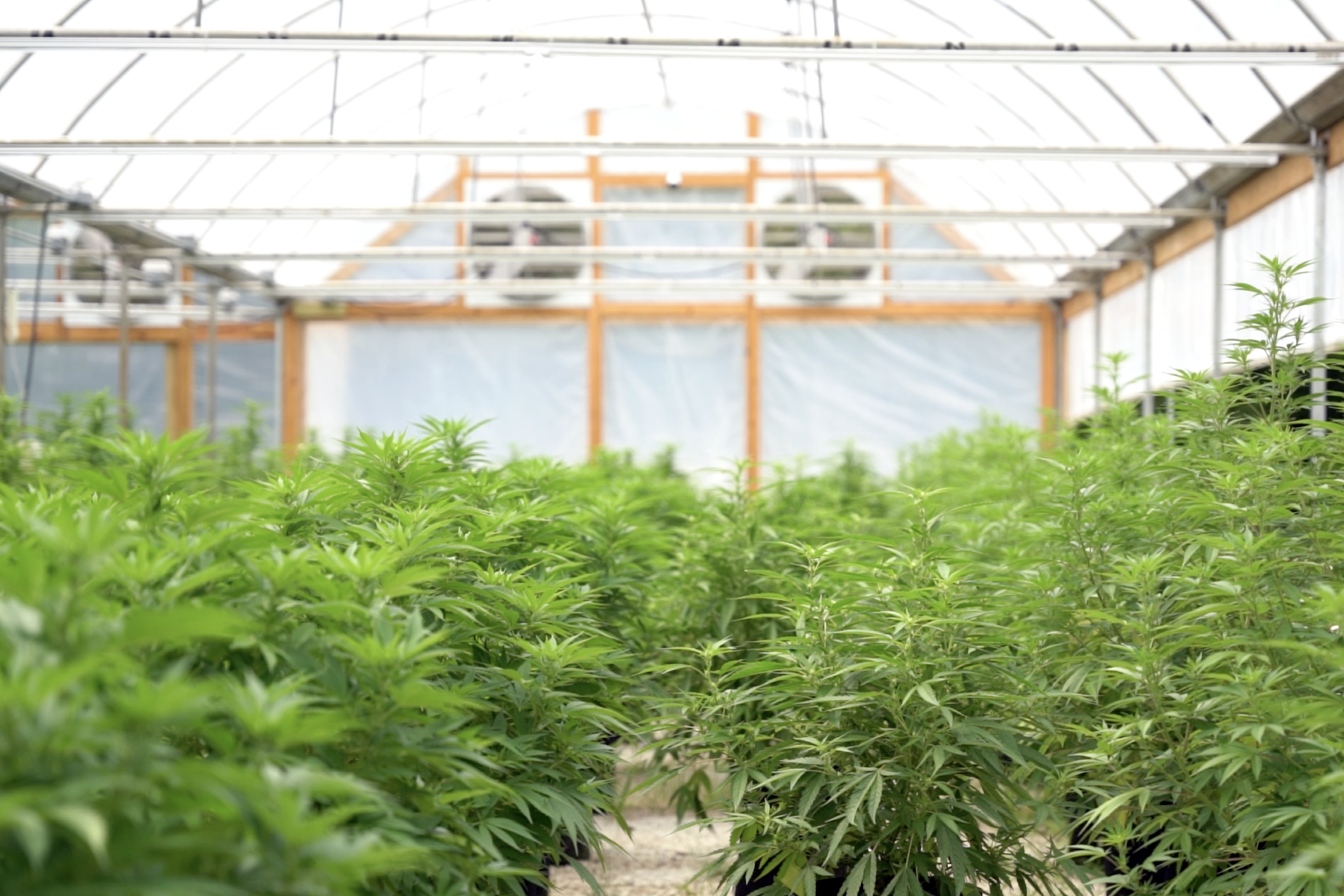 The Indiana Prosecuting Attorneys Council declined to be interviewed for this story. 
Legislators including House Speaker Todd Huston (R-Fishers) chose not to comment when asked if the General Assembly had considered regulating the substance.  
The state office of the Director for Drug Prevention, Treatment and Enforcement referred WTIU/WFIU News to the Indiana State Police, which also declined an interview. But chief public information officer Capt. Ron Galaviz provided this emailed statement: 
"Indiana's controlled substance statutes define Tetrahydrocannabinols (both organic and synthetic) as controlled substances. What this means is that Delta-8 THC products are arguably covered under Title 35 as a Schedule 1 Controlled Substance separate from the allowances for hemp-derived products that contain no more than 0.3% Delta-9 THC." 
"The state senators and state representatives that I've talked to – which there are several – they're all arguing trying to figure out the best avenue to go down," Manson said.  
LACK OF REGULATION CREATES SAFETY CONCERNS 
The Indiana State Department of Toxicology also declined an interview and provided answers via email.  
Forensic toxicologist and quality control coordinator Sheila Arnold said since Delta 8 THC is found in such scant amounts in hemp plants, most Delta 8 on the market is produced by converting CBD distillate. That can lead to safety concerns. 
A June report from the U.S. Cannabis Council, which represents licensed cannabis companies, found in a survey of 16 different Delta 8 products that none were in line with the 2018 Farm Bill's limit on Delta 9 THC, and some contained metals or unknown substances.
Earthshine's vape cartridges are advertised as a safe, "authentic cannabis experience" derived solely from hemp plants, without cutting agents, chemicals or metals. Crispin acknowledges the lack of regulation creates safety concerns, and says he uses state-licensed hemp and has his products tested by a third-party lab to ensure safety and compliance.   
"We would love it if there was a clear, standard operating procedure for what they wanted," Crispin said. "It only really gets rid of the bad actors and make sure that everything that the consumers get is safe and tested." 
Manson says he vets the companies Stimline works with and only carries what he considers reputable brands. 
"There's no structure to organize how it's being done right now," he said. "So that's creating somewhat of chaos. And I'm not sure whether the General Assembly's trying to figure out 'Where can we enter in and start to govern it?' Or 'How do we govern?'" 
At least 16 states have moved to regulate or ban Delta 8.  
The Kentucky Hemp association is suing the state after the Kentucky Department of Agriculture released a memo saying it considered the compound illegal. Michigan will start regulating Delta 8 products this fall, while Illinois lawmakers are discussing if regulations are necessary. 
Crispin welcomes regulation that would keep Delta 8 products safe for consumers and on store shelves. But he's wary of state involvement, given its anti-marijuana stance historically.  
He and Manson say cracking down on Delta 8 would prevent people from getting the relief they need and constrict a potential goldmine – the state has been collecting taxes on Delta 8 sales the whole time, and Illinois made $36 million in out-of-state weed sales in June 2021 alone. 
"They've (the state) just basically made communications with us that they're aware that it's there," Manson said. "They're doing their studies and their investigation on it."