Workers spent Saturday afternoon cleaning up Kirkwood Avenue after Friday night's storm. Mud caked the streets and trash was piled on the curbs.
At the Bloomington Bagel Company north of Kirkwood, half a dozen workers were scrubbing floors and airing out the restaurant.
"A lot of us are asking why this happened," said Sue Aquila, the owner of Bloomington Bagel Company. "We went through a big dig years ago to prevent this from happening."
Aquila said she and other business owners in the area are wondering if the flooding was related to work on a nearby culvert.
"We're also hoping the city, the state, the federal government declare this a disaster relief area because a lot of these businesses — after 15 months of the pandemic — are at risk of permanently closing," she said.
Aquila said she had been in the same space for 25 years and owned the building but had never experienced flooding until Friday.
"So, that's one of the reasons we're asking, 'How did this happen?' Something went wrong," she said.
Holly McLauchlin, a spokesperson for the city utilities department, denied that the nearby construction contributed to the flooding.
McLauchlin said the extreme amount of rain overwhelmed the current stormwater system but that the construction was unrelated.
READ MORE: Flood Warnings, Clean-Up Continues After Severe Storms Dump 8 Inches Of Rain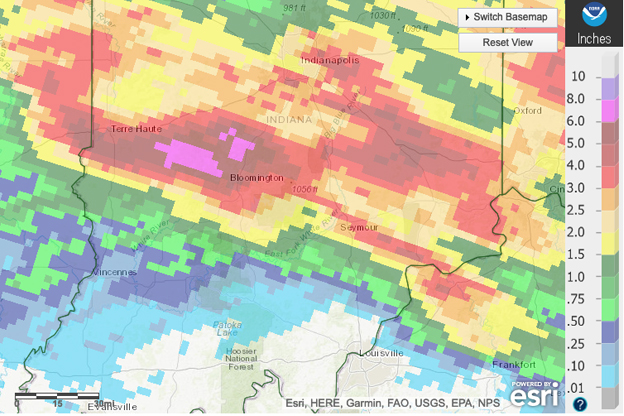 City employees were asking similar questions at a fire department south of Kirkwood Avenue. One fire official said part of the station had flooded once before in 2008 but it wasn't this bad.
First responders were dispatched to dozens of calls Friday night but they couldn't prevent flooding in their own station. Computers and dispatch equipment were still offline Saturday.
Until late in the afternoon, workers were hauling destroyed equipment and garbage out of the basement.
Mud was still visible inches below a baby box installed last year, and trash piled up in the corners of a stairwell leading to the basement.
Dress uniforms with mud stains hung drying outside.
At Switchyard Park, the city went forward with plans to celebrate Juneteenth, which became a federal holiday Thursday. Hundreds turned out for hot dogs and games after the clouds cleared. 
More than 2,000 people are still without power in Monroe Co. Sunday with an estimated time of restoration at noon Monday.
Forecasters are predicting isolated storms Sunday afternoon will increase overnight to widely scattered showers Monday. Cooler and much drier air - and sunny skies are back in the forecast Tuesday.
This story has been updated.