Logan Gingerich, now a master's student in medical sciences at the University of Florida, was born and raised in Indiana. He's from Odon, a small Daviess County town, and graduated valedictorian of North Daviess Community Schools in 2018. He earned a 4.0. 
Gingerich's rural high school class had 69 people.  
"I knew them by their first and last name. I knew their parents, I knew their dogs," Gingerich said, smiling. "I knew everything about them." 
Moving to Bloomington for college was a big change, Gingerich said, though Indiana University wasn't far from home. He enrolled on a pre-med track. He didn't know anyone with a college degree at the time.
In Odon, the U.S. Census shows about 14% of people aged 25 and up have a college degree. Thats's about half Indiana's statewide average.
His parents didn't go to college, but his sister had some experience at IU before dropping out. 
"I had absolutely no clue what I was doing. I went in blind. I had no resources," Gingerich said.
Other people had parents who were doctors or had siblings who graduated college — that wasn't the case for his family or hometown.  
He had to learn it all on his own. 
"Where I come from, most people become farmers and/or work at the elementary school," he said. "So, it was very interesting. It was very hard navigating the pre-med college life."  
A quarter of Indiana K-12 students learn in rural schools, according to the National Center for Education Statistics, and state data shows they earn equal or better grades than urban and suburban students.  
But they don't attend college or earn degrees at the same rate as kids from non-rural areas.  Right after high school, the Commission for Higher Education reported 49% of rural Indiana students attended college in 2020, lagging behind non-rural students 
Only 17.9% of Hoosiers in rural areas have completed college.
Gingerich earned a degree in psychology and biology in 2022 from IU.  
Six years ago when Gingerich started in Bloomington, he went from knowing everyone and their dogs in high school to knowing no one. He met strangers everyday. 
The lifestlye in Bloomington was different, and he felt nervous. As a student from a rural high school, he said he had to learn everything — even how to ride the bus.  
"I had never taken a bus before, like they do here," Gingerich said.  
It's been six years since living in Bloomington, and Gingerich said Bloomington feels just as small as Odon now.  
Rural college students often first generation and low income students 
Courtney Brown, vice president of impact and planning at the Indianapolis-based Lumina Foundation, said over the last decade, college enrollment and graduation have declined. In the U.S. 44.4 million people have some college education and no degree to show for it.  
Nationally, 21% of rural adults aged 25 and older have a bachelor's degree, lower than the average of 39.7%. 
"The reality is that rural students are not attaining at the same rate — attaining a degree at the same rate — that the general population is or the urban population is," Brown said. 
Read more: Doing more with less: How rural schools prepare students for life after graduation
And rural students who filled out the free application for federal student aid has decreased by 18%. By not filling out FAFSA, she said rural students aren't even considering education after high school. 
"That's alarming, when we see something like that. That's almost like the canary in the coal mine," Brown said. 
She added that data on rural students in general are lacking and they're often ignored in enrollment research. Though rural students aren't a monolith, she said researchers know rural students are more likely to be low-income and first-generation.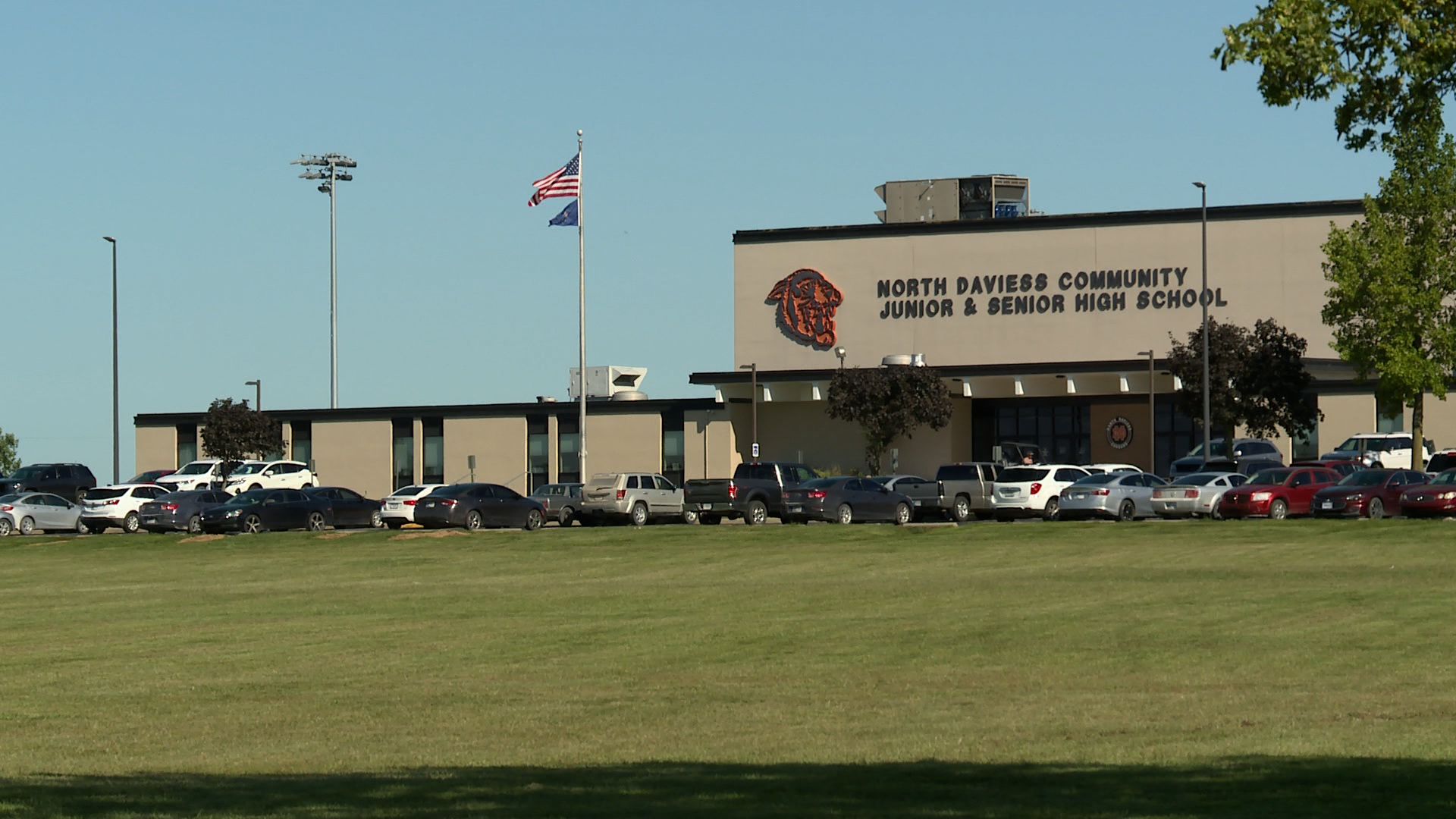 They often live in education deserts. The Institute of Higher Education found about 41 million adults live 25 miles or more from the nearest university or college, or in areas where only a single community college offers accessible public higher education.  
Read more: Indiana's average farm real estate value up 13.8% since 2022
Because many rural students are from low-income homes, they likely need more financial aid than scholarships can provide, Brown said.  
"Poverty is an incredible factor. Even if they get grants that help pay their tuition, they still need money to actually get to a campus, to drive to a campus. So that's gas money. They may need to live somewhere else. They don't have money for that," Brown said. 
Research shows rural students are more likely to choose a two-year college than urban students. Across Indiana, 19 Ivy Tech Community College campuses make up Indiana's only community college system. 
Esthela O'Neill, assistant vice chancellor for enrollment services and student success at Ivy Tech Bloomington, said lack of public transportation is a big obstacle for rural students. Being able to get to campus can make or break their decision to go to college.  
Read more: Education is 'cornerstone' of Indiana's future economy, Chamber of Commerce says
About 36% of students enrolled at Ivy Tech Bloomington this year are not from Monroe County, she said.  
"We do have some students who may be traveling more than 25 miles to get to campus," O'Neill said.  
Brown said education past high school is becoming increasingly important for the economy and a worker's stability.  
It's important to understand who rural students are and provide better mentorship for them before college, Brown said, so that more of these students can get useful credentials after high school and get a good job.  
Lumina set a goal to see 60% of U.S. adults with some kind of post-high school credentials, such as degrees or certificates, by 2025, Brown said, because the foundation predicts 60% of jobs will require that education. The Chamber of Commerce's Indiana Prosperity Plan 2035 believes that goal will be met in this decade, so the state's newest goal is to boost the proportion of adults with high quality degrees, certifications or credentials to 70% by 2035.  
"Having that credential is important. It's important for the individual so they can have a good job, so they can have a good life, so they can make enough money to support a family," Brown said. "It's also important for our economy, because we need this talent."  
Colleges and universities work to find solutions 
At IU, about a quarter of first-year students enrolled in the 2022-2023 academic year were from rural high schools like Gingerich.  
Kerry Thomson, director of IU's Center for Rural Engagement, said the center partners with rural communities for learning, teaching and service projects. The center works with the university to host interns and research projects.
Thomson said students are exposed to the quality of life and assets of rural communities. Most students with the center are involved in community-engaged learning projects, such as a rural nursing practicum or a feasibility study. 
"We find that they're more likely to choose to relocate into rural communities after they graduate," Thomson said. "And of course, it's our hope that they stay in Indiana." 
Read more: Micro-grants for eclipse-related activities now open
Gingerich said he's worked with the center since his senior year at IU after his professor noticed his passion for rural healthcare.   
He volunteered with Whitney Schlegel, an associate professor and faculty affiliate with the center, and worked at the Washington County Wellness Fair until it turned into a job after graduation. 
He now works for the center's Creative Arts for Vets project, a free trauma-informed care program that helps military veterans. 
The project provides art therapy and the self-paced book walks veterans through their experiences to improve their mental health.  
"We have a book, and we package it up with an art kit," he said. "It talks about what their experiences might've been when they were in active duty and when they were deployed." 
He also works at Centerstone in Bloomington, a nonprofit addiction and psychiatric treatment center.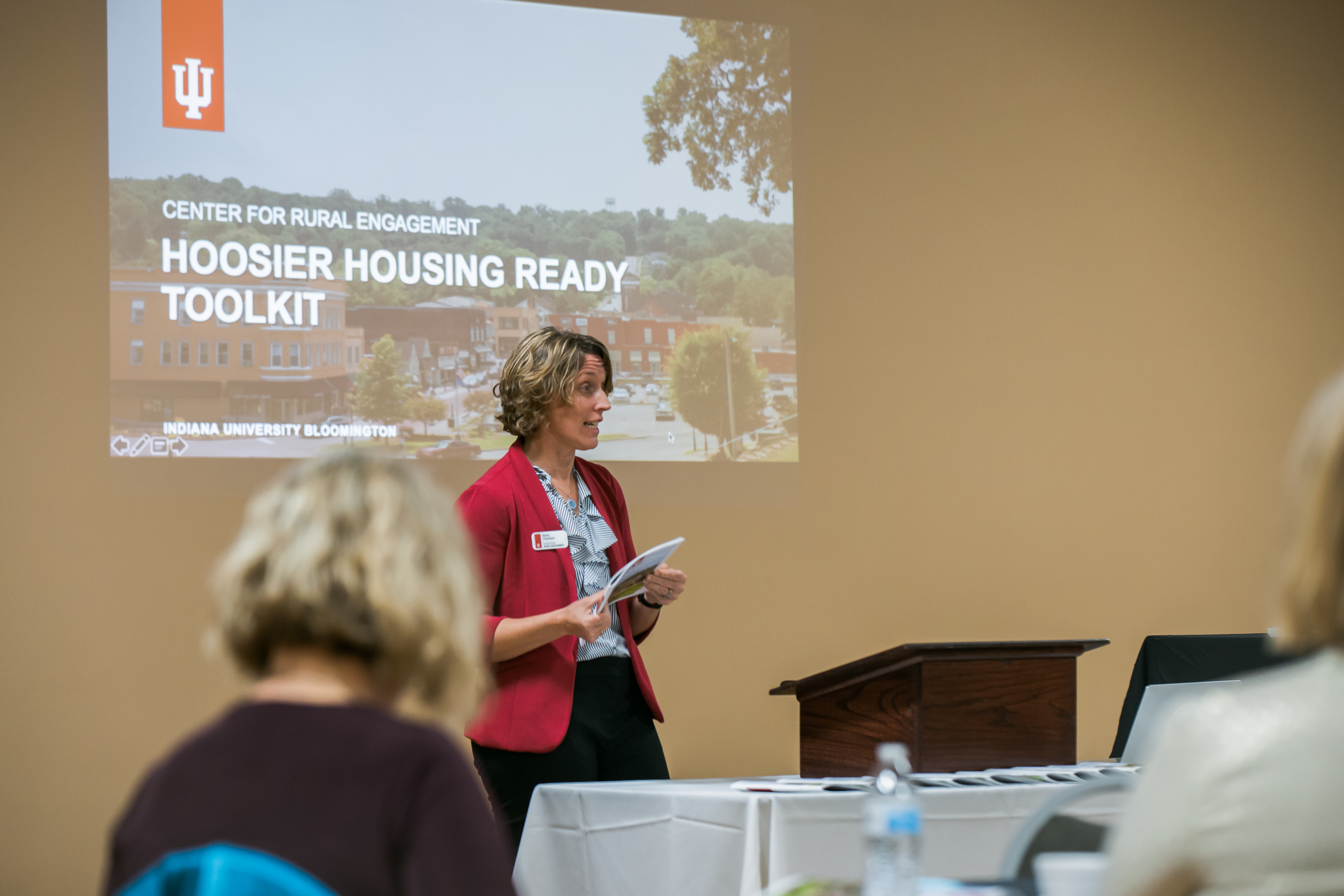 Where he comes from, substance abuse is common. But no one wants to admit they have a problem, because in a small town everyone knows each other's business.  
"A lot of people I know actually suffer from substance abuse. It's very hush-hush, under the table," Gingerich said. "Another reason why I got into the healthcare field, is just because where I come from drugs and alcohol is a very big issue."  
Thomson said IU should continue outreach to rural students, and the center works with IU enrollment services to recruit rural high schoolers. The center also works directly with rural K-12 students and teachers through service and enrichment programs.
Thomson said, for example, Jacob School of Music students host masterclasses and perform with rural high school bands. These projects show rural high school students that going to college for music or performance is possible, and that there are many avenues for a career.  
"Through these interactions, I think the students in the high schools have some bulbs going off that maybe they wouldn't if they're just in a guidance counselor's office," Thomson said. "We really think a lot of those enrichment programs and partnership programs are going to help Hoosier students really see the possibilities that they can access through post-secondary education." 
Ivy Tech also works with rural schools. O'Neill said the college embeds college and career coaches in Lawrence, Greene and Monroe County high schools. The college also offers dual credit programs, so high schoolers can earn college credits, usually for free.  
"We are extremely focused on retention with equity in mind," O'Neill said. "Thinking about future students, and how can we support current high school students who are going to be coming to Ivy Tech and beyond." 
To help with transportation issues, the college works with Agency 10's on-demand rural transit program, she said. The college also provides Uber vouchers for the Tuesdays@TheTech enrollment program program on campus.  
O'Neill said Ivy Tech has boosted virtual and hybrid learning since the COVID-19 pandemic, so students don't have to travel to campus. The college also offers a laptop loaner program for students.  
Read more: AI Goes Rural brings artificial intelligence to underserved schools 
A student in one county might not have the same needs as those in others, O'Neill said, and campuses work with local industry partners such as NSWC Crane or provide workforce certificates like ServSafe or CompTIA A+.   
She said Ivy Tech's campuses across the state will have a focus specific to its ubran, suburban and rural communities.  
"We have been so flexible and nimble and trying to adjust and adapt to the various needs that our communities do have," O'Neill said.  
Aubrey is our higher education reporter and a Report For America corps member. Contact her at aubmwrig@iu.edu or follow her on Twitter at @aubreymwright.