The Monroe County Election Board will refer its investigation into David Wolfe Bender, the District 6 Bloomington City Council Candidate suspected of running under a false address, to the local prosecutor's office and the Indiana Attorney General's office. 
Board members reached that decision at the end of a Thursday hearing, at which Bender appeared before the board for the first time since it opened its investigation. 
Bender's attendance marked a stark contrast to his public silence immediately after the investigation began in early March. He was apologetic and said he made an honest mistake.

"I welcome this hearing, because it is an in-person, public forum where I can apologize — both to the members of this board and to its staff for my evasiveness over the first month or so of this process," Bender said. "It is also an opportunity for me to publicly apologize and express regret to the city and the residents of the sixth district for the chaos that this has caused."
Bender stood by a written statement he sent to the board last month saying he did not intend to violate any election laws when he declared his candidacy using a District 6 address that he didn't live at but planned to move to. 
"If there are any mistakes on any forms or any eligibility problems, I will do anything to try and fix them. If they can't be fixed, then I will leave the race," Bender said. "That's how serious I am about making sure this is all right."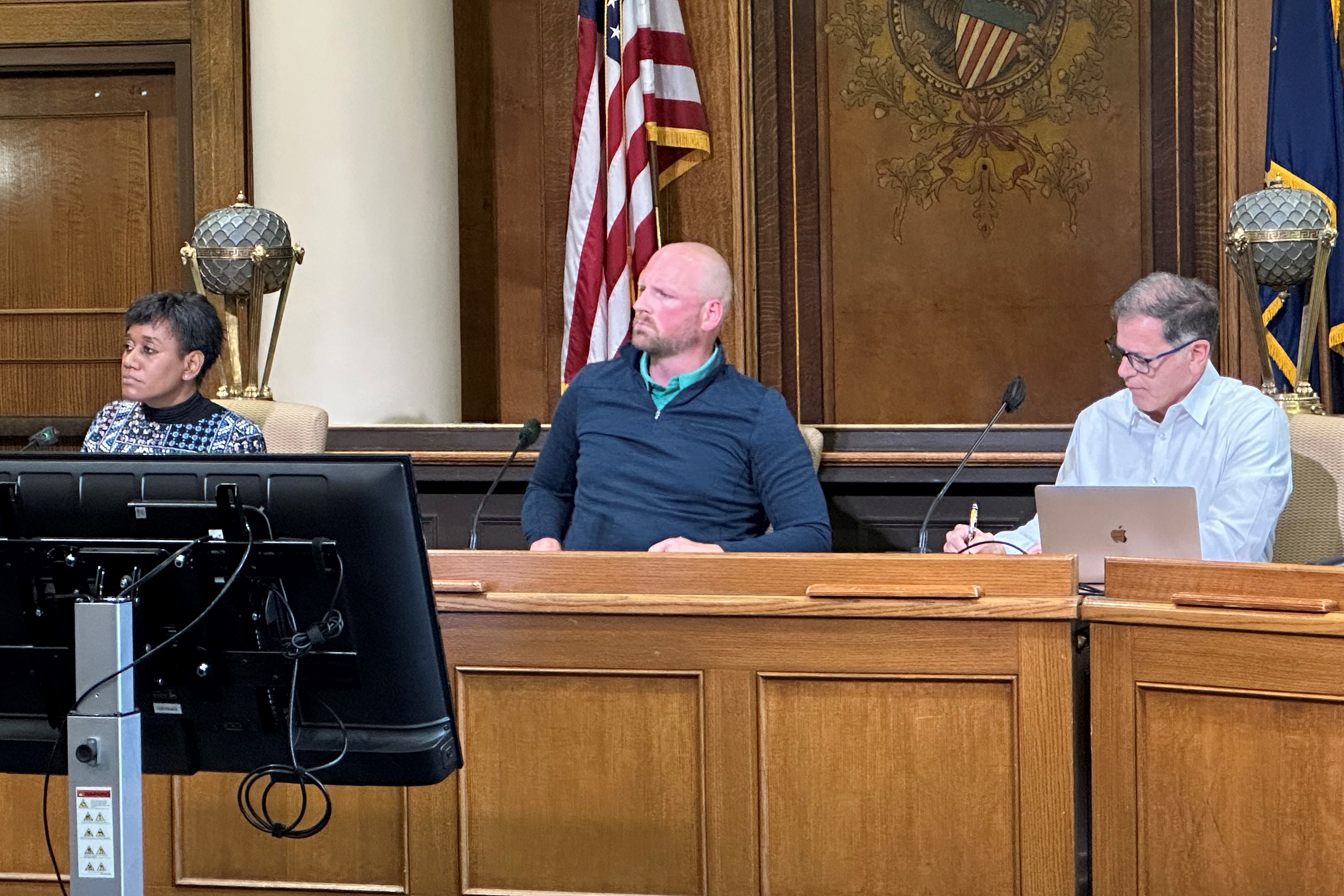 Nearly a week after the board opened its investigation, Bender's previous attorney told the board that Bender planned to withdraw from the race. Bender walked back that statement about a month later and told the board he had hired a new attorney: former city council member and former prosecutor Allison Chopra.
The board opened its investigation after William Ellis, vice chair of the Monroe County Republican Party, submitted a complaint about Bender's residency. The complaint was based on a Feb. 17 Indiana Daily Student article that cited an anonymous resident and neighbors who said Bender does live at 304 E. 16th St., the address listed on his filing form. 
By then, the deadline to request a candidate's name be removed from the ballot had passed, and the only other person running for the District 6 seat had withdrawn. Therefore, Bender won the Democratic nomination for the District 6 seat unopposed.
Bender is an Indiana University student and said he planned to live at the 16th Street address over the summer.
Bender: Didn't know there was a problem
Bender said he signed a sublease with a friend who was living at the 16th Street address but later found out that person was not on the primary lease and did not have the landlord's permission to sublet.
Bender said he was not aware there was an issue with his sublease agreement until after he had changed his voter registration and signed all documents declaring his candidacy.
"The responsibility in terms of getting approval for the sublease — I expected that the person that I signed the sublease with was going to go and get that, if it was required at all," Bender said. "I didn't know it was required under the primary lease because I didn't have a copy of the primary lease."
Read more: Election board won't subpoena city council candidate under investigation over residency
Justin Fox, the landlord of the 16th Street property, told the board he had never met Bender before and had no knowledge of him ever living at the building. 
"I don't know who this individual is," Fox said. "I wish him the best; I hope everything works out with everyone in city council and his position … but I don't have any knowledge of this person living at the house or planning to live at the house or ever has lived in that house."
Bender provided the board with a copy of a signed document between him and the sublessor. According to that document, Bender's lease was set to begin on May 1, the day before the primary election.
Bender's legal defense
The board's investigation covered two potential violations of election law: Indiana Code sections 3-14-1-13 and 3-14-3-1.1. Both sections cover fraudulent reports and say someone who knowingly violates them commits a level 6 felony.
Chopra emphasized the word "knowingly" when discussing those sections.                          
"I don't think any prosecutor would be interested in filing a case and trying to prove that Mr. Bender knew what he was doing was false," Chopra said. "He knew that he was filing the forms, but I don't think you could ever prove, and the evidence doesn't show that he knew that they were materially false or fictitious." 
Chopra also said Bender complied with IC 3-5-5-7, which says college students can register to vote using either the address they live at while attending college, or the address they live at while not attending college.
"The law allows a student to register at two different residences," Chopra said. "In this case, Mr. Bender opted to register at option B, where he intended to reside in the summertime when he was not in school at IU (and) not taking classes. That's something you can do in a forward-looking fashion." 
Donovan Garletts, the board's chair and sole Republican member, staunchly disagreed with Chopra.
"That is an incredibly loose interpretation of that code," Garletts said. "You and I both know it has not been tested in any sort of case, that specific code — but I would like to believe you also know that that does not read anything like what you just said."
Read more: Bloomington Provost on IU's seven-year plan
Bender said he spoke with a representative with the Indiana Election Division to make sure he followed that section of state code, adding that the conversation "reaffirmed (his) understanding of the law."
The board also questioned whether Bender violated IC 3-8-1-27, which says a common council candidate must have lived in the district in which they're running for at least six months before the election.
Chopra said he did not, arguing that section applies to the general election, not the primary.
Angela Nussmeyer, a representative with the Indiana Election Division, pointed to a portion of the code which reads, "before the election' refers to a general, municipal, or special election."
Nussmeyer said she could not answer specific questions about Bender's case but wrote: "IC 3-8-1-27 sets forth the durational residency requirements before the election, which is defined in the chapter to mean before the next general or municipal election held in November of that year."
The board previously said that if Bender voted in the primary, it would investigate whether he may have committed additional election law violations. On Thursday, Garletts said that portion was no longer relevant to the investigation. 
Board split on vote to refer to AG
Board members Garletts; Nicole Browne, the county clerk, and former Bloomington mayor John Fernandez, who was sitting in as a proxy for Monroe County Democratic Party Chair David Henry, voted unanimously to refer Bender's case to the Monroe County prosecutor.
However, the trio was split on whether to refer the case to the Attorney General's office, a motion Garletts made.
Fernandez, who voted against the motion, said the board should "go ahead and recommend this over to the prosecutor's office so that they can make that judgment and let this young man get on with his life, if that's the determination."
Garletts agreed it's not up to the board to determine whether Bender has committed a crime but shared one last thought with Bender before voting: "I do believe with every ounce of my being that you are not a legal candidate."
Read more: Holcomb still holding off endorsement in Republican gubernatorial primary
County Attorney Jeff Cockerill told WFIU/WTIU News Friday that he was putting together a summary of the hearing to forward to the prosecutor and Attorney General's office. He said board members plan to review the document over the weekend before he sends it.
Bender declined to answer questions from WFIU/WTIU News. 
If Bender does not run in the general election, the Monroe County Democratic Party can replace him by convention or caucus. 
Depending on the local prosecutor's findings, Bender could be charged with a level 6 felony.
Henry provided the following written statement: "The MCDP appreciates the work of the election board as we all try to understand the circumstances in District 6. As a party, we will have to assess what options there may be for the party and our voters as this potential case unfolds."