Bloomington's Transportation Plan was adopted in 2019. It includes more than 30 projects, ranging from corridor studies and multi-use pathways to greenways.
One underway is the Hawthorne Greenway, one of nine greenway projects on the list. And it's currently open for public comment.
It's meant to create a safer north-south connection between IU's campus and the neighborhoods south of Hillside by installing traffic calming structures. The goal is to get people to drive around 15 miles per hour in neighborhoods.
The city held three public meetings on the project. The latest one was in December, when Weatherstone resident Jeremy Siek spoke.
He favors pedestrian and bicycle friendly efforts, and sees the project as a step in that direction. Siek said his family has benefited from other greenways in the area.
"We very much look forward to this Hawthorne Greenway," Siek said in December. "It'll be a fantastic way for the kids to get to campus. And what I'm really appreciating about it is that I'll be I'll feel a lot safer about my kids walking or biking to campus along this greenway." 
But Philip Sutton's lived on Hawthorne nearly 50 years and questions the need for the project. He said there's not much bike or car traffic in the area, just mostly people walking dogs.
He's ok with the plan to add a pathway through the woods at the end of Weatherstone. 
"Go ahead and put the path in," he said. "Then go ahead and pave the street. But don't do major reconstruction of bump outs and things."
Beth Rosenbarger, the city's assistant director of planning and transportation, said the city doesn't want to wait for an accident to happen to make it safer to walk or bike in an area. 
Because the road is relatively low volume, it makes it a good option for a neighborhood greenway. 
"It doesn't impact driving a lot," Rosenbarger said. "But what it does is it improves walking and bicycling for sure. So it improves walking and bicycling by providing this reliable corridor for people to use, where they will feel safer and more comfortable, and they will objectively be safer using that." 
Read More: How does Bloomington decide where to place traffic calming projects?
She said it's not just about improving safety and mobility for the areas immediate residents, but to create a sustainable transit network. 
"They are sort of a tool, people tend to funnel toward them and use them to make major connections across town."
There's evidence to back up its potential benefits. Before a greenway was installed on East Allen Street, about 35 percent of vehicles drove 15 miles per hour. After a greenway was installed, that jumped to 77 percent. Bike ridership on that road increased, too.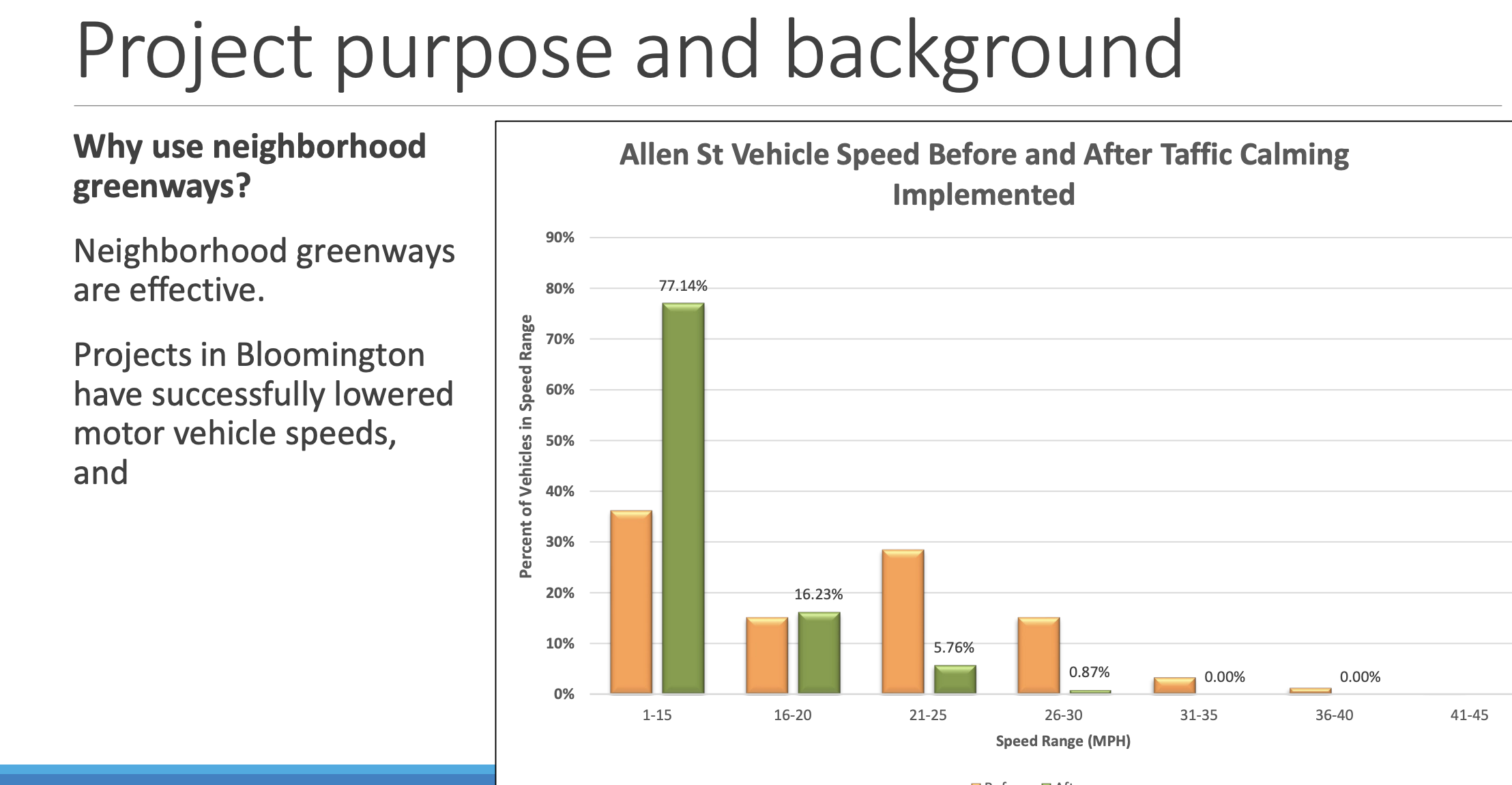 Michael Burayidi is a professor of urban planning at Ball State. He said community buy-in on a project can take time that planners and politicians don't always have to bring their ideas to fruition, and that can create friction.
He added delays to educate and have conversations are sometimes necessary. But he said greenways are a city planning tool that's here to stay, because of environmental necessity.
Read More: New 'Limestone Greenway' Trail south of Bloomington expected this year
"What communities are doing is trying to adopt ways that will decrease the greenhouse impact that we all contribute to. And so the transportation network and planning that is implemented is one way to affect our impact on the environment."
This greenway isn't set in stone. The process for approving transit projects is under revision and the planning and transit department is still reviewing feedback. 
Read More: Plans For Transit In Bloomington: Protected Bike Lanes And Bus Route Changes
Sutton says when he attended the public meetings on the project, it sounded as if the plan is final. He wishes the city had spoken to people in the area before holding community meetings. 
"They had all the plans done and all that" he said. "They need to talk to us before they do a plan, not just  when you're done. If they're gonna do another greenway, talk to the people living along that greenway."
But he acknowledged they did take some feedback, like removing curb bump outs from some areas. 
Other greenways are also in the works, including the B-line connection and West Allen Neighborhood greenways set for construction this year.