The Bloomington City Council has rejected a draft piece of legislation widely seen as an effort to prevent homeless individuals from camping on sidewalks, streets and roads.
Most council members voted against the ordinance, which effectively would have made it easier for the City to forcibly remove items blocking the public right-of-way, or easements for public travel.
The reason for the ordinance, according to City Attorney Mike Rouker, is so the City could have clear examples of what constitutes a right-of-way obstruction.
Rouker framed the issue largely around accessibility. The ordinance's definitions of an obstruction include blockages that render the public right-of-way inaccessible to those protected by the Americans with Disabilities Act.
"One of the core missions of local governments like Bloomington, going back for centuries into the mists of time, is to properly establish and then responsibly steward the public's right-of-way so that it remains open and accessible for public travel," Rouker said.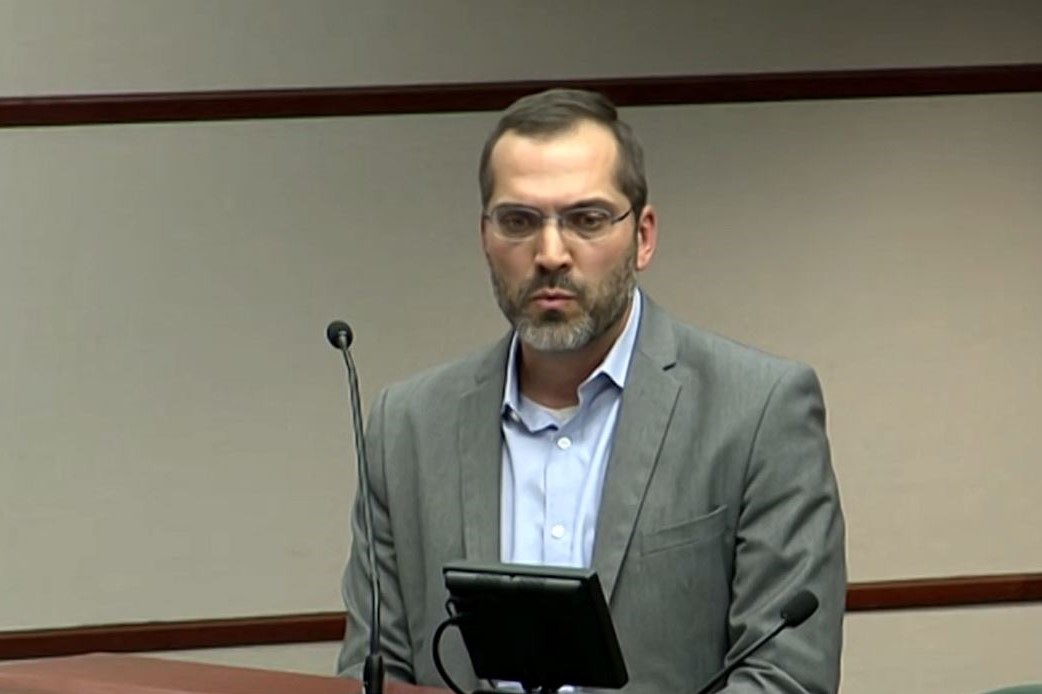 The ordinance was prompted, at least in part, by a specific instance earlier this year in which a person refused to move their belongings when asked by city staff.
"That left the City in the difficult position of either allowing the obstruction to persist or asking law enforcement to remove the obstruction," Rouker said. "Staff reached out to law enforcement for help. However, law enforcement indicated that they could not address right-of-way obstructions absent a more specific ordinance defining when the right-of-way would be considered blocked."
Rouker said city staff typically address right-of-way obstructions by asking people to move their belongings. But in that case, the City had limited recourse. The City contemplated getting a court order confirming that person was blocking the right-of-way.
The ordinance came before the council after the City's Board of Public Works unanimously approved a resolution of the same nature in mid-August. The measure needed council approval to be enforceable.
The public works board resolution passed the same week the Board of Park Commissioners approved a ban on tents and other enclosed structures in Bloomington parks during the daytime. Camping at city parks overnight was banned in early 2021 — but that policy has not always been enforced.
Council mostly rebukes measure
Five council members rejected the ordinance, including Kate Rosenbarger, Jim Sims, Isabel Piedmont-Smith, Steve Volan and Matt Flaherty. Sue Sgambelluri and Susan Sandberg voted in favor of it, while Dave Rollo abstained. Ron Smith was absent.
Sgambelluri, Sandberg and Rollo all considered voting on the ordinance at a later date. Doing so would have allowed the City administration time to flesh out some details and address many of the complaints raised by the council and members of the public.
One of the most common concerns raised is that the measure is a punitive response to homelessness, not a solutions-based one.
"We've heard a lot tonight about the need to advocate for a more solution-oriented approach; I couldn't agree more, and I honestly believe we are doing that," Sgambelluri said. "We also have real-time challenges to deal with, and that's how I take this particular ordinance."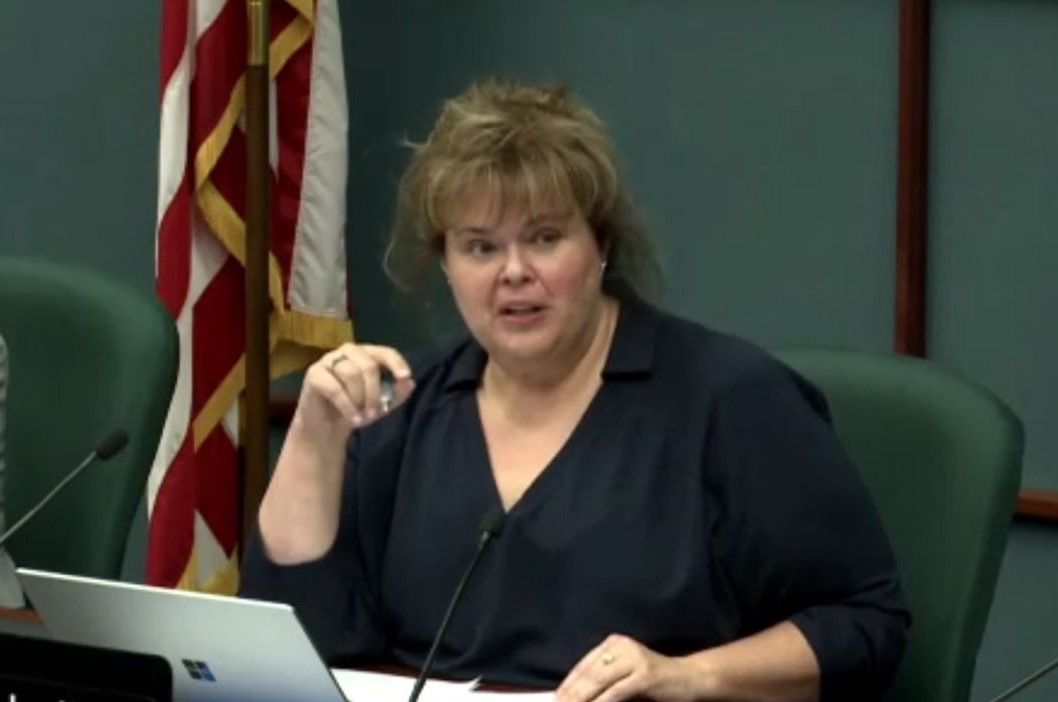 Other council members criticized the City administration for a perceived lack of consistency when it comes to right-of-way blockages. Some said, for example, that scooters continue to block sidewalks despite multiple measures intended to regulate their parking.
"Why is that not a higher priority than individuals who may be unhoused blocking sidewalks?" Piedmont-Smith asked. "It's my understanding that the current (ordinance) was prompted by one incident of somebody who refused to move."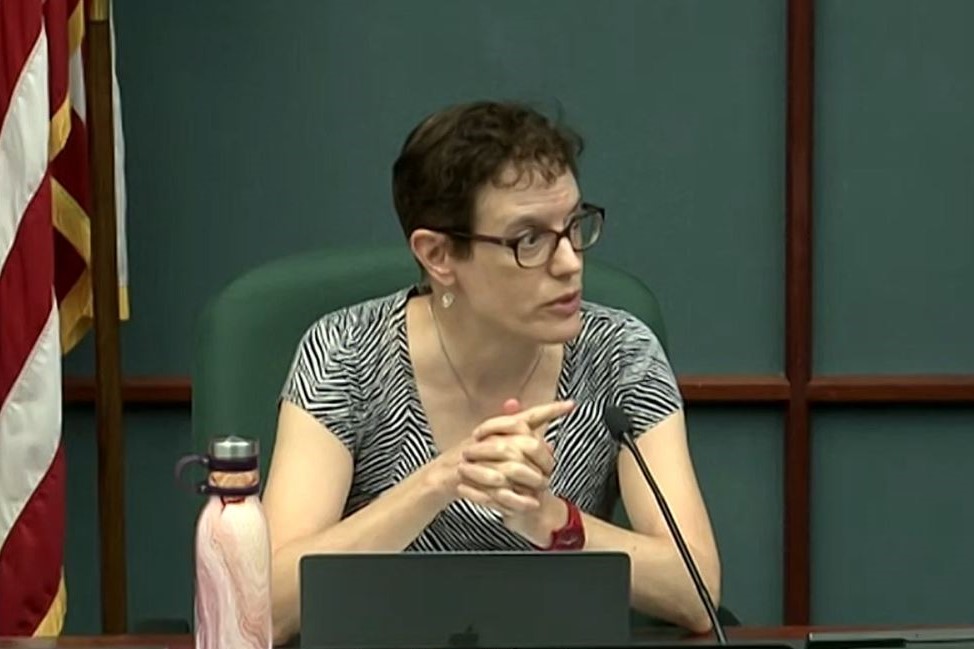 Rouker said the ordinance had more to do with the realization that the City was unable to remove the obstructions in that instance.
"I'm not here to try to address which blockage should be handled more aggressively," Rouker said. "That's certainly not something that is relevant here. The idea is that we have to have the mechanisms in place when we identify a blockage, whatever its source may be, to address that situation."
Volan questioned how the ordinance would apply to construction companies blocking the sidewalk with equipment for extended periods of time, despite having an obligation in some cases to put up a substitute sidewalk during the time they occupy a given site.
"For three to six months at a time, a construction company will build a building and occupy an entire block of sidewalk with no impunity, and yet, we're sitting here talking about this," Volan said. "It makes me question why we're spending this much time on a single case."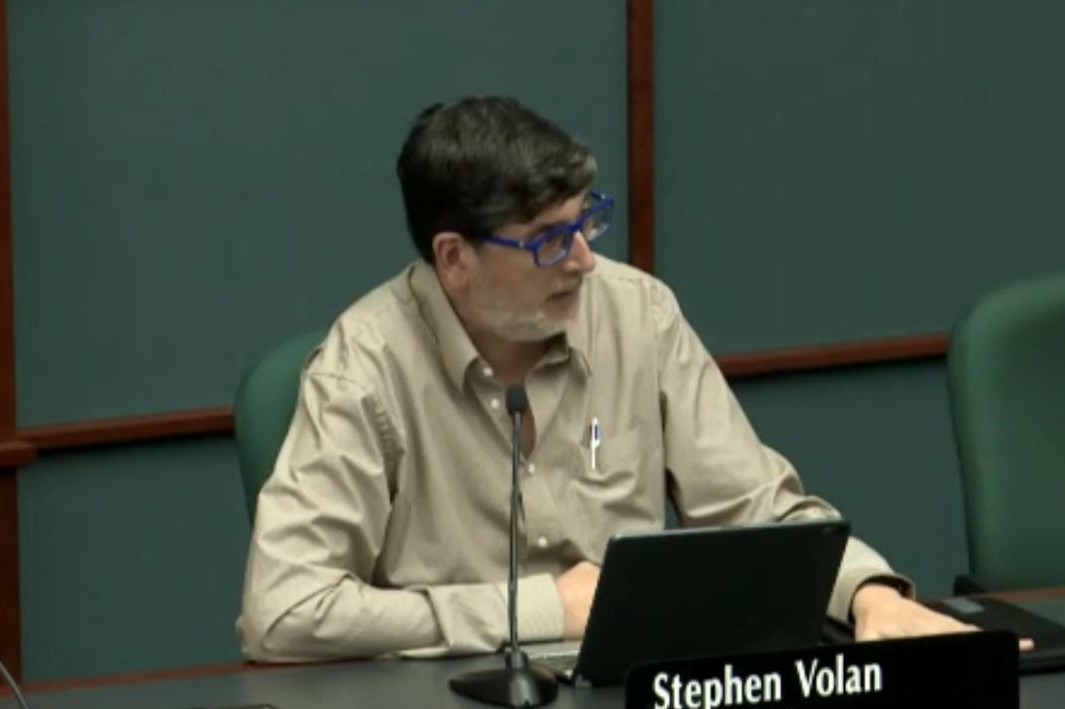 Flaherty felt similarly. He challenged the notion that the measure is meant to improve accessibility.
"It strikes me as very disingenuous that this entire thing is framed as an accessibility issue from both city staff and from members of the public who've been doing that, because it's just obviously not," Flaherty said. "If it was, we'd be tackling the accessibility issues that are known and manifest daily and weekly on our streets."
Flaherty said the City must also pursue interim solutions to immediate problems while formulating long-term solutions to homelessness.
Mixed, but mostly oppositional public input
Of the dozen commenters at the meeting, most spoke against the ordinance, saying it would further criminalize homelessness and not offer any solutions for those experiencing it.
A few meeting attendees spoke in favor of the measure but also agreed with some of the concerns raised.
Jennifer Pearl, president of the Bloomington Economic Development Corporation, supported the measure but said the City also should pursue holistic solutions.
"Public rights-of-way, safety and accessibility are important," Pearl said. "At the same time, this should be in addition to other resources that we support in our community for individuals that are facing challenges."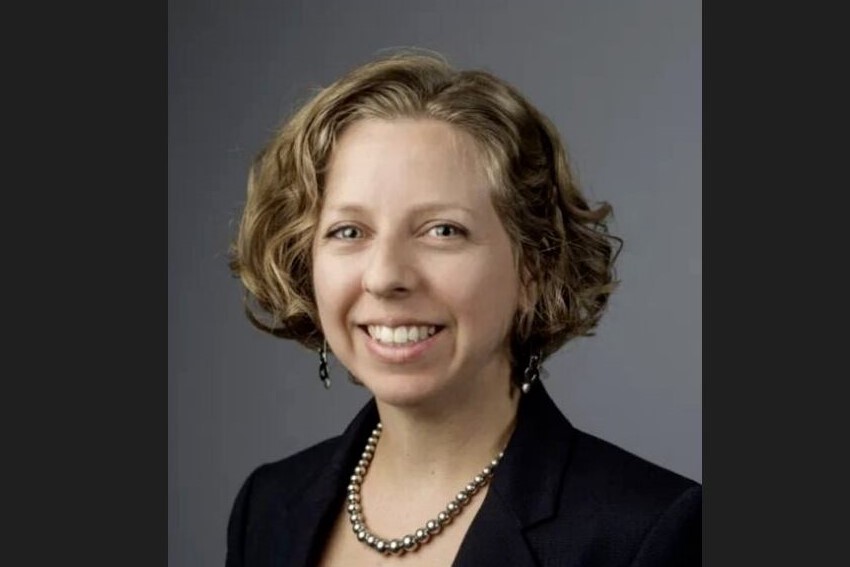 Jami Scholl supported revisiting the ordinance later.
"They do not need to have a tent in an area that is blocking a sidewalk or near a business; that is a personal choice that they've made to place it in that area," Scholl said. "If I had a three-year-old walking by (and) somebody's shooting up or doing something else … I would not want my young child to be around."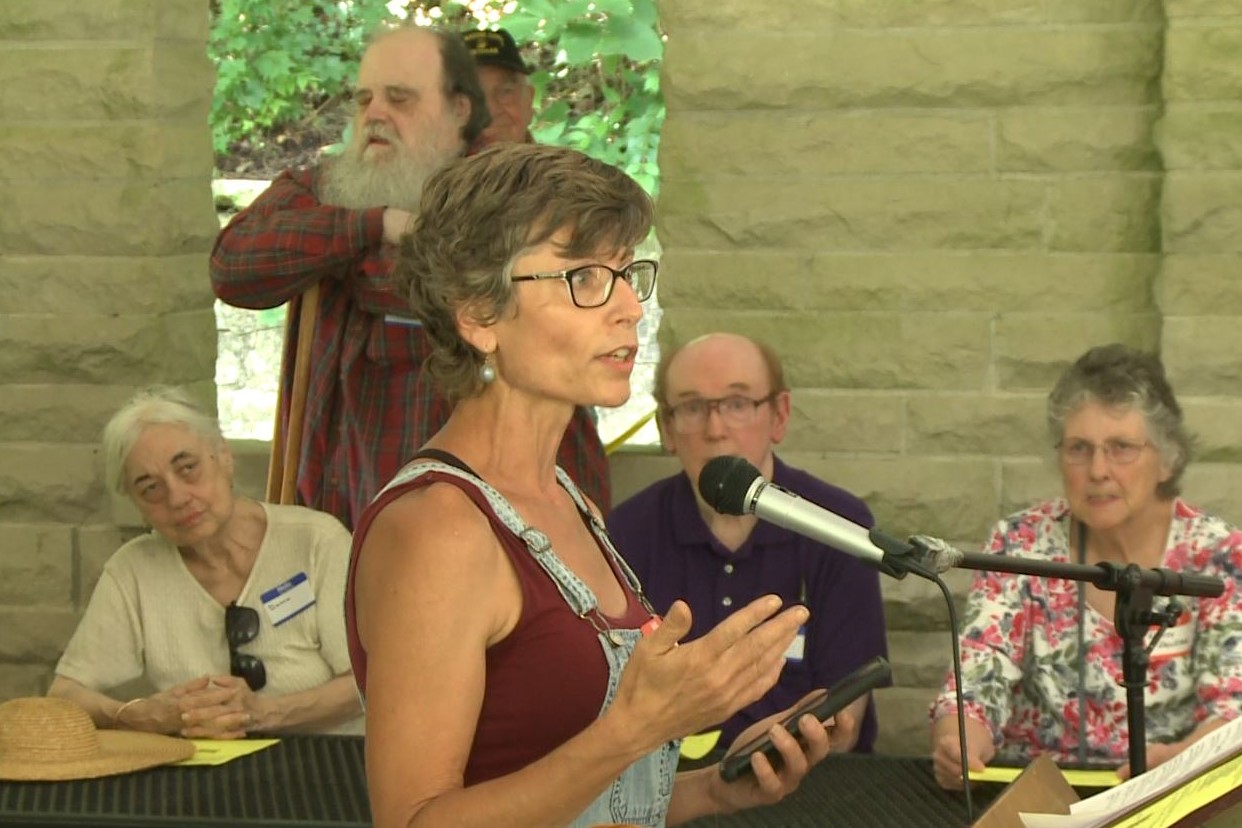 Scholl said she would support a sanctioned 24-hour homeless encampment with strict rules, however.
Sydney Zulich, the Democratic nominee for the District 6 city council seat, described the ordinance as discriminatory.
"We really should be focusing on two things when it comes to the homeless population, and that's reduction of harm and preservation of dignity," Zulich said. "This bill does neither of these things."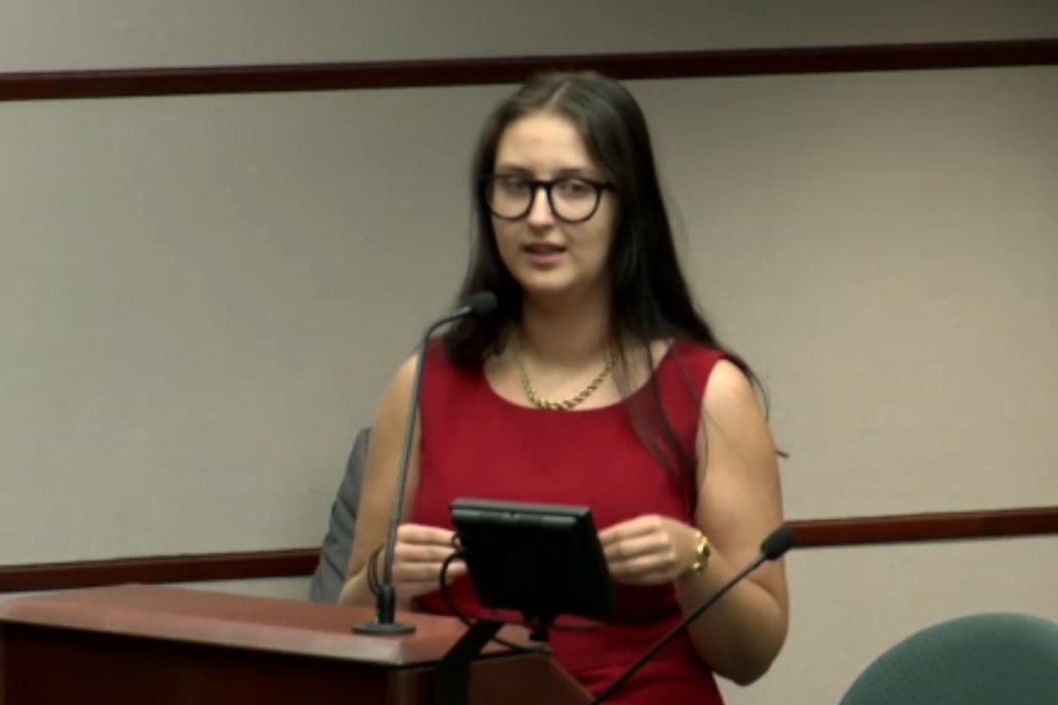 The City has insisted the measure is intended only to prevent items from blocking streets, sidewalks and roads — but Zulich said it targets homeless individuals because they have nowhere else to store their belongings.
"Unfortunately, the stuff that people experiencing homelessness carry with them is always with them," Zulich said. "Where they go, their stuff goes. And so, it's really not fair to say that this bill doesn't target people, because it definitely does."
Nick Angelos was one of four representatives of the mutual aid organization Help Ourselves who spoke against the ordinance. Like Scholl, he suggested a sanctioned space for homeless individuals to stay.
"Why don't we have a separate public space for members of the unhoused community to set up their tents?" Angelos said. "We have plenty of vacant lots in town. We have plenty of resources to make this happen. I just don't think we've seen the will in the government so far."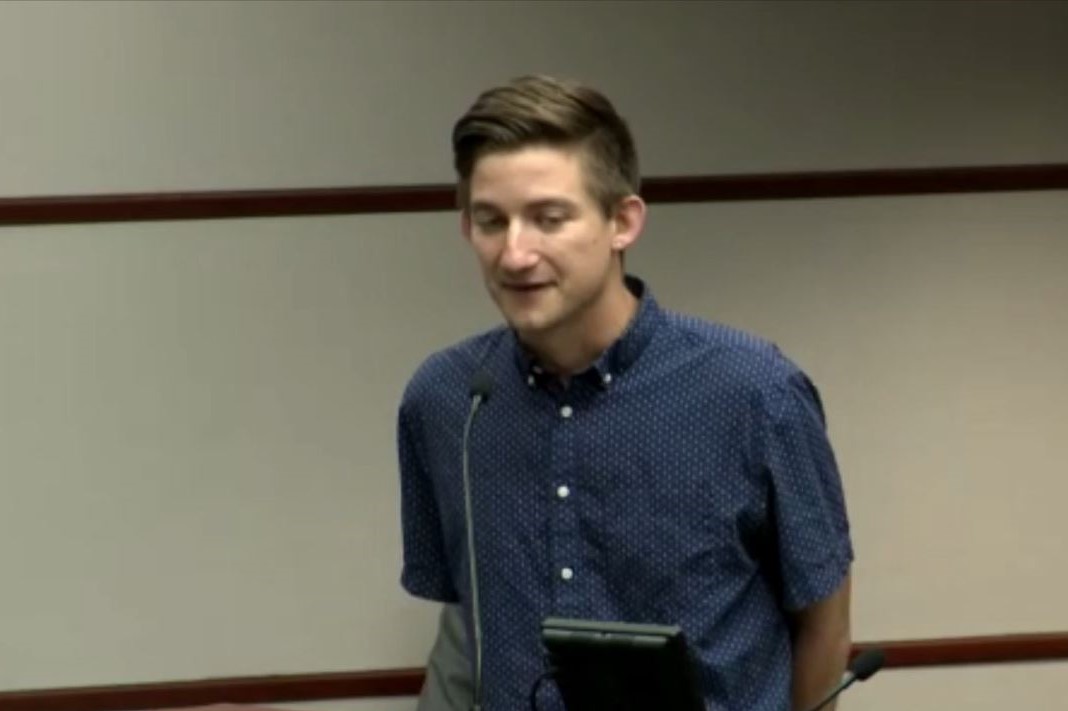 Legality of park camping ban questioned
Angelos said Help Ourselves has assisted many homeless individuals who, until recently, stayed at Seminary Park. They can no longer do so, however, due to a daytime ban on enclosed structures in parks which went into effect on Aug. 23.
Camping in city parks overnight was already prohibited before then. The City started enforcing that rule in December 2020 and January 2021, removing tents and possessions between 11 p.m. and 5 a.m.
Some questioned the City's legal authority to forcibly remove people from city parks in the past because of Rouker's earlier comment about getting a court order when someone's belongings are blocking the right-of-way.
Rouker confirmed the City did not obtain a court order when enforcing the nighttime camping ban in 2021. He said he was unsure if it did so when enforcing the daytime camping ban this year.
When asked by the council if the city's removal of people from parks in 2021 was lawful, Rouker responded, "I am certainly not in any position to comment on that based on the information at my disposal."
Corporation Counsel Beth Cate, the City's chief legal officer, says it acted lawfully.
Under state law, the City's park board establishes rules governing the city's parks, and police are responsible for enforcing those rules. No prior court order is required, according to Cate.
Cate also says the City also can remove right-of-way obstructions without a court order — and it only sought one in the instance earlier this year because it lacked a clear definition of an obstruction.