During the four years the Indiana Legislature halted Bloomington's annexation plans, new legislation in 2019 was added that limits the changeover of fire service once an area is annexed.
Bloomington Mayor John Hamilton called it an ill-advised law that's based on the size of a fire district. He says it covers about 90 percent of the areas the city is considering annexing.
"So those folks would retain the Monroe County Fire Protection district, whereas this very small number would switch on to the Bloomington Fire Department," Hamilton said.
That still leaves a financial impact to the fire district and to some residents not affected by annexation. 
The Monroe County Commissioners presented a new fiscal analysis of Bloomington's annexation proposal by Baker Tilly last week. It shows the Monroe Fire Protection District could lose more than $501,000 in funding by year two of annexation, when the tax shift would have the biggest impact. 
The city's Reedy Financial Group reports a loss of $359,000. 
READ MORE: New Annexation Report Shows Monroe Co. Could Lose $900,000 More Than Projected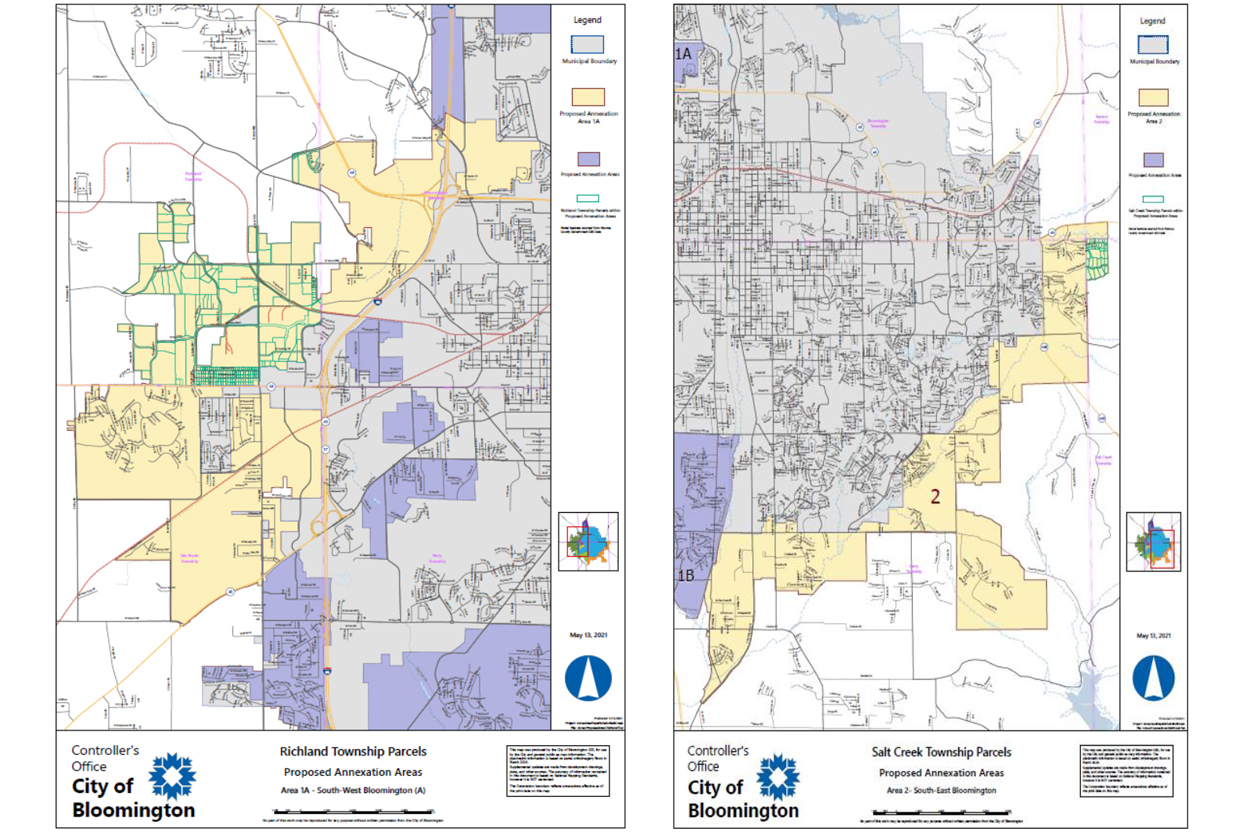 Either way Monroe Fire Protection District Chief Dustin Dillard says it shouldn't be enough to force staff cuts. 
"It would definitely hinder our progress in transferring in part-time firefighters to full-time fire fighters – we've been working to phase in full-time equivalents into career positions." 
Dillard says the district serves more than 45,000 residents. Some live in townships not served by the fire protection district. Those townships contract for fire service.
Richland Township contracts with the Ellettsville Fire Department for fire protection services. Salt Creek Township contracts with the Monroe Fire Protection District. 
Annexed parcels within those townships mean fire service would switch to the city. Those areas would no longer need to contract fire service leaving those not annexed less money to contract services. 
"Those annexed in Richland Township would begin receiving services from the City of Bloomington, and those who remain would have a much smaller amount of money to contract services," Dilliard said.
READ MORE: Can Bloomington Increase Understaffed Police Department To Catch Up With Annexation?
City council will reconvene the annexation public hearing Wednesday at 6 p.m. Council members can only approve, limit, or revoke the proposed boundaries in any of the eight areas during proceedings on Sept. 15. 
The city is also hosting virtual office hours Thursday, August 12 from 11 a.m. until 1 p.m. and Thursday, August 19 from 3 p.m. until 5 p.m.