Bloomington Mayor John Hamilton is proposing annexing 9,200 acres and 14,300 people into city limits by 2024.
Hamilton said the city needs to catch up or it'll always be behind. The city's last annexation took place in 2004.
That could mean a big shift in funding and staffing for government units.
READ MORE: New Annexation Report Shows Monroe Co. Could Lose $900,000 More Than Projected
Bloomington Police Detective Jeff Rogers publicly posted a letter to Hamilton on Facebook skeptical of the city's plan for adding more police officers for the proposed annexation.
Rogers said the city has hired 65 officers since Hamilton took office in 2016, but 67 have resigned, and the department is budgeted to have 100 officers, but is staffed at 92.
That's after an organizational assessment in 2020 indicated Bloomington should staff 121 officers.
Rogers wants to know how the city plans to hire a minimum of 26 officers, detectives, sergeants, lieutenants, and other staff in four years if the majority of the proposed areas are annexed.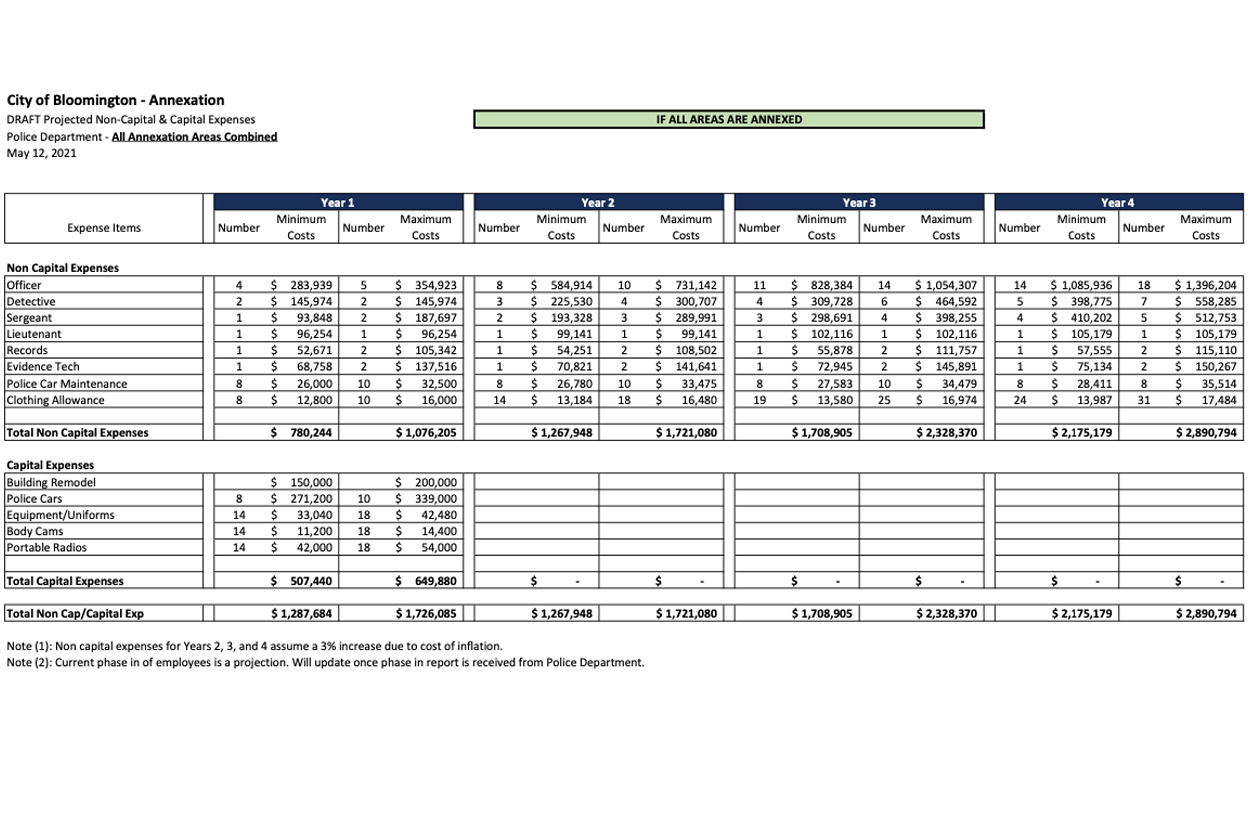 Hamilton agreed it's been challenging to hire officers as cities compete for a smaller applicant pool, but the city will implement a four-year plan this fall.
"We have three social workers, we have community service specialists, these are non-sworn members, non-armed members of the police department who can help do some of the work of the police department and keep public safety," Hamilton said.
But Lodge 88 Fraternal Order of Police president Paul Post said resource officers and social workers fill a need, but they don't respond to calls that require a sworn officer response.
"We work a lot of mandatory overtime, where the officers are required to hold over and work a second shift after their own shift. It's just not a good way to go about business right now," Post said.
Hamilton said incentives such as housing allowances for renting of up to $500 a month or a mortgage down payment of $12,000 and take-home cars will help attract officers.
Post said the bottom line is competitive salary. The city's police salary ranks 68 in the state for municipalities in the pension system.
"People know that we defunded five positions, we know we're understaffed, we are we're kind of, overworked, compared to our peers, we're underpaid compared to our peers. That's a hard sell to bring people here."
Hamilton said the city has high standards in terms of the kind of officers the city wants and it's not unusual for a city unit to not have every position filled all the time.
"We always have and will protect public safety. We may evolve over the next several years to do that. But I'm very confident it will do so that's the first job of a mayor and I'm fully committed to make sure we get that done," Hamilton said.
READ MORE: Bloomington's Annexation Proposal A Hard Sell For Some Non-City Residents
Those numbers could change after city council votes to accept, limit, or revoke the proposed boundaries for any of the eight areas during proceedings on September 15.
The only scheduled public hearing with city council is scheduled for Wednesday, August 4 at 3 p.m. at City Hall or online. The city is also hosting virtual office hours Thursday, August 12 from 11 a.m. until 1 p.m. and Thursday, August 19 from 3 p.m. until 5 p.m.