The city of Bloomington is 'thinking big' on the next step for the arts community. A feasibility study to begin this summer could result in the city building its own performing and visual arts center.
The recommendation comes from a 21-member advisory group charged with evaluating the future of the downtown John Waldron Arts Center.
In May of last year, Ivy Tech Community College announced the ownership of the building would revert to the city since it took over in 2010.
READ MORE: Ivy Tech Giving Waldron Arts Center Back To City Of Bloomington
Deputy Director of the Indiana Arts Commission Miah Michaelsen co-chaired the advisory group and says the city gave the task force permission to think big in turn telling the arts community – you can think big.
"We make do in good spaces, this is a good space, Buskirk-Chumley is a good space, but Bloomington has never had a purpose-built arts facility so why not see whether or not we can do that?"
She says it's time for the arts community to have a facility that's up to the quality of work it produces. The new center would replace the need for the Waldron as an arts facility, which could be sold or maintained. It was appraised at $2.8 million this past November.
Buskirk-Chumley Theatre Executive Director Jonah Crismore says he's excited to see the next stage of arts investment and the role the historic theater on Kirkwood Ave. will take.
"Does this mean there's a possibility of expansion for us to start taking on more responsibility by booking shows at other venues like the Waldon or a proposed arts center?"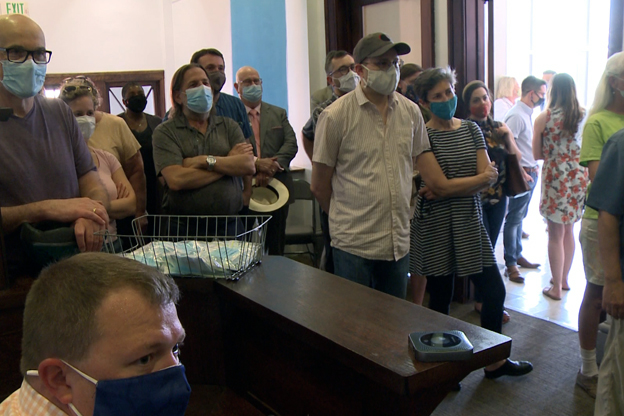 The Waldon will open to the public in January and will remain a city owned public arts center for five years to give arts organizations time to rebuild after the pandemic and plan for the result of the feasibility study.
READ MORE: Waldron Task Force Issues Report Recommending Future Uses for Former City Hall
Other recommendations include a new ownership structure to be called a Cultural Improvement Corporation (CIC) to own and oversee the upkeep of the public arts facilities.
Bloomington Mayor John Hamilton says with city council approval, the city will invest $515,000 in capital improvements into the Waldron Arts Center. He says he'll also ask city council for long-term investments into the Buskirk-Chumley approaching its Centennial celebration next year.
"I will be asking city council for significant new investment in economic recovery grants for impacted arts groups, artists, and related organizations in our community."
Hamilton says the city could make those funds available through the American Rescue Plan Act.
Have a question? Ask City Limits:
Our community is changing, from closing businesses to traffic and road construction to affordable housing, and we see the impact of these changes all around us.
We want to know: What questions do you have about how the Bloomington of tomorrow will impact your work, your personal life, your community and your future?
Here's how it works: You submit a question you'd like us to explore about how Bloomington has changed over the past few decades, what you want to see for the city in the future and how ties with IU continue to shape the community.  
So: What do you wonder about how Bloomington is changing and how it impacts your life?
Interested in an ongoing conversation how Bloomington is changing? Join our Facebook group!