Bloomington City Council approved new council districts for the 2023 election, opening the door for at least two new faces on the council.
Council Thursday approved the redistricting commission's recommended map by a 5-4 vote. 
The approved map pushes several incumbents into new districts, should they seek re-election. Most notably, two long-term representatives, Steve Volan (District 6) and Dave Rollo (District 5), will be in the new District 4. The map would also push first-term representatives Sue Sgambelluri (District 2) and Kate Rosenbarger (District 1) into the new District 2. Isabel Piedmont-Smith (District 5) would be redrawn into the new District 1.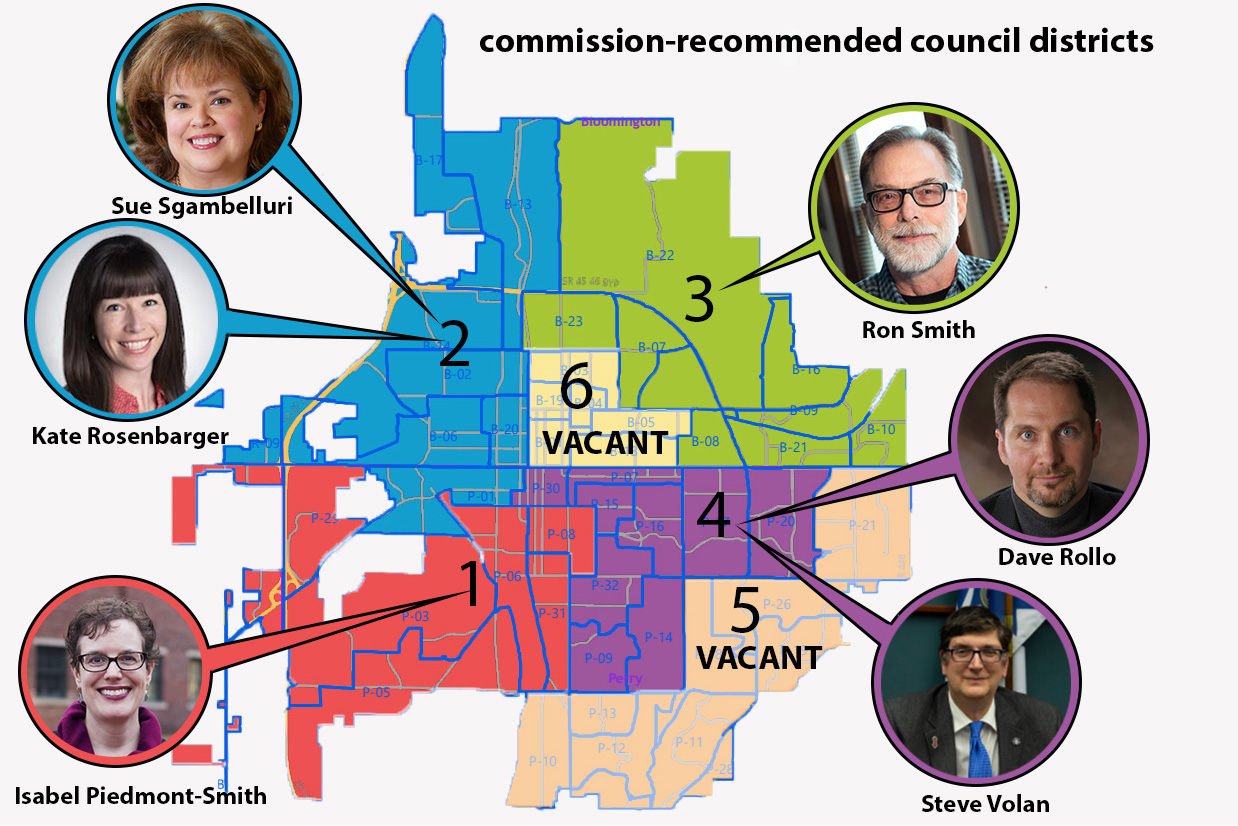 Councilmember Volan, who was in the minority, made his second presentation to reject the map. Instead, he wanted to see a district exclusively made of IU students.
Volan recommended the commission deemphasize Third Street as a border and keep "communities of interest" together. He also said students, especially those living in on-campus residence halls, Greek houses, and campus apartments, are the "ultimate community of interest."  
READ MORE: Bloomington council delays redistricting: should students be guaranteed a seat?
He said students in on-campus housing are geographically compact and contiguous, they all have the same landlord, and they cannot be non-students under state law. He added that these students are so numerous that they are the size and population of an entire city council district. 
"An area like this deserves special consideration when it comes to local redistricting," Volan said.
Councilmember Sgambelluri questioned Volan's presentation on the idea.
"I would welcome a student on city council," Sgambelluri said. "But somewhere implicit in this seems to be the notion that students cannot be represented effectively by anyone other than a student."
Volan said it's hard to access non-student spaces, like dorms, to knock on doors. He said nothing can beat an actual student representative.
"Thirty thousand or more students are under the age of 24," Volan said. "I like to think I'm cool, but I'm not that cool. … I try to speak for students, but I've seen what an actual student can do in reaching out to other students."
Sgambelluri agreed that students are residents but questioned if students will be more active in local government with this map.
"One of the biggest obstacles for a student to be on council is the fact that we have four-year terms and that doesn't fit well with the academic pattern that many students follow," she said.
Sgambelluri said the process of drawing the map was fair, and she sees no reason to substitute her judgement for that of the independent commission.
Councilmember Jim Sims said he doesn't buy the fact that students are not represented. He said in two districts there are enough students to control the council seat if enough register to vote.
"Student passion and activism is a part of this community," Sims said. "To suggest that this map would do anything to activate, or even thwart that, is off base."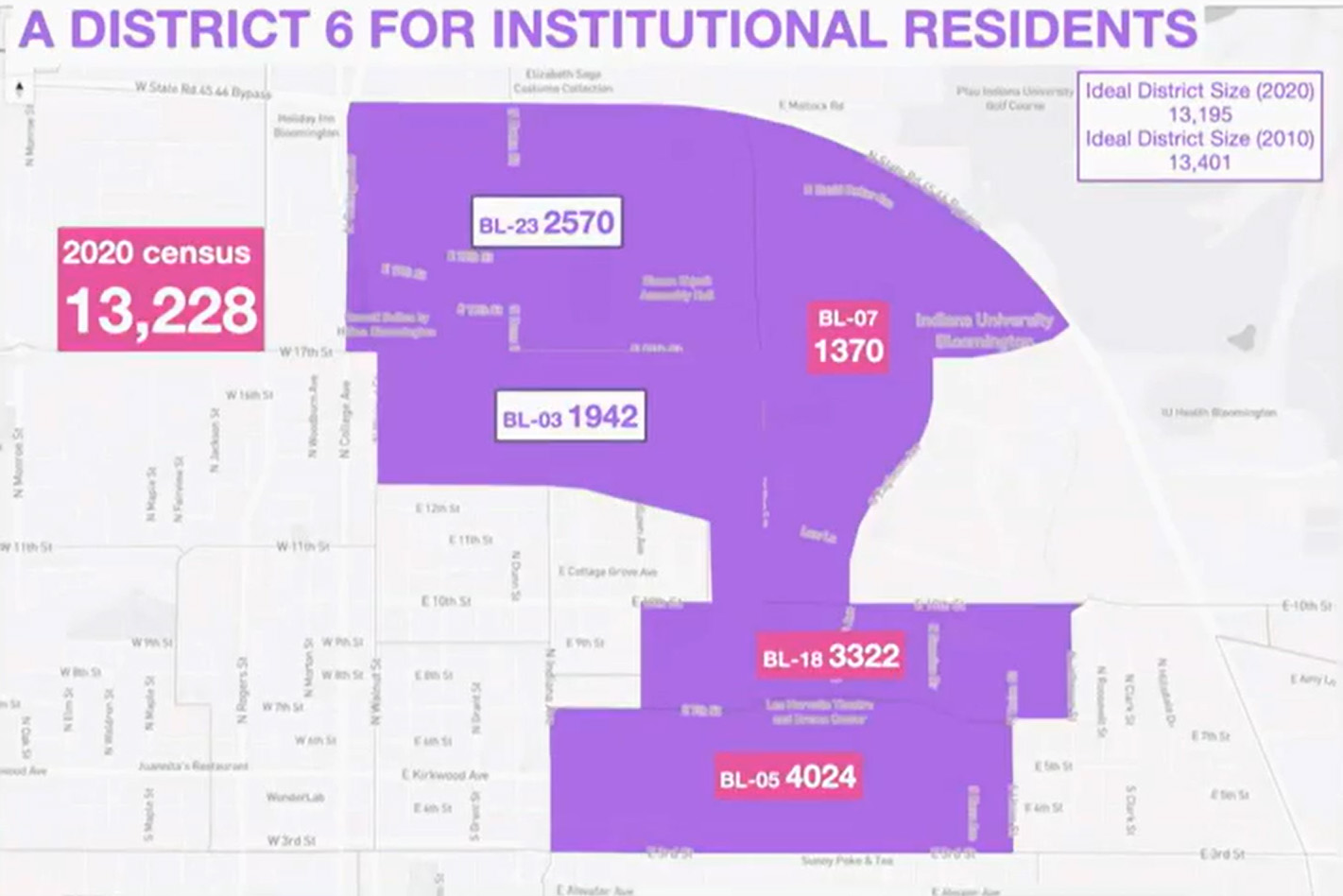 Councilmember Dave Rollo asked Volan why the commission should deemphasize Third Street if it is also a township boundary. He said townships were mentioned as communities of interest in the ordinance guiding the commission's work.
However, Volan said neighborhoods are also communities of interest. He pointed to the Prospect Hill neighborhood falling on both sides of Third Street in the new map, thus splitting the neighborhood in two districts.  
Councilmember Isabel Piedmont-Smith said she sees three issues with the proposed map, starting with the Perry 10 precinct.  
"The residents of Perry 10 are ... put together with neighborhoods from the northeast that are wealthier and have little in common with the neighborhoods to the west of Walnut Street Pike."
She also said the new map would split the Hoosier Acres and High Point/Old Northeast neighborhoods.
Councilmembers Sgambelluri, Sims, Rollo, Susan Sandberg, and Ron Smith voted 'yes.' Councilmembers Volan, Piedmont-Smith, Kate Rosenbarger and Matt Flaherty voted 'no.'
If Bloomington's annexation attempts are successful, council will need to reconsider new districts. 
Residents will be able to declare candidacy for city council early January.