Thursday update: 
Republican Dave Hall is leading Democrat Penny Githens by just 37 votes for District 62, after new Monroe County totals were sent to the Indiana Secretary of State's office Wednesday. 
WFIU/WTIU News called Hall the winner based on final totals sent from Monroe County Tuesday night that showed Githens had 10,824 votes and Hall had 12,067 between Monroe, Jackson, and Brown counties.
 The new Monroe County totals took Githens to 12,938 and took Hall to 12,975 on the Indiana Election Division website. 
WFIU News was not able to reach Monroe County election officials Thursday. Monroe County Republican Party vice chair and former election board member William Ellis says the change came because of a mistake with a new method processing early votes. The last seven days of early votes can now be scanned before election day and stored on a drive, which local election officials forgot to add to their total Tuesday night.  
Indiana doesn't have any automatic recount or contest actions, and candidates must file a recount or contest with the Indiana Election Division themselves. The deadline to request a recount is November 22. 
Provisional ballots will be counted on November 18, which could change vote totals to increase or decrease the difference in votes between Hall and Githens.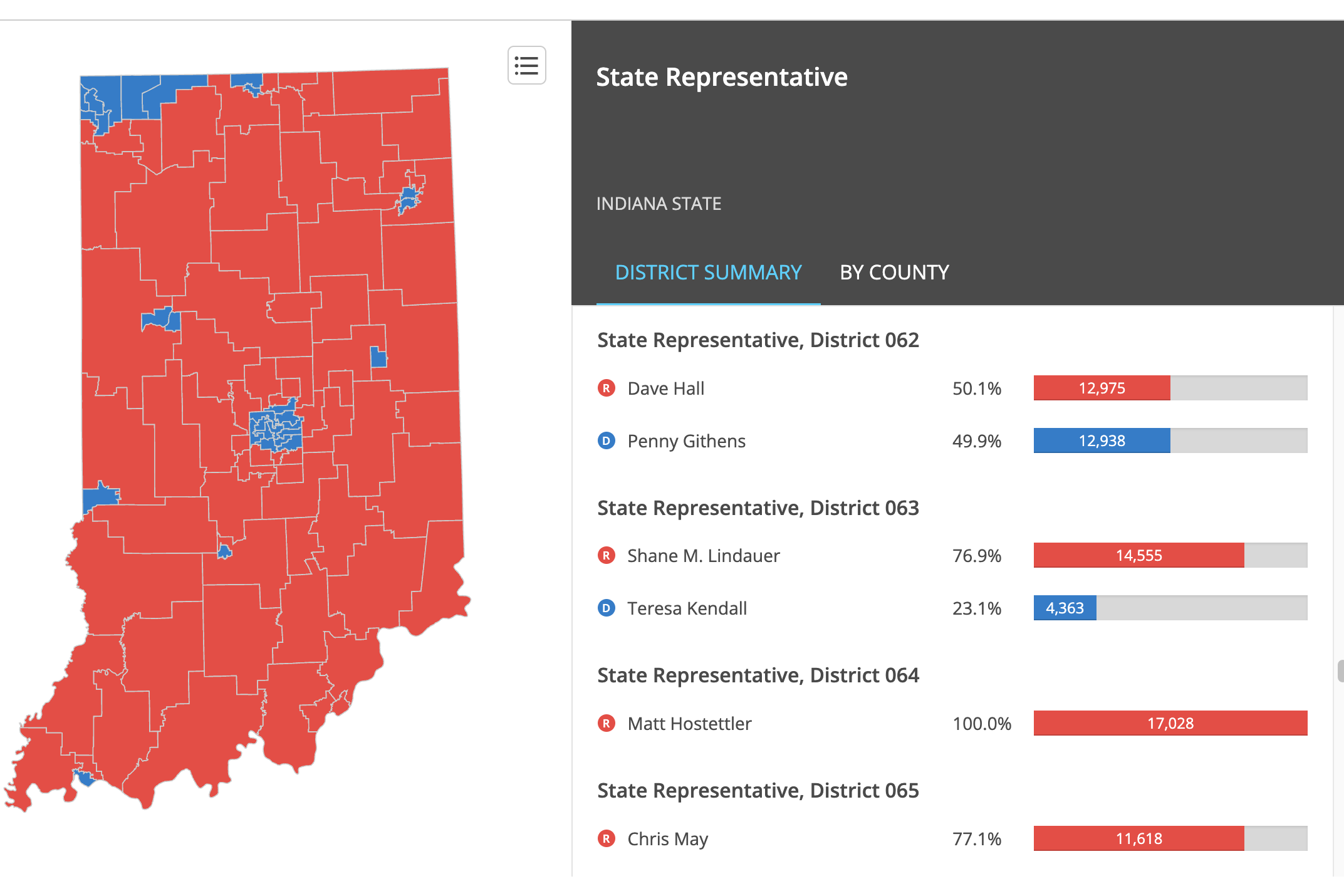 This story will be updated. 
Nov. 9, 2022 11:38 a.m.
Republican candidate and Jackson County council member Dave Hall will be District 62's new representative.
The race for the recently redrawn House District seat 62 was too close to call after midnight with 91 percent of votes counted. 
Penny Githens, a Monroe County commissioner who ran as a Democrat had 10,824 votes at 12:30 am. Hall had 12,067. 
Githens won in Monroe County, totaling 8,494 votes to Hall's 6,985. According to Indiana Election Division's website Hall had 878 votes in Jackson County to Githens' 141. And in Brown County Hall had 4,204 to Githen's 2,189.
Hall will represent all of Brown County, central and southern Monroe, and parts of Jackson County. 
Hall's campaign website says he advocates against involuntary annexation, and the burden of annexation should be on the municipality. He also helped establish the Jackson-Jennings Community Corrections Work Release Center.
Githens was at Switchyard Brewery for the Monroe County Democratic party's watch party last night. She said if she doesn't win, she'll remain a commissioner.
"I've got a lot of work to do as a county commissioner so I'm not unhappy about that," Githens said. "And I've got a meeting tomorrow morning at 10 am if I'm still a county commissioner."
In May primary, Hall won against Greg Knott for the Republican nomination. Hall has lived in Jackson County his entire life and was elected to the county council there in 2015.
Read more: Jackson County Council member declares run for District 62
Githens beat Monroe County's Sherriff Brad Swain for the Democratic nomination in May. She filled a vacancy on the Monroe County Board of Commissioners in 2019 and was reelected in 2020. She said during her time on the board, she realized realized some issues she wanted to tackle would be better addressed at a regional or state level. 
Before 2021's redraw, District 62 consisted of Greene, Martin, Davies, and Monroe Counties.
House District 62's seat was previously held by Jeff Ellington (R) but he moved to District 45 after redistricting in 2021. Incumbent Rep. Bruce Borders  beat Ellington in May's primary.