While much of the nation's attention is focused on protests against police brutality, The COVID-19 pandemic is far from over. States have started opening up in stages, including Indiana, while the infections and deaths from the coronavirus continue to climb.
It has been widely reported that communities of color and low income communities are disproportionately affected by COVID-19.
Back in March, ten weeks ago, I spoke with Amanda Nickey of Mother Hubbard's Cupboard, about the changes they made in their model for providing food assistance for those in our community who struggle to get food on the table in the best of times, and even more so during a pandemic--which has led to unprecedented unemployment numbers.
I decided to share our conversation again this week, as a reminder that the struggles related to the pandemic continue and that very little has changed a Mother Hubbard's since this piece aired in late March.
Serving the Community from a Safe Distance
When the COVID-19 social distancing restrictions went into effect, The Hub had to make significant changes to their operations.
The first change they made was to cancel all programing except for food distribution. Next, they limited the number of people allowed in the pantry at once.
Quickly they switched to a pickup system outside on the patio, and asked people to approach one at a time. On Monday, March 16th, they made the difficult decision to suspend all of their volunteer shifts.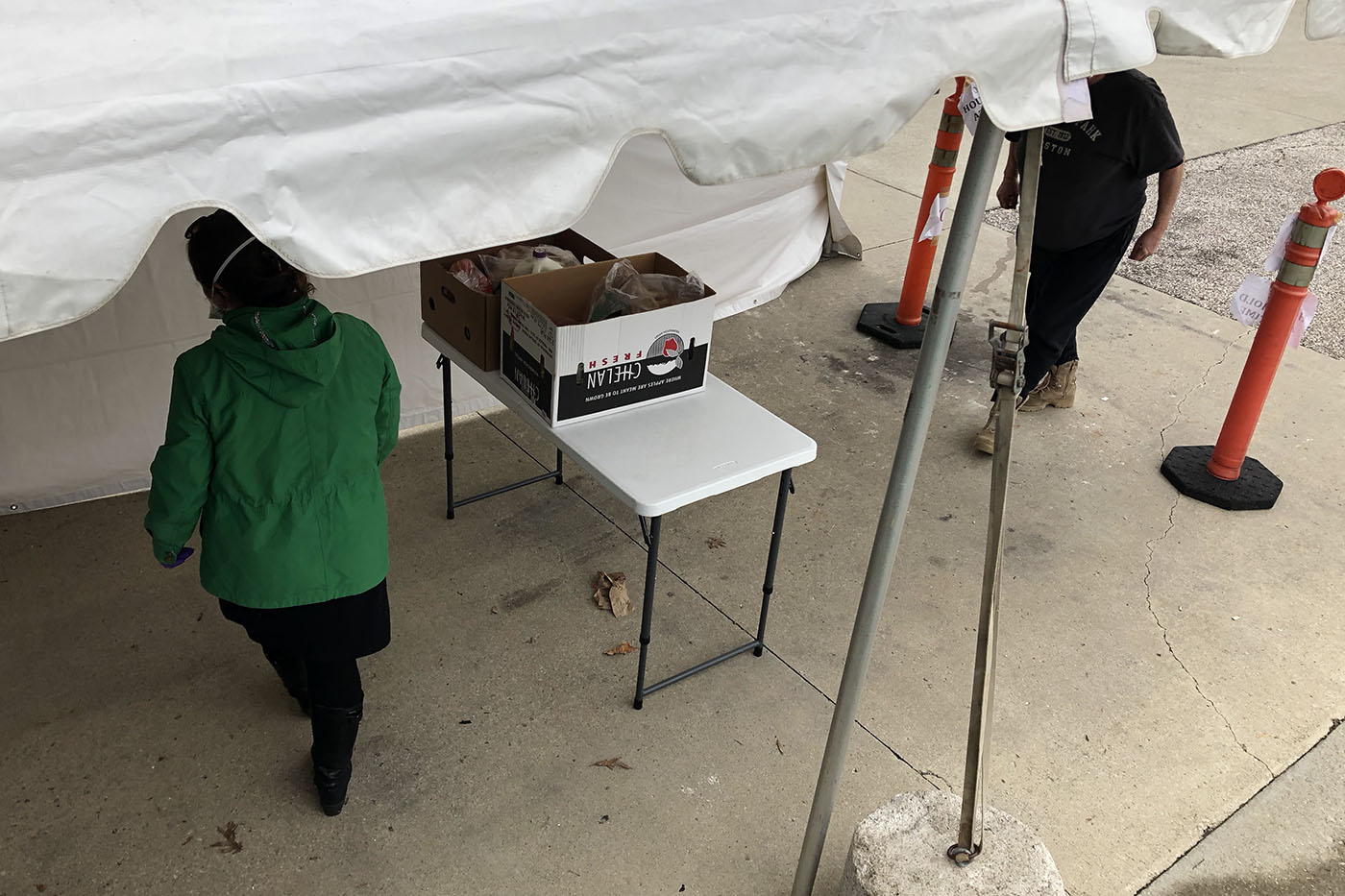 They were down to six staff members focused on a new system of packing up food boxes and handing them out in the parking lot. They set up a few pop-up tents to protect them from the rain, but they leaked. By the end of the week they had rented an event tent from Master Rental, and had their system down pat.
I stopped by at the end of their first week with the new system, I observed their routine for the last two hours of the day.
Inside the pantry's warehouse, staff members sorted food and packed up boxes of dry goods and produce. They passed the boxes to Sarah Cahillane and Amanda Nickey, in masks and gloves, in the truck bay under the tent.
As people drove up, they'd park their cars and step up to a set of cones, placed 6 feet away from a plastic table. Amanda would ask how many boxes they wanted, if they wanted fish or chicken and if they wanted milk.
Amanda and Sarah would add the meat and milk to the boxes and Amanda would carry the boxes to the table. Then she would walk back 6 feet while the patron picked up the boxes and took them to the car.
It went on like this for hours, four hours each day, even in the pouring rain.
In our interview, Amanda talks about the expectations for emergency food providers in a pandemic (and every day) and she reflects on what this crisis reveals about how we deal with hunger and poverty in the US.
Changes at The Hub Since the Interview
A few things have changed at The Hub since this conversation in March:
Everyone is now required to wear a face mask on site.
With the continued absence of volunteers, they've hired three new temporary staff members to assist with the labor-intensive food distribution model.
Though the education programming remains on hold, they distributed a few hundred home gardening kits in the spring, they offer Virtual Coffee Talks (an important part of their advocay work) and they're experimenting with virtual cooking classes on zoom.
Amanda estimates they are serving about 200 households each day.
The drive-up box pick-up system continues. They are waiting to see the virus caseloads decrease for a sustained amount of time before they begin bringing people back into the food pantry. Even then, they imagine a scaled down version of usual operations.
I asked Amanda how the staff is holding up. She said it has been difficult, physically and emotionally. And she added this:
Everything that's happening right now is bleak. We've long understood that the root causes of poverty and hunger are oppression and racism. We find ourselves in this moment of having to respond to an urgent and serious need for food in our community. And we need to balance that response with our understanding of the systemic causes of the need in the first place. It's such a tricky place to be. We're trying to focus on access while not losing sight of the need for systemic change. People need to eat today but we also need to fight for a future where everyone has agency, choice, self determination, food sovereignty. It doesn't have to be one or the other. We can do both. We have to.
Hear the interview on the June 5,2020 episode of Earth Eats.