This week, as promised, we are checking in with Muddy Fork Bakery and One World Enterprises for more perspectives on local food during a global pandemic. And Josephine McRobbie has a story on how Slow Food USA is getting their message out with events and gatherings cancelled. 
---
Muddy Fork Bakery Rises to the Challenge
Eric Schedler of Muddy Fork Bakery will be a familiar voice to our regular listeners--though it is a bit muffled this time, since he's talking through a cloth face mask. I spoke with him, from a safe distance, at his bakery in rural Southern Indiana.
Eric has shared recipes with us for pita bread, pizza dough, challah and pretzels. Our conversation this week focuses on changes in their business model in response to COVID-19 restrictions.
Muddy Fork Bakery makes sourdough breads with freshly milled flour, as well as flaky croissants, pretzels, granola and other goodies. They make most of their sales at area farmers' markets, and they also sell bread at Bloomingfoods, a co-op grocery store in town. They bake in a wood-fired brick oven, which determines the schedule of their baking. They build a fire and heat the oven on Thursday, bake on Friday for Saturday markets, and continue to use the oven, as it slowly cools, for lower-temp products like granola. 
The first week that the Winter Farmers Market closed, back in March, they were scrambling. They baked bread, less than they usually would, and brought it to Bloomingfoods to sell. They were surprised to find a crowd of people in the bread ailse waiting for their delivery, which was the opposite of social distancing. 
So they set up an online store and offered home delivery, in addition to participating in the local farmers' markets which have also switched to an online ordering system. 
In our conversation, Eric talks about the new model, and about a program called Neighbor Loaves, organized by the Artisan Grain Collaborative.
One World Provides Family Meals and a Pay Raise
Jeff Mease is the co-founder and CEO of One World Enterprises--a group of food service establishments in Bloomington, Indiana. I spoke with him a couple of weeks ago at the One World Kitchen Share. 
From a distance of 6 feet apart, we talked about the state of One World's operations. The sit-down restaurants, Lennie's, and Hive, plus One World Catering have shut down and the employees are furloughed. But Pizza X, which is a take-out and delivery model, is full steam ahead. 
When the Paycheck Protection Program (or PPP) rolled out, One World Enterprises applied, and they were one of the lucky businesses who received the funding. The PPP loans are forgivable if most of the money is spent on payroll costs. Jeff Mease decided to bump up the pay of all Pizza X employees, the ones who have continued to work through the pandemic restrictions. They will all earn 75% more than their usual pay for three months.
In the first week of the restaurant shut-downs, Jeff Mease started a program he calls One World Family Meal Project. It began as a way to clear out perishable inventory from their shuttered restaurants, and to help out their staff who had suddenly lost employment. It quickly expanded to assist folks from other restaurants and bars in the area, and Mease started collecting donations from other restaurants and his own suppliers.
For nine weeks they've been providing no-cost meals available for pick up at One World Catering's Woolery Mill Location in Southwest Bloomington. On Jeff Mease's Facebook page this week he states that meals are made possible by volunteer labor from One World Catering staff who prepare the meals 5 days a week. 
Hear more about this plus Pizza X's partnership with local cookie company, Baked! on the show this week.
Jeff Mease is full of Ideas. It seems the global pandemic and it's local implications have sparked a wave of initiatives and innovation. He's starting a community garden project of European-style allotments at his small farm, Loesch Farm, just outside of town. 
Pizza X has also partnered with a local cookie company, Baked! Hear more about it on the show this week.
--
The Earth Eats theme music is composed by Erin Tobey and performed by Erin and Matt Tobey.
Additional music on this episode from Universal Production Music.
Stories On This Episode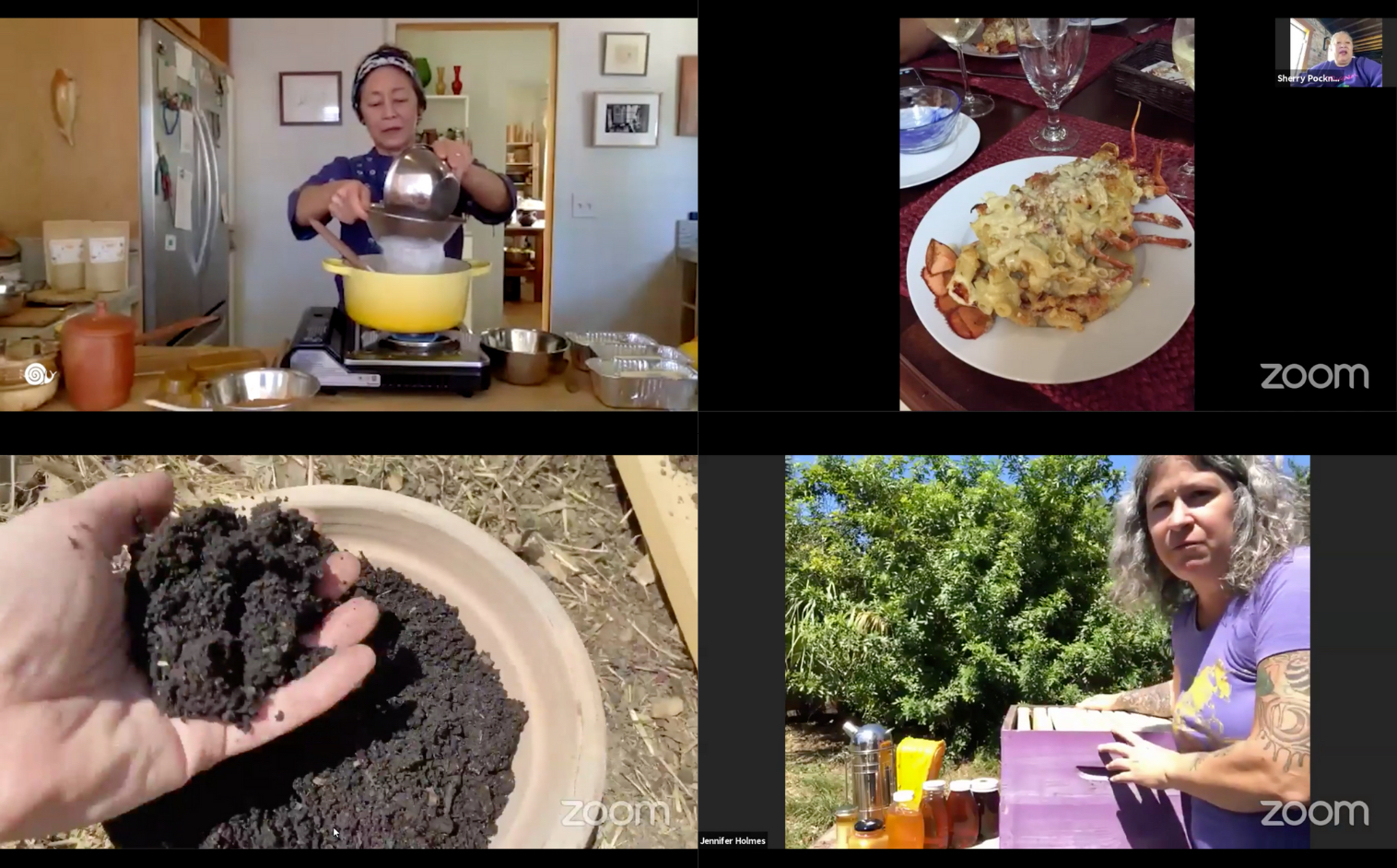 The goals of Slow Food USA, a grassroots organization focusing on food justice for all, couldn't be more timely, but during the rise of a global pandemic, organizers have had to think about new and novel ways to share their message.