Sara Skamser makes and modifies commercial fishing nets in Newport, Oregon. The co-owner of Foulweather Trawl got her start in the commercial fishing business as a crew member on small crab and salmon boats. Net skills, like sewing and splicing, became one more thing to help Sara land a gig. "In the late 70s and early 80s, I was bucking to get on a big boat," she says. "Big money, big boat. I was a welder, had good sea legs, had proven myself to be strong enough, [had] a winning personality, you name it." That dream hit a dead end when Sara asked some of Newport's larger operations to let her join their crews. "These guys just absolutely turned purple," she says. "I was just left out of the picture because I'm a woman. They didn't take me seriously." So, Sara channeled her energy into net-making. "And so the bottom line to that is I invoice those people now," she laughs.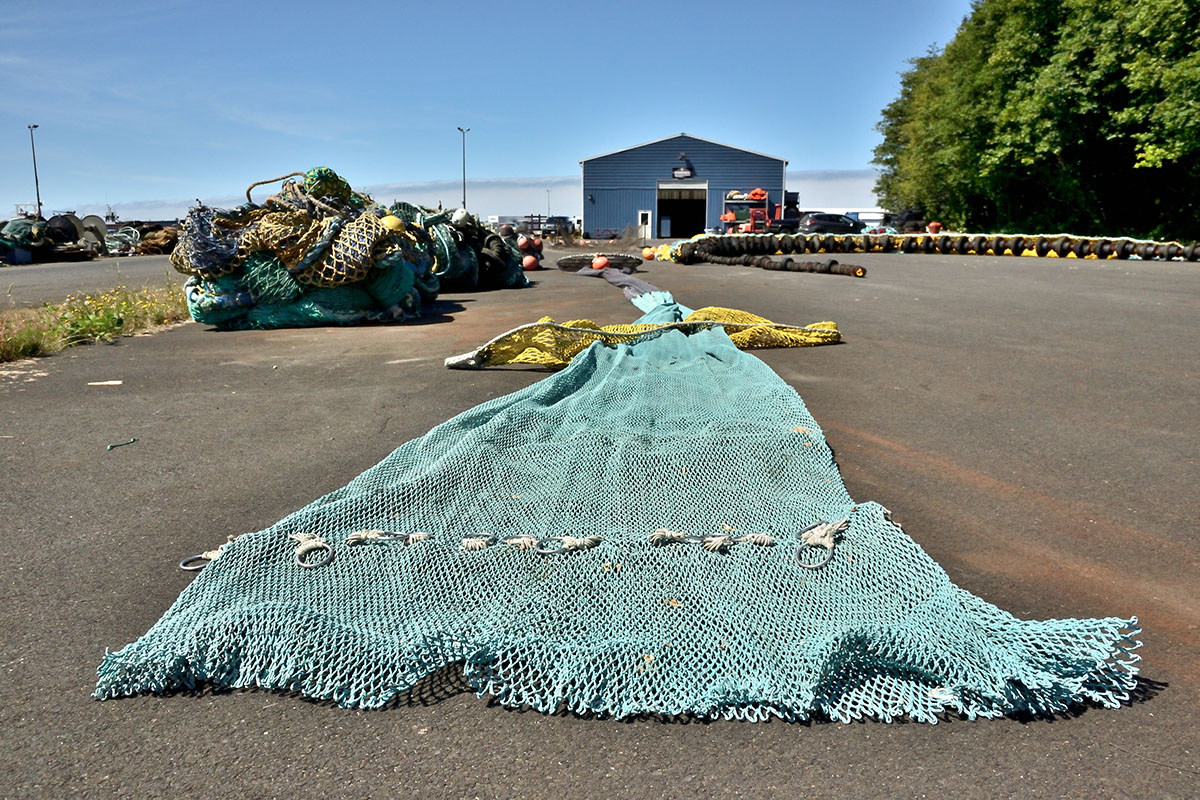 Net workers have a special skill set. Maneuvering a needle loaded with twine has to become second nature. "You have to really get it, and move like lightning," Sara says. Over the years, Sara and her team have earned quite a reputation for their work. The love her nets get from fishers around the Pacific is one of the things that keeps her in this business: "I have young fishermen come in to say, 'You might not remember me, I met you in the '80s. I've always wanted to be able to order one of your nets, and my owner said I can.'"
About a half hour south on the coastal highway, Leonard Van Curler is also making fishing gear. Some of the tools he uses are similar to Sara's, such as the shuttle-like "needle" he uses to knit mesh. But what he's making are crab pots designed to catch dungeness crab, one of Oregon's most lucrative seafood commodities. A crabbing operation like Leondard's requires quite a large supply of pots. When he got into the business, he put his welding skills to work making his own pots during the off season. And he tinkered with the size, design, and materials as the years went on. "I started building a couple hundred a year," he says. "I wanted to improve the crab pot. Everybody wants to make the best mousetrap right?"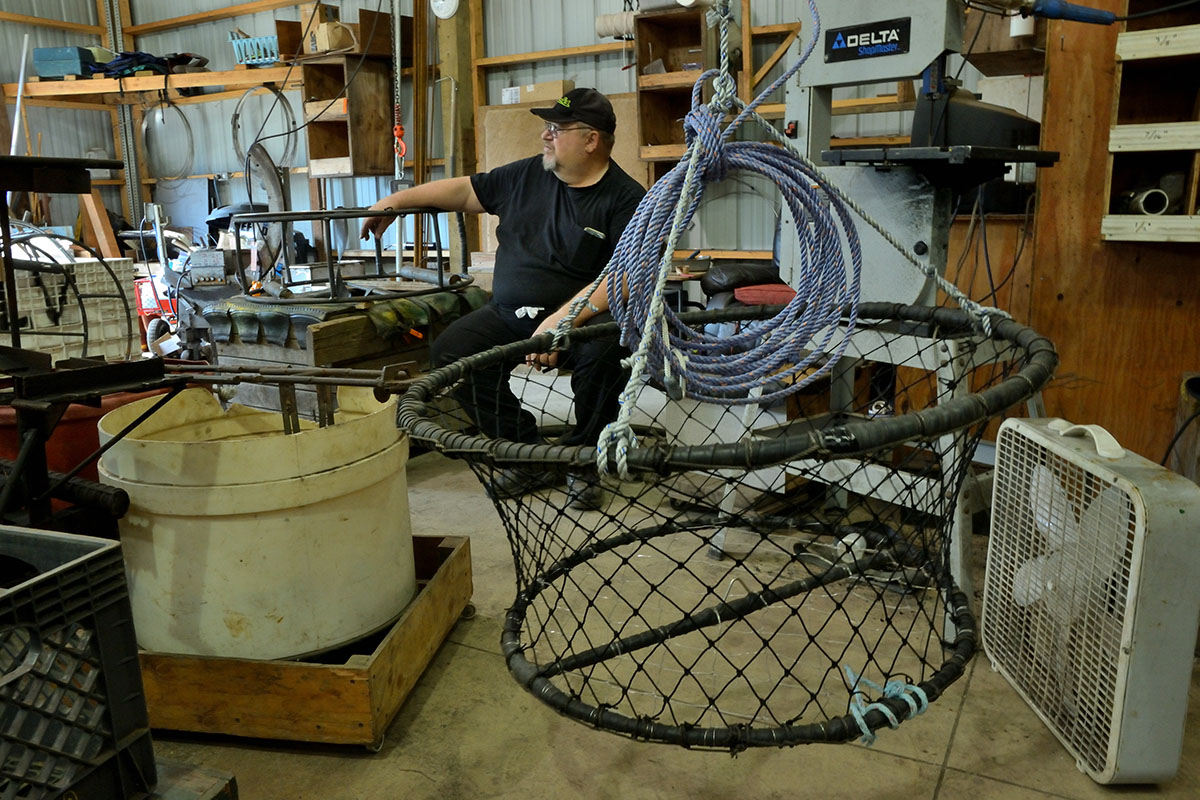 In some ways, making a crab pot is simple. "Rule number one is make sure they can get into it," Leonard laughs. But other parts of the process--bending steel, wrapping it with rubber, knitting wire mesh--those things require a practiced hand. It took Leonard a while to learn how to knit. Aesthetics matter, he says, but they come second: "After doing it for 40 years, you'll learn how to make it look good."
In accordance with regulation, Leonard works an escape ring into each pot so that immature crabs can walk right out. In Newport, Sara Skamser has made sustainability-driven design innovations her calling card. She worked with fishers and scientists to perfect an excluder for her shrimp nets--a steel grid that allows fish to escape while the shrimp filter in. "So there's virtually no bycatch," she says. Developments like this have led the Oregon pink shrimp fishery to become the first shrimp fishery in the world to be Marine Stewardship Council-certified. Sometimes it takes some convincing before fishers latch on to her innovations. When she built a halibut excluder for cod fishing in Alaska, Sara says one fisherman said "there's just holes everywhere." But, upon trying the net, he changed his tune: "They were fishing clean. He saw it right away."
This story by producer Josephine McRobbie and public folklorist Joe O'Connell features the voices of Oregon-based commercial fishers and seafood entrepreneurs. O'Connell conducted the original research in August 2019 for the Oregon Folklife Network, with support from the National Endowment for the Arts.
Listen on this episode of Earth Eats.