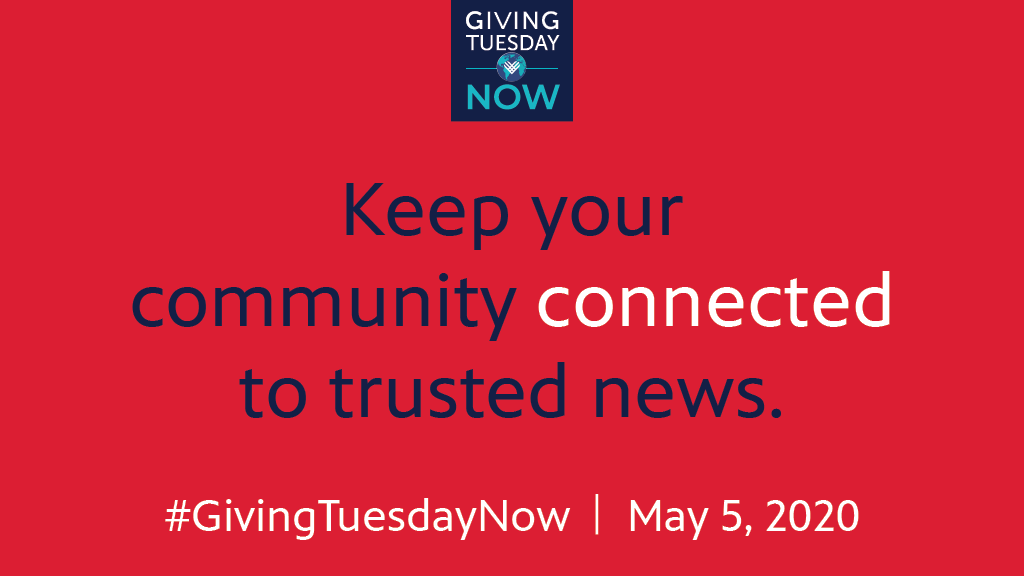 As an essential public service, WFIU has always been there for your community. And now that we're in these new complex times, we're doubling down on our commitment to bring you the critical news, stories and reports from voices across Indiana.
WFIU is home to the largest public media newsroom in the state, and we're pooling our resources and partnerships with other public stations and city, county and state officials to keep you informed. That means we're exploring every possible angle and bringing you the information and context you and your community need to stay safe. The public service journalism we produce day in and day out – from voices you trust – has never been more important.
May 5 is #GivingTuesdayNow, an extraordinary opportunity to build up the resources that will take us through this time and into the recovery…stronger. WFIU is proud to participate in this global movement as we continue to provide the clear, straightforward information necessary to navigate the uncertainties ahead. We're telling your stories, answering your questions, and keeping you up-to-date with the latest news about the pandemic.
WFIU is an indispensable part of your life, and you are indispensable to WFIU. None of this would be possible without the support of the thousands of listeners who have already given this year. Now, more than ever, we thank you.
If you are able, stand behind the programs and responsible journalism you rely on by making a gift of any amount to WFIU today in support of #GivingTuesdayNow. Together, we can ensure public radio stays strong and accessible to all, especially for our friends and neighbors who are struggling right now.
---

Thank you for providing the current news of the day as well as providing the deep analysis that we all need to know. We gave today because we need you more than ever during this terribly difficult time. We all need to show our appreciation for all of your great work.     – Jeffrey, Bloomington


---
News. Information. Connection.

Whether you're listening live on the radio, via smart speaker, or directly on our website, you can trust our commitment to you and our mission-driven work is stronger than ever.
On this #GivingTuesdayNow, we want to make sure you have the reliable resources you need during this time. Check out the stories, programs, and helpful links below to see how we're keeping you connected and informed.


---
How WFIU Is Delivering The Trusted News You Need During COVID-19

During the COVID-19 pandemic, our hosts and staff are working their hardest to continue providing a strong, local source for solid, accurate, and reliable news and information. Our working environments may have changed from open, collaborative newsrooms to home closets, but our standards for providing the highest quality journalism have not diminished.
We tell your stories. WFIU invited essential workers to share how the coronavirus pandemic has directly affected their life.
We connect you with experts. We've turned our weekly talk show, Noon Edition, into an ongoing roundtable with expert guests and community questions  to provide much-needed context and perspective to all Hoosiers.
We keep you informed daily. You can get the most important updates directly to your inbox, online, or on Twitter. We're also sharing how to fight misinformation.
We listen to you. Our City Limits team has already answered more than 100 questions submitted by WFIU listeners about the local response to the virus. See all the answers, from how to prevent the spread of the virus to how to protect yourself and loved ones, here.
We broaden our coverage. All IN, the daily, statewide talk show has expanded its coverage to answer all your questions.
We share ways you can help. We're all in this together…and together we can overcome it. Find out how you can help during the pandemic and how to connect with local causes.


---
Other Ways To Connect With WFIU 
Listen over the air! Find WFIU at 103.7 FM Bloomington, 100.7 Columbus, 101.7 French Lick, 98.7 Greensburg, 106.1 Kokomo, and 95.1 Terre Haute. Find WFIU 2 at 101.9 FM or 103.7 HD2 Bloomington, and 100.1 Seymour.
Explore the WFIU Program Schedule to find your new favorite shows. While news is essential during this time, so is entertaining and relaxing radio. Discover Earth Eats, Classical Music with George Walker, The Soul Kitchen, Ether Game, and more for a break from the news. 
Read the WFIU monthly program guide, Directions in Sound, for station updates and stories.
Learn how to support local businesses with the WFIU MemberCard!