Imagine inviting several musicians you really respect to your basement, sitting down at a piano and sharing original songs you have been writing for the past ten years. Despite feeling vulnerable, local violinist Susan Anderson recently did just that.
"It was really exciting and a little nerve racking," Anderson said. "When I'm playing other people's stuff on violin I don't get nervous, but it feels like you are sharing a much more intimate part of yourself when you are putting your original work out there."
Anderson's hope was to form a band with these musicians and it worked. The new group, Susan Anderson Band, will debut Anderson's tunes at 8 pm on Friday, January 11 at the Blockhouse Bar in Bloomington.
"This first show is the introduction of the songs to see how they feel in a live space," Anderson said. "It's like a litmus for what's working and for what we want to change."
The musicians Anderson invited to her basement were not just the first people she met busking on the street. These were artists Anderson had been keeping tabs on for years. For example, the drummer in the Susan Anderson Band, Ben Handel, is the director of IU's Marching Hundred drumline and the percussion director of the Broadway showBlast.
Handel said he considers Anderson to be one of the most talented musicians he knows but that he was not sure what to expect when Anderson invited him over to hear her personal songs. "I knew her mostly as a fiddle player so I expected something a little bluegrassy and then all of a sudden this super soulful sound came out," Handel said. "I would call the band's sound a cross between Carole King and Sade if I had to pick a genre."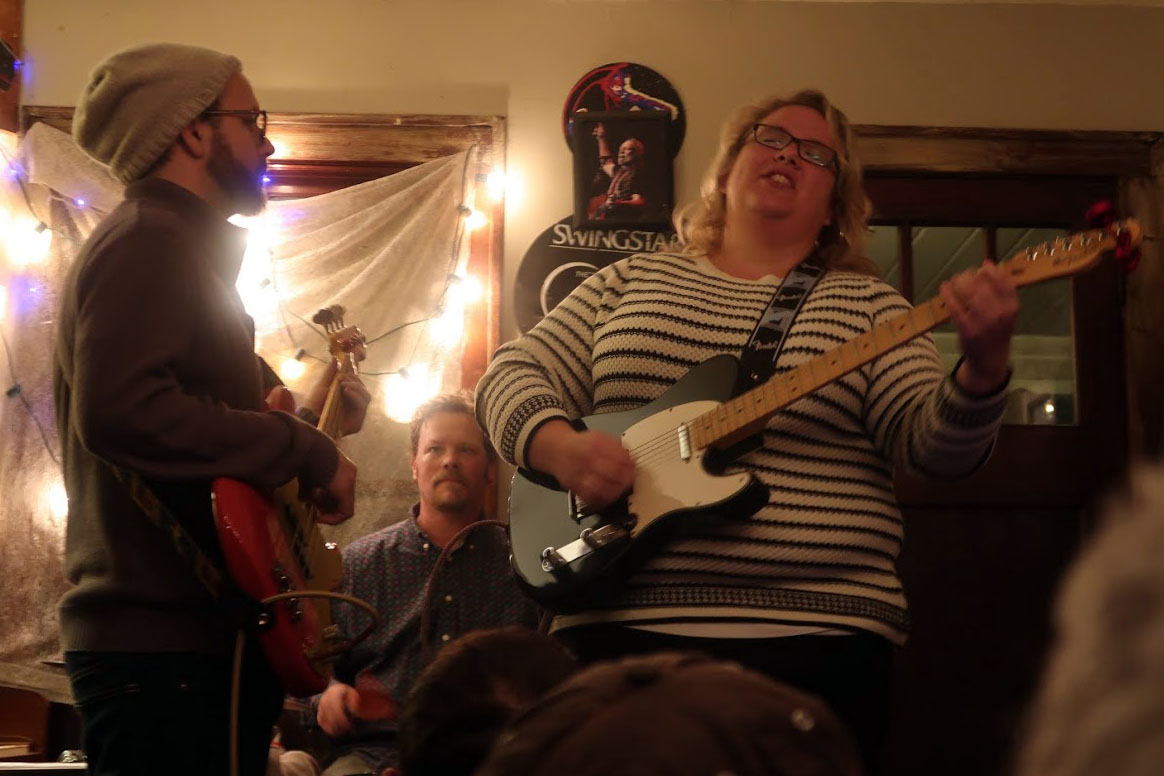 Anderson, who over the past ten years, has played violin in the punk band Community Currency, the americana cover band The Hot Carls and the jazz band Double Digits, said she was waiting for the right musicians to come along before fronting her own band. She said in the last year she finally found the right combination in Handel, pianist Matt Romy, bassist Matt McConahay and guitar player Drake Ritter. "Everybody comes from a different musical background and as we are playing things evolve and it opens my ears up to new sounds and new grooves," Anderson said. "Some of the songs are very guitar driven and we have some that are more R&B."
Another way Anderson opens herself up to new ideas is through Story Church, a monthly story-sharing event she founded two years ago. The event is open to anyone who would like to attend and is not actually a church service.
"It's a little bit like The Moth and a little bit like a poetry slam," Anderson said. "We ask people in the community to come and tell a personal story around a theme." Anderson selects a theme such as "finding light out of darkness" or "coming out" and asks three or four people to present. A group of musicians also shares music at the event. "It's really interesting because sometimes we get eerily similar stories from people who have nothing in common around the same theme or stories will be completely different by the way people interpret the theme," Anderson said.
Story church works hard to showcase the voices of people in the community who are in the minority and works to connect those in the community who are from different backgrounds. "When you are listening to a person it is opening doors in your mind," Anderson said. "I think we have a lot of preconceived notions because we are bombarded with information all the time and people are put into categories."
Anderson said when you listen to and share stories with people face-to-face, a ripple effect occurs in which people become more and more aware of those who are different from themselves. "When you are the one who is being heard it elevates your sense of worth and your confidence," Anderson said. "You want to give everybody the reinforcement that you have when you are being heard."
The musical collaboration that opens Anderson's ears to new sonic ideas is similar to the story-telling collaboration that opens Anderson's mind to the experiences of people from different walks of life.
"There should be as many places as possible to be able to speak your truth and be able to be vulnerable in a space where people are ready to listen," Anderson said.