Bloomington pet shops will not be allowed to sell cats and dogs by this time next year. City council passed Ordinance 21-45 in December, leaving Anthony's Pets in College Mall and Delilah's Pet Shop on West Third Street one year to change business models.  
Currently, both stores profit as middle parties between animal breeders and potential adopters. City council's ordinance will prohibit these types of sales starting in 2023.  
Bloomington City Councilmember Isabel Piedmont-Smith co-sponsored the legislation which aims to deprive puppy and kitten mills of customers. 
"I think that a lot of these puppy mills, I mean, not only do they mistreat their animals," she said. "But they're not very upfront about the conditions."  
According to U.S. Department of Agriculture data in January 2021, Indiana had 412 commercial pet breeders. That's second most in the country.  
Under Indiana law, a licensed commercial breeder must maintain more than 20 unaltered females. Animal rights activists say this prioritizes profit over animal wellbeing, leading them to refer to commercial breeders as puppy and kitten mills.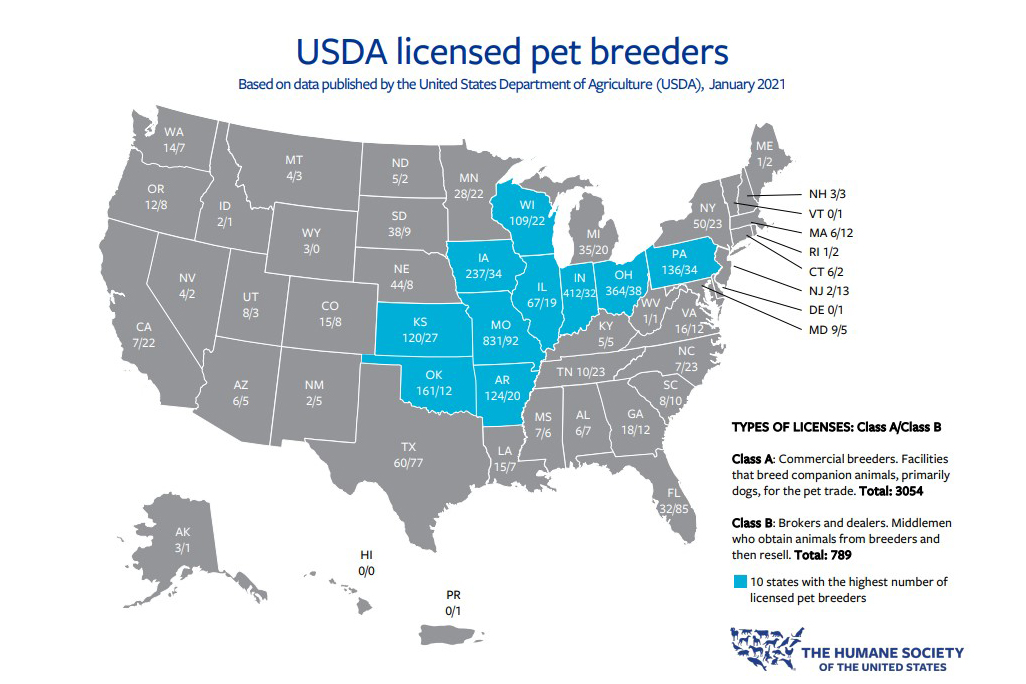 However, Delilah's Pet Shop founder Karene Kidwell said her store does not do business with puppy mills and it is already selective when choosing breeders.   
"It doesn't seem to me like it makes any difference whether you do it right or not," Kidwell said. "And that's not a good message to send anyone."  
Kidwell said her employees work hard to pair puppies with proper owners. Delilah's even requires the animals be surrendered to the shop if owners are unable to care for them.  
She said customers, often students, come in to play with the pets, which socializes them and prepares them for a future home. This has even built the store a reputation in the community.
"A lot of the people that have lived here and maybe moved away somewhere that had originally bought a puppy from us have come back and bought puppies from us because they like the way they were handled," she said.
Developing a new business model
Indiana state director for the Humane Society of the United States, Samantha Morton, disagrees with Delilah's practices. She said there is no such thing as an ethical sale of a cat or dog in a pet shop because reputable breeders would not sell to third parties. 
"What happens when you contact a responsible breeder is that they will want to invite you to their property," she said. "They will want you to meet the parents of the puppy in which you're purchasing, and they will want to make sure that that puppy is a good fit for your family."  
Morton said stores such as Delilah's are in a good position to transition business models because of the supplies and grooming services it offers. 
"We have many boutique pet stores that sell food collars, beds, offer grooming services, and these are things that people are coming back for time and time again," she said. "It's not just a one-time purchase of a dog or a cat."   
However, Kidwell said food and supplies do not bring in enough money and she is unsure if Delilah's will make up the lost revenue.
By comparison, large stores such as PetSmart and Petco already prohibit the sale of cats and dogs under corporate policies. T&T Pet Food is a local example of a shop with similar practices.  
Piedmont-Smith said T&T's success speaks to the large market of animal owners in Bloomington and is a good sign for Delilah's and Anthony's.
"I don't want to put them out of business," she said. "But I think it's possible that they can adjust and still be profitable." 
The ordinance does allow shops to partner with local organizations that adopt out animals. This not only encourages people to buy supplies from the store at the time of adoption, but also provides crowded shelters additional space to house and showcase animals.
"It provides another venue where people can see the animals that are up for adoption," Piedmont-Smith said. "And once you see an animal and interact with an animal, you're much more likely to adopt."
While selling a cat or dog in a pet shop will be illegal, the ordinance does not stop individuals from directly contacting private breeders.