In a quiet neighborhood in West Lafayette, Nataliya Semchynska looks after her daughter and grandchildren, siblings Solomia Semchynska and Glebe Semchynskyy. The siblings go to school, ride their bikes, and play with their dog, Tuffy.
But unlike other kids, they are 5,000 miles away from their home in Ukraine.  
Millions of refugees have fled Ukraine since the Russian invasion in February. Men between the ages of 18 and 60 are banned from leaving Ukraine. They must stay and fight. Families are separated and many refugees are women with children. 
"I miss my friends, my school, my dad, my cats. Everything," said 8-year-old Solo in an interview with the family. She will be starting third grade this fall. Her brother, Glebe, is 13 and entering eighth grade.  
Their father Kostyantyn was a professor at multiple universities, and their mother Olesia owns and operates a Montessori school in Kyiv.  
Nataliya was not with her family when the Russian shelling began in Kyiv. She was in her West Lafayette home. But she retold the story of her family's escape in detail.  
After shelling began on Feb. 24, Kostyantyn took his family to their summer cottage a few miles away from the city. They hoped they could wait out the conflict, but the shelling intensified and Kostyantyn knew he needed to evacuate his family.   
It took the family over 10 days to find a safe escape route due to Russian tanks, destroyed bridges, and other trappings of the war.  
"I'm so glad that he had this sense of what is safe and what is not safe, because later we learned that there were so many civilians' cars shot by those tanks," Nataliya said.  
Eventually, they managed to find safe passage to a train depot. It was packed shoulder to shoulder with other families trying to escape.   
Nataliya said the people on the train were angry and scared. She said Solo and her mom tried to help. 
"They just started going around and kind of calming down those people, and Solo played with some babies, and they found a cat that somebody was bringing their cat with them," Nataliya said. Solo left behind her own four cats in their summer cottage.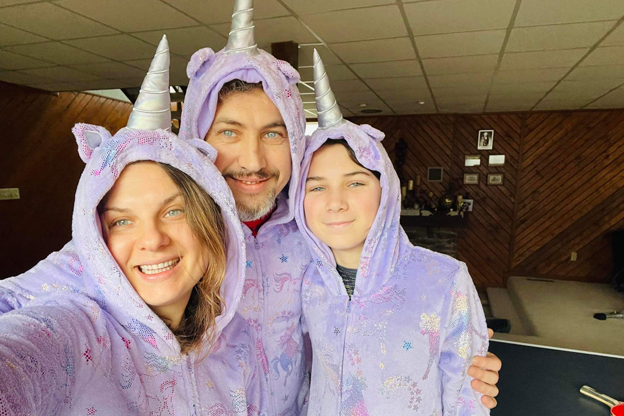 After what felt like countless hours, the family got off the train in Lviv.  
In a lobby crammed with evacuees, the family waited until curfew was lifted. At some point in the night, someone accidentally slammed a door. Nataliya said that mothers dove to the ground with their babies and people yelled. They thought it was a bomb. 
Once curfew lifted, with the aid of some very helpful strangers and miles of walking, the family made it to the Polish border. The line to the border was thousands of people long.  
Eventually they made it across. But it was here that Olesia and her children had to say goodbye to Kostyantyn. He stayed behind to fight in the army as an officer. 
"Every time I think about it, I feel really dreadful," Glebe said. "And because like my mom likes to say a lot and it's like a lottery every single day. I feel very worried for him. And I hope we do meet again."  
Kostyantyn tries his best to maintain regular contact with his family over the phone. But he can only call when it is safe.  
Olesia worries constantly about Kostyantyn's safety. She canceled an interview for this story because she was struggling with bad news from home.  
Life continues in Ukraine, even in Kyiv. Olesia's Montessori school is still operating. Nataliya said it has not been easy for her to keep it running. Earlier in the year, Olesia used all of the school's money to pay her teachers so they could escape. The few that remain primarily teach children whose parents are fighting in the war.  
This is a common tale throughout Ukraine. Olesia said in an email that many of the teachers have either gone to war or fled, and the students remaining are learning in basements. 
Glebe and Solo mentioned as few as five kids were left in their classrooms in Kyiv. 
"Now they're all around the world. Some people are in Greece, and people are in like Georgia, wherever their family is," Glebe said. 
In the interview, Glebe was wearing a T-shirt with the word "Bayraktar," a type of unmanned drone that Ukraine has used to attack Russian supply depots. Multiple countries have donated money or resources to secure Bayraktars for the Ukrainian military.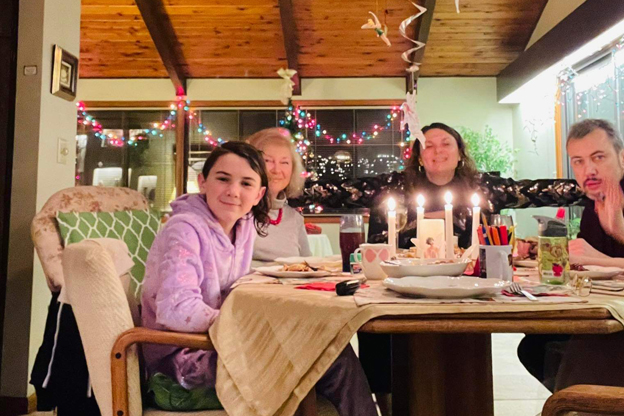 The family is working to acquire temporary protective status in the United States, which will allow them to stay longer than their six-month visas.   
"Right now, I'm more on the level, just get to sit in normalcy, go to school, just get education. Because there may be a moment when you guys [the children] go back and you have to raise this country up," Nataliya said.  
For now, Solo looks forward to sharing dreams over the phone in calls with Dad. In one voice memo, Kostyantyn tells Solo a story about pink elephants protecting smaller creatures from the rain with their ears. Nataliya calls it sweet nonsense.  
The phone calls help the kids when they are feeling especially homesick. They are hoping the war ends soon so they can return home and live again as a family. 
"Since people aren't talking about this as much as they have, when it all started," Glebe said. "That doesn't mean that the war has ended."