Jerry Davis knew this was going to be a big year. People cooped up by the pandemic would be out looking for holiday lights.
Right after Halloween Davis and his son Tre' Bower started putting up Christmas light and decorations.
They've done this every year since moving into their Ellettsville house in 2003.
Almost every square foot of his yard and house are covered in decor and all the trimmings. "We're pretty well maxed out," Davis said.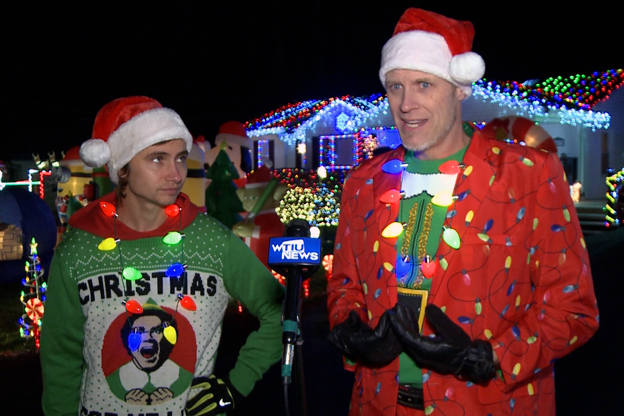 He's keeping count… 35 yard pieces, 45 blow-ups, 6 blow molds, 18 trees, 20 snowflakes and stars, 125 smaller yard pieces, 20 toy soldiers, 10 wreaths, and over 500,000 lights using almost 180 amps.
"My electrical box has 200 amps in it. So, I'm planning on upgrading my service probably next year," Davis said. "We have more in the garage obviously. So, if something goes out, we can replace it."
He buys everything on closeout sales. Though at retail, he says he probably has about $30,000 worth of decorations on display.
Bower says he uses Google Maps to lay out a diagram.
"At first I was just Santa's helper, and as I've gotten older, he's taught me and I know more about the stuff. I've started to put things up myself," Bower said.
His sister is autistic and enjoys the shapes and colors of the blow-ups, which led to more blow-ups. And if you catch either of them outside, they can tell you a story about many of the decorations including a replica of their dog Fifi who died last year.
Davis says a display like this takes almost 300 hours of set-up and daily upkeep.
"We don't just flip a switch and it's up. I already have an hour and a half into the yard today," Davis said.
Their motivated by the spectators. People have come from 100 miles away to see the display. Cars continuously drive up and down the street – most holding their phones out taking pictures.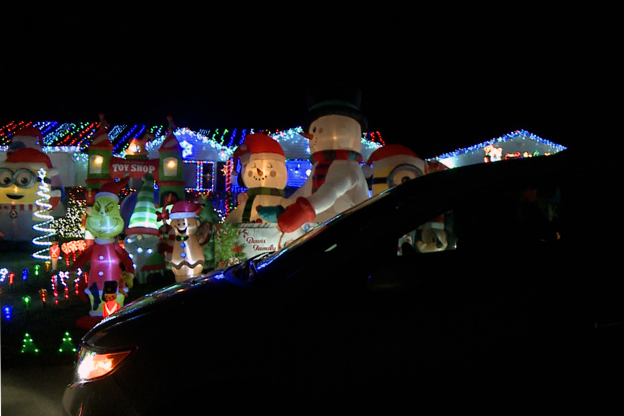 "Great job," a passerby shouts out the window. "Thank you, Merry Christmas," Bower and Davis reply back.
"Everything is microphoned out here, we hear all the comments, giggles, shrieks of joy, all the laughing," Davis says.
There's even a mailbox for Santa letters – and some will slip in thank-you notes. Each letter gets a response.
"It's brought so many memories that they enjoy seeing it, they enjoy bringing their kids out. And that's why I keep doing it," Bower said.
"We can't stop now," Davis said. "It's being part of something bigger than yourself."
The house is at 503 Ritter Street in Ellettsville. You can see the display from 5 p.m. to 11 p.m. until New Year's Day.