Bloomington saw a 1% decrease in overall crime last year, but the city's violent crime rate shot up by 5.8%, new data show.
Those statistics were presented Thursday by Police Chief Michael Diekhoff at the city's seventh annual joint Public Safety Report, a meeting at which city officials briefed the community on the state of public safety and ongoing efforts to improve it.
"The number of crimes involving firearms continues to threaten us in Bloomington, as it does nationally," Mayor John Hamilton said at the meeting. "Our police department is taking specific efforts to address this very real issue as the economic resources department."
Read more: Bill would encourage 'advanced recycling' in Indiana
Data show the city fared worse in reducing both overall and violent crime in 2022 compared to the year before. In 2021, the overall crime rate decreased by 9% and violent crime dropped by 1% from 2020.
Contributing to the spike in violent crimes last year were increases in the number of attempted homicides, rapes, assaults and domestic batteries, according to the data.
The biggest spike from 2021 to 2022 was in attempted homicides. Police tracked 11 last year compared to just five the year before for an overall increase of 220%. Meanwhile, there were five recorded homicides last year compared to three in 2021.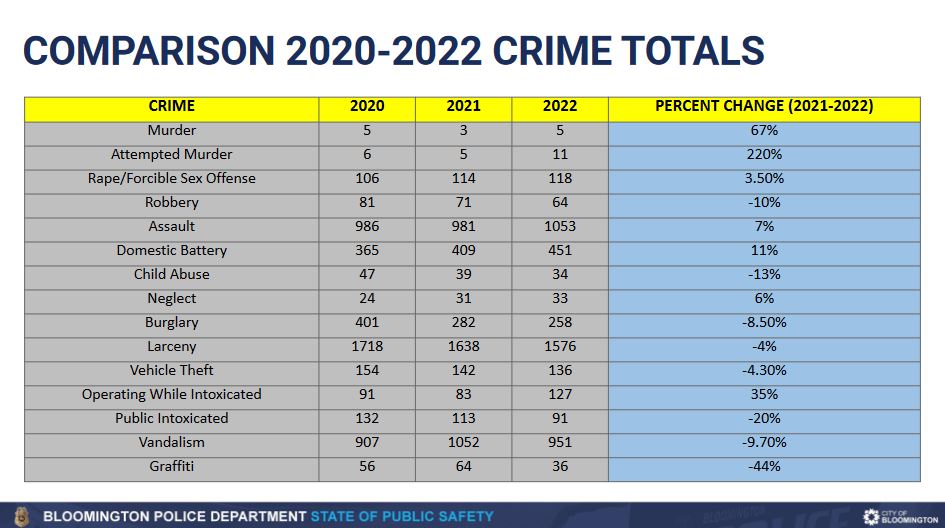 "We have seen a significant increase in firearm-related type calls, which is concerning," Diekhoff said.
Police tracked a total of 611 criminal incidents reportedly involving weapons last year. A firearm was involved in 132 of those incidents, and a firearm was fired at a person in 70.
While the number of criminal incidents involving a weapon in 2022 was down from 647 the year before, Diekhoff said there were more calls involving guns last year. He did not specify how many, however.
Diekhoff attributed that rise in part to Indiana's new permit-free carry law, which allows people to carry a handgun in public without a permit. Most law enforcement agencies in the state opposed it when it was still in bill form.
"If they want one, most everyone can have a firearm, which — there are people that should not have firearms," Diekhoff said.
Diekhoff also said Bloomington police partnered more with federal law enforcement agencies last year to conduct "enhanced investigations" of all criminal firearm uses. The partnerships entailed submitting casings, bullet fragments and weapons to a specialized forensic laboratory to determine if the guns had been used in other crimes.
Bloomington police submitted more than 70 weapons to its federal partners through that process, leading to arrests in Bloomington and other jurisdictions, according to Diekhoff.
Read more: Mayor Bennett says property tax caps mean less revenue for city
"That was a way for us to start to try to identify the individuals involved in the firing of these weapons," he said.
Diekhoff said his department is working with social service agencies and advocacy groups to focus on de-escalation.
The department's major goals for 2023 include providing a high level of community-based policing, addressing crimes by working with the community as a whole and furthering recruitment and retention initiatives.
Bloomington police responded to nearly 7,000 more calls for service last year than in 2021: 54,096 in 2022 compared to 46,715 in 2021.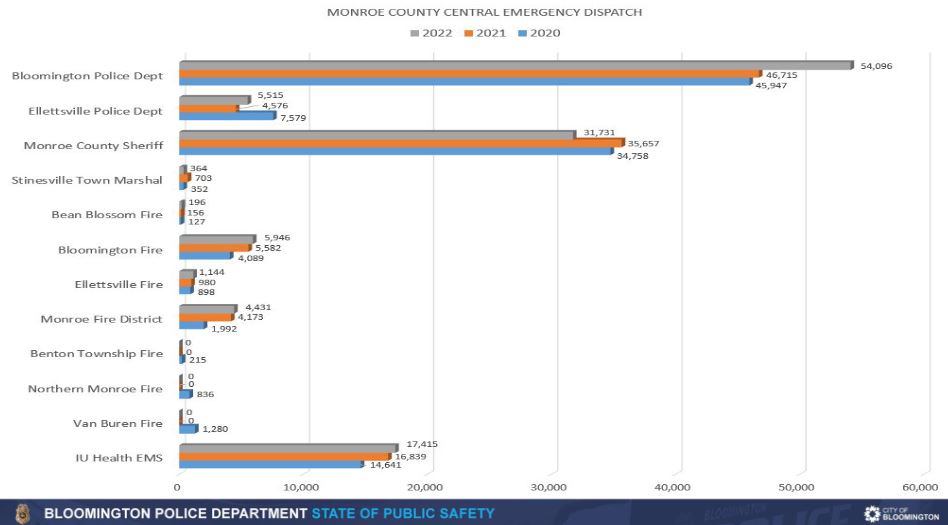 Hamilton said the greatest challenge to public safety is personnel, referring to struggles nationwide to recruit and retain first responders.
To that end, he announced a new city initiative: a $100,000 no-interest down payment assistance program for up to 10 police officers and 10 firefighters as an incentive to live in Bloomington.
Read more: Bill would let Indiana utilities charge ratepayers for additional costs
"This reflects the concept that having first responders live in our city is valuable," Hamilton said. "It's valuable to the city and to the neighborhoods where they live. It's valuable to public safety by bringing and building deep and broad community connections."
The program will be funded through American Rescue Plan funds and annual budgets from the police and fire departments.
Hamilton also announced additional bonus compensation for certain Bloomington Fire Department union employees.