Despite the fair weather in the past couple days, several storm systems are expected to barrel through central Indiana in the next week, increasing temperatures and bringing precipitation chances. These shorter-term increases in temperatures are associated with increased flow of warm and moist air from the Gulf, also fueling these storm systems' intensity.
Friday will remain mostly quiet and clear, but a low pressure system in Kansas migrating slowly to the northeast may bring small chances of rain in the afternoon as its associated warm front approaches from the southwest.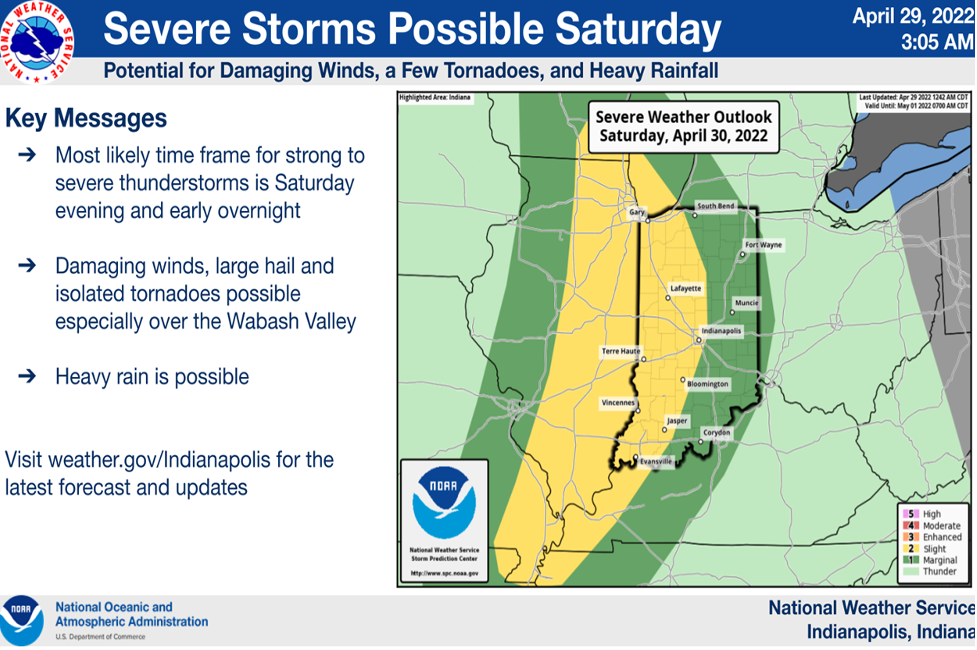 Saturday will be the focal point for storm development as the low-pressure system reaches into Iowa. The warm front will finally pass over central Indiana in the mid-to-late afternoon, spiking temperatures into the mid-to-low 70s. Lighter showers and scattered thunderstorms may also be expected. A break in the clouds after this event will only last a few hours before the same system's associated cold front sweeps through the state from the west. Storms located along this cold front will pose the highest weather threats for Saturday evening and overnight into Sunday. Damaging winds are likely and possibilities for hail and even an isolated tornado are possible. Less than half an inch of rain is forecast.
After these Saturday night events, ridging to the northwest will provide sunny and clear skies for most of Sunday and Monday with increasing cloud cover Monday evening. Despite the cold front, temperatures will sustain in the lower 70s for the highs both days with westerly wind gusts up to 30 mph.
This high-pressure system will move eastward Monday evening into Tuesday morning, and in its place, another low-pressure system will pass just north of Indiana into the Great Lakes region from the southwest. Current forecast models suggest rainfall beginning in the early morning hours Tuesday and increased chances for scattered thunderstorms later in the evening with a break between waves in the early afternoon. This system will migrate east out of Indiana shortly after midnight Wednesday.
Ridging from the northwest will return Wednesday morning, as a weak surface high pressure forms near Chicago, providing a break from the rain despite the lingering cloudy skies.
After departing to the east, precipitation returns Thursday evening with the development of a surface low storm system in far southeast Indiana near New Albany. These showers and thunderstorms could last until Friday afternoon as the low system appears to become pinched between high pressure ridging to the west and the Appalachian Mountains to the east, stagnating the system's position in the Ohio River Valley. Rainfall estimates and associated weather threats for this storm on Thursday and Friday are still uncertain. But due to these cumulative storm systems, flash flooding and local river flooding may be possible.