Post-tropical cyclone Fred, which has been travelling along the Appalachian Mountains, is currently centered on northern West Virginia. The cyclone system will continue to travel northeast, missing Indiana entirely, and skimming only eastern Ohio with direct impacts of rain and wind. According to Aaron Updike, a meteorologist for NWS in Indianapolis, he states, "The cyclone is so far east, that the only impact Indiana will experience is potentially slightly higher moisture toward the east." He further explained incoming scattered rain this afternoon and evening are unrelated to the cyclone, and just the Indiana weather.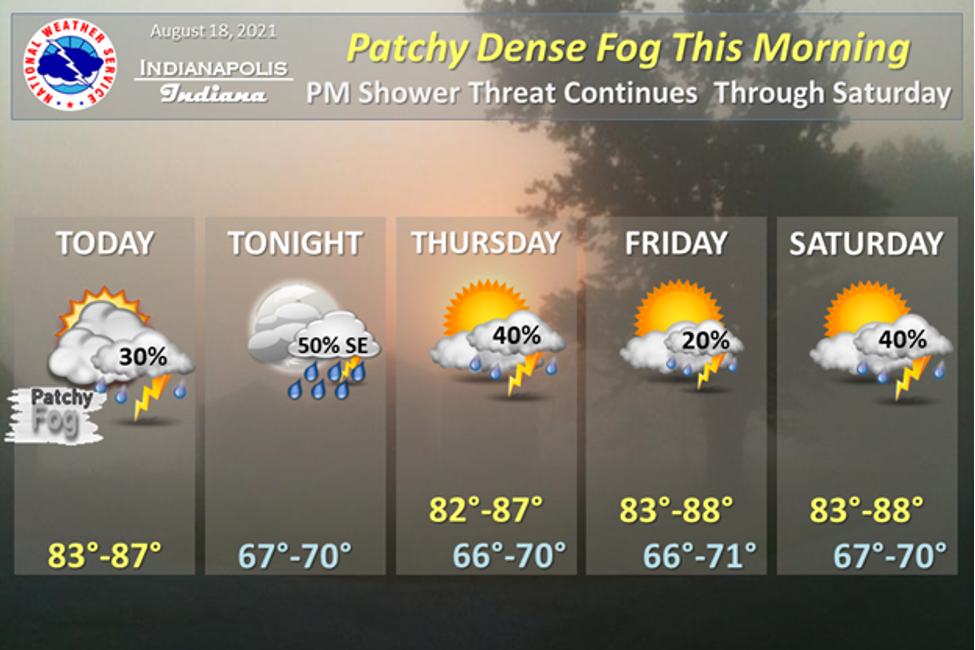 Scattered showers and thunderstorms are possible the rest of the day today, and will occur off and on throughout the week. Widespread severe storms are not predicted. Precipitation data shows less than half an inch possible for all of Indiana by Friday morning. Temperature highs remain in the mid-80s this week, and lows in the upper 60s.  
Coming this Sunday a seasonal "blue moon" will rise over the horizon at 8:02 p.m. EST. Contrary to popular belief, a blue moon is not actually blue, but rather refers to the rarity of seeing more frequent full moons than normal in a given time period. According to the Farmer's Almanac, there are two circumstances in which a blue moon could occur. One instance is when there are two full moons in a single month, the second moon is called a blue moon. The second instance is when four full moons occur in a single season, instead of the usual three full moons, but rather than calling the fourth moon the blue moon, it is actually the third of the four full moons that is considered a blue moon.  
The Sunday full moon, also called the "Sturgeon Moon," will be the third of the four full moons this summer, with the last full moon of the summer making its appearance on Sept. 20.